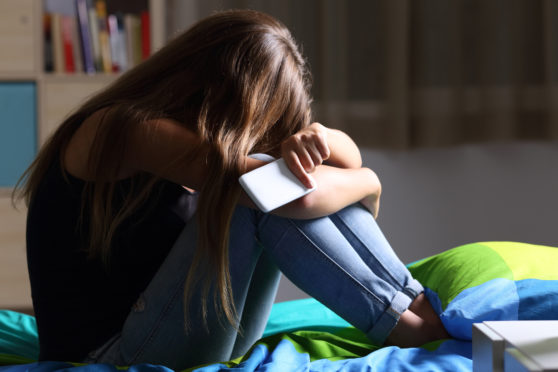 Cyberbullying inflicts more harm on children than being picked on physically, according to scientists.
A study has found that being hounded online leaves Scots youngsters more traumatised.
And while friendships often help them cope with traditional bullying, there is little to alleviate the isolation fostered by an ordeal by social media.
The findings come amid a growing mental health crisis among children, with around one in eight now suffering from conditions such as anxiety and depression and thousands relying on medication.
Child psychologist Dr Genevieve von Lob, author of the guide Happy Parent, Happy Child, said: "These findings match what I'm seeing in practice.
"Children find cyberbullying worse because they can't escape it, even at home or in their own room. The speed of it is terrifying because a post on social media can go viral so quickly.
"I see children from age 11 upwards who are left so anxious and upset and taken to the edge, having suicidal thoughts."
She added: "It's vitally important that parents spare a few moments of every day listening to their children.
"But this problem is now so entrenched across the country, – in every class in every school in every community – that a national strategy is essential.
"That should include mandatory education at all school ages on the implications of cyberbullying for both victim and culprit."
The study, published in the journal SSM – Population Health, examined the experiences of 5,286 Scottish children from 208 schools.
All the youngsters were aged 11, 13 or 15 and formed a cross-section of society.
In questionnaires, they were asked to rate their wellbeing – scoring their prevailing mood and outlook on life – and to say whether they had been bullied, and how often.
There were questions, too, about the support they received and the frequency of family meals.
Analysis showed that 37% of girls and 34% of boys were physically picked on, with 20% and 14% respectively cyberbullied – although there was a large overlap between the two groups.
Boys gave themselves an average score of of 59.6 out of 100 for wellbeing, but when physical bullying was involved, the figure dropped to 52.4.
For cyberbullying, the average was 49.1 – a drop of 18%.
For girls, the average of 55.4 fell to 48.2 and 44.3 respectively.
Good classmate support helped tackle traditional bullying. However, a strong friendship group had no effect when it came to cyberbullying.For all the tests the academics ran on the data, the only protective measure that found some success was girls sharing family meals.
Those who were victimised online but who dined with their families were 10 well-being points better off than those who ate alone.
The study, led by Dr Richard Shaw, Glasgow University mental health epidemiologist, states: "Cyberbullying appears to represent an additional threat to well-being independently of traditional bullying.
"It might represent a less common but potentially more serious threat to well-being, perhaps because cyberbullying can be more covert and victims are less likely to seek help.
"Our study is consistent with the idea that eating family meals together might promote some degree of resilience to cyberbullying." Justine Roberts, founder of the parents' advice website Mumsnet, said: "Our users' advice when it comes to safety online is to keep open the lines of communication with your children, and regular family mealtimes are one way to do this.
"Car journeys can also be ideal opportunities for convivial chats from which teenagers cannot escape – unless they've stealthily inserted their earbuds."
Around 90% of children have their own phone by the age of 11 and spend an average of 23 hours a week on smart devices, twice as long as they devote to real-life interactions.
Earlier this year, Holyrood's public audit committee called on ministers to fund research into the mental health crisis among youngsters.
As part of their inquiry, the MSPs heard evidence from Dr Dame Denise Coia, chair of a Scottish Government task force on the issue.
She said: "The problems with mental health for children and young people in Scotland are increasing exponentially.
"That is not related to the incidence or prevalence of serious mental illness – that is unchanged. The rise is in emotional distress in young people at school, arising from issues around bullying, body image, depression and anxiety."
Alan Forgie, of Children 1st Parentline, said: "Cyberbullying can seem especially overwhelming for children and their parents because it can feel like there is no escape.
"It can sometimes feel like the easiest thing is to withdraw from the online world altogether but this is such a core part of children's lives that this can make things worse.
"The most important thing parents can do is to be there for their children and talk with them about how they want the bullying to be addressed.
"As this study shows spending time as a family and helping your child develop good social supports – on and offline – can make a positive difference.
Talk to Parentline at children1st. org.uk/parentline or call 08000 28 22 33
---
There's no escaping online taunts. I considered killing myself
A student driven to the brink of suicide by cyberbullies says tech giants must do more to tackle the problem.
Caitlin McPhee, 23, says she experienced abuse as soon as she began using social media and suffered taunts for years via platforms such as Facebook, Instagram and Snapchat.
Caitlin, of Bellshill, said: "It began when I joined at 13. People messaged saying things like 'you're fat and stupid' or 'we're going to get you after school'. It's name-calling and saying 'you should just go and kill yourself'.
"Some messages are from people you know but some are anonymous or from made-up accounts so you don't know who's sending it. There's no escape from it. You turn on your phone or laptop and it's there 24 hours a day.
"Schools should do more about it. They say they have zero tolerance on cyberbullying but it just seemed to me like they couldn't deal with it.
"Social media companies should have stricter policies. It's far too easy to make up fake accounts.
"Accounts and comments on social media should be moderated and you would solve this problem.
"There have been times when I considered taking my life when I was a teenager. I still have ups and downs but it's not as bad as it used to be. I help with FAMS, a charity which helps people affected by murder or suicide. I first got in touch to support myself and now I support other people."
Facebook, which also owns Instagram, said: "We invest heavily in tools and technologies, including 'Restrict' and 'Comment Warning', designed to reduce bullying on Instagram.
"We urge people to report any content to us that upsets them."
Snapchat said is had "a zero-tolerance policy towards bullying and intimidation and anyone experiencing bullying can report it via the app to our safety team 24/7".
---
Victims of trolls get blamed for abuse
Celebrities risk losing fans if they're targeted by online trolls.
A study has found that public figures, including politicians, are victim-blamed for the abuse they receive on social media.
The latest research selected six male celebrities: comedian Robert Webb, TV presenters Matt Baker and Phillip Schofield plus chef Jamie Oliver, Virgin boss Richard Branson and pop star David Guetta.
A series of their tweets and some of the rude responses were shown to 28 adults, who were asked how much they thought the author was to blame and how severe the abuse was.
Trolling was seen as more justified when the star's own tweet was judged to be negative. But the amount of abuse was seen to reflect badly on celebrities regardless of whether they'd posted something positive in the first place.
The study, in the journal Computers in Human Behaviour, states: "Our findings suggest that celebrities are ascribed responsibility for their online behaviour and that abusive responses to negative content are considered warranted under some circumstances."
A string of stars – such as Downton Abbey actress Lily James and Hollywood idol Jennifer Lawrence – have closed their Twitter accounts after being hounded online.
And last week, celebrities including comedienne Aisling Bea and quiz show host Rachel Riley backed a new campaign called "Don't Feed The Trolls", which recommends new "radio silence" tactics to defeat the menace.
Meanwhile, English Premier League and FA officials met with Twitter to discuss how to combat racist abuse directed at footballers.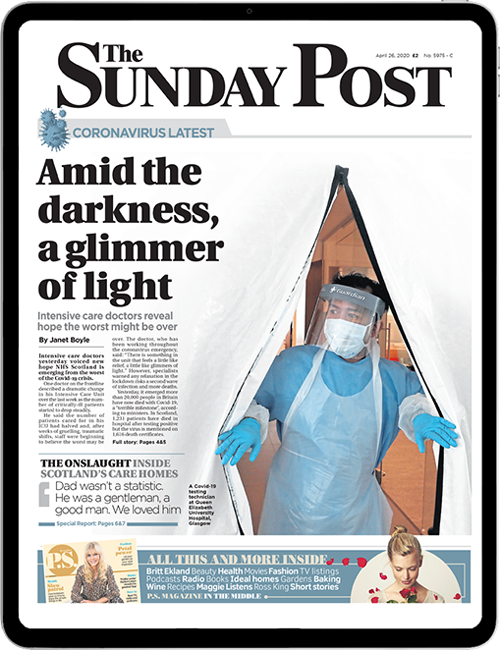 Enjoy the convenience of having The Sunday Post delivered as a digital ePaper straight to your smartphone, tablet or computer.
Subscribe for only £5.49 a month and enjoy all the benefits of the printed paper as a digital replica.
Subscribe