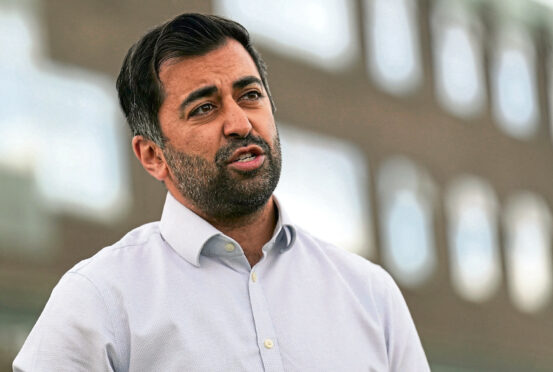 Nurses urged the government not to end routine testing of healthcare staff for Covid yesterday after the health secretary suggested it is unsustainable despite case numbers and hospitalisations continuing to rise.
Humza Yousaf said the programme of twice-weekly testing costs £300 million a year and one government adviser told The Sunday Post difficult choices would have to be made. Official statistics found one in 18 people in Scotland had the virus last week, the highest infection rate in the UK.
Eileen McKenna, Royal College of Nursing Scotland associate director, said: "We're seeing the number of Covid-19 cases rise again in Scotland and this is increasing concerns about hospital admissions, absences in the workforce and the care and safety of residents and staff in care homes. As the virus spreads in our communities, it remains vital that staff have access to tests to protect themselves, their families and the people they are caring for. Making tests available for nursing staff must continue to be a priority as well as ensuring there is the lab capacity for analysing tests."
Professor of public health Linda Bauld, who advises the Scottish Government on Covid, said: "We do have high infection levels at the moment so it seems reasonable to continue with testing of healthcare workers, for now.
"But I can see the huge pressure on all budgets across government and there are some really difficult choices to be made."
In an interview with The Times, Yousaf said finding money to fund free tests for the general population was virtually impossible and that the current programme of testing health workers and carers was unsustainable. This stance appeared to contradict the Scottish Government's testing transition plan published in March which said routine asymptomatic testing of the health and social care workforce would play an ongoing role, given the clinical risk in those settings. It said testing of hospital-based staff would remain a priority to reduce the risk of infection spread.
One A&E consultant said Yousaf's comments came as a surprise, adding: "Ending the programme of testing would be a concern, particularly given the rise in numbers of cases and hospitalisations we're seeing at the moment."
Labour's Covid spokesperson Jackie Baillie MSP said: "This is not the time to roll back testing. We understand the financial pressure the government is under but this is a potentially dangerous move that is contrary to the government's stated approach."
Lib Dem leader Alex Cole-Hamilton added: "Staff and patients will be filled with dread at the prospect of an end to testing of healthcare workers."
Case numbers are up 32% in a week, UK-wide, with 3.2m cases recorded and the number of infections is rising fastest in Scotland. The Office for National Statistics said the increase in cases had been caused by Omicron variants BA.4 and BA.5. Data suggests that 79% of infections in Scotland are these newer variants, which are more transmissible than previous Omicron variants but which are not thought to cause more severe disease.
However, Professor Mark Woolhouse of the University of Edinburgh, who was one of the scientists to show original Omicron was milder, warned we haven't seen definitive data on BA.4 or BA.5 because we're not collecting the same volume of information now.
The growing number of people infected has pushed up the number of cases in hospital by 34% in a week, from 967 to 1,298 patients, with 16 requiring intensive care. Pressure on the NHS is exacerbated by the number of nurses and doctors who are absent after testing positive.
Jim McManus, president of the Association of Directors of Public Health, told the BBC yesterday: "The virus isn't done with us yet. It's very good at mutating into forms that are more transmissible and escape the immunity from previous infection."
Professor Jason Leitch, the national clinical director, told MSPs on Holyrood's Covid-19 recovery committee that the rise was not unexpected and it had left public health officials concerned but not panicking. He said the public should consider wearing face coverings.
The British Medical Association said: "While the pandemic is in a different phase, rising case numbers clearly show that we are far from at an end to the threat posed by Covid and the pressure it can and will put on our healthcare system.
"Doctors and all healthcare workers continue to be on the frontline of caring for those with Covid, and ensuring testing is available to them is an important way to ensure we minimise the spread and impact of the virus.
"The benefits are clear in terms of protection for staff themselves and patients who of course are potentially extremely vulnerable. In the current context of the pandemic, we absolutely could and should continue doing what is required to ensure healthcare workers do have access to the Covid testing they need."
The Scottish Government said: "We are not proposing to pause asymptomatic testing at this point in time, and will keep the situation under careful and regular review."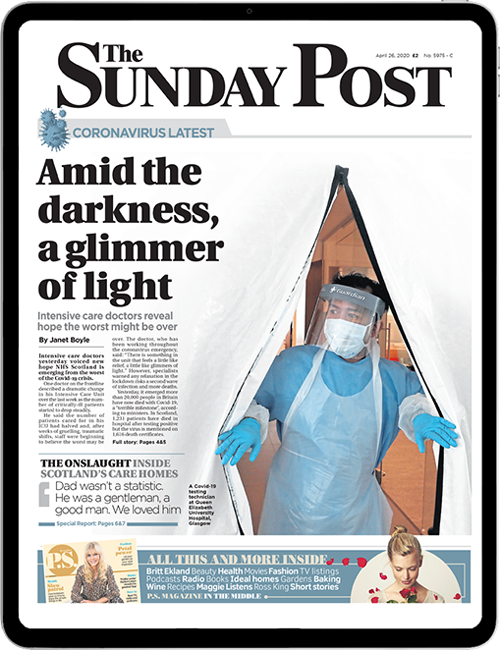 Enjoy the convenience of having The Sunday Post delivered as a digital ePaper straight to your smartphone, tablet or computer.
Subscribe for only £5.49 a month and enjoy all the benefits of the printed paper as a digital replica.
Subscribe