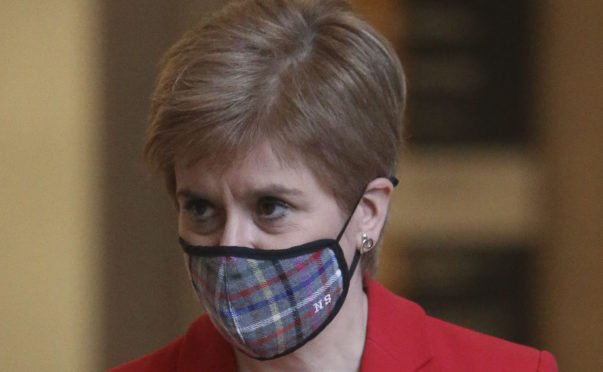 The easing of lockdown restrictions in areas with high coronavirus case numbers will be slowed down, Nicola Sturgeon has said.
Speaking at Holyrood on Tuesday, the first minister set out which areas would be moving levels from midnight on Friday.
After around nine months under tough restrictions, Glasgow, the only area still currently at level three, will move to level two.
However, a move to level one scheduled for later this week will be postponed for large sections of the population, with most of the central belt remaining at level two.
Some areas will go ahead with the move to level one, with the islands reaching level zero.
Sturgeon insisted the delays to easings should be seen as a "pause not a step backwards" and would give time to get more people fully vaccinated.
---
Area-by-area
Moving to level two
Staying at level two
Edinburgh City
Midlothian
Dundee
East Dunbartonshire
Renfrewshire
East Renfrewshire
North Ayrshire
East Ayrshire
South Ayrshire
North Lanarkshire
South Lanarkshire
Clackmannanshire
Stirling
Moving to level one
Highland
Argyll & Bute
Aberdeen City
Aberdeenshire
Moray
Angus
Perth & Kinross
Falkirk
Fife
Inverclyde
East Lothian
West Lothian
West Dunbartonshire
Dumfries & Galloway
Scottish Borders
Moving to level zero
Shetland
Orkney
Western Isles
---
Scotland must still "err on the side of caution" on Covid-19 until more people have had both doses, Sturgeon said.
She said: "We believe that vaccinations are opening the path to a less restrictive way of dealing with Covid – one less driven by case numbers.
"But because not all adults have been fully vaccinated with two doses so far, we are not quite there yet.
"And as we make this transition – just to compound the challenge – we are also dealing with a new, faster spreading variant.
"This is, of course, a new development that has arisen since we set out our indicative route map back in March.
"All of this means that at this critical stage – to avoid being knocked off course completely – we must still err on the side of caution."
Scotland will be able to deal with coronavirus "less restrictively" in the future due to vaccination, the first minister said.
She told MSPs that while the vaccination programme is having an effect on the level of serious illness from the virus, not enough people are fully protected.
"However – and this is why I have described our current situation as a transition – although we are vaccinating as quickly as possible, there is still a sizeable proportion of the population not yet fully vaccinated," she said.
"And full vaccination is vital. Protection against the Delta variant after one dose is not negligible – but it is not substantial either. It is after two doses that the protection is much stronger."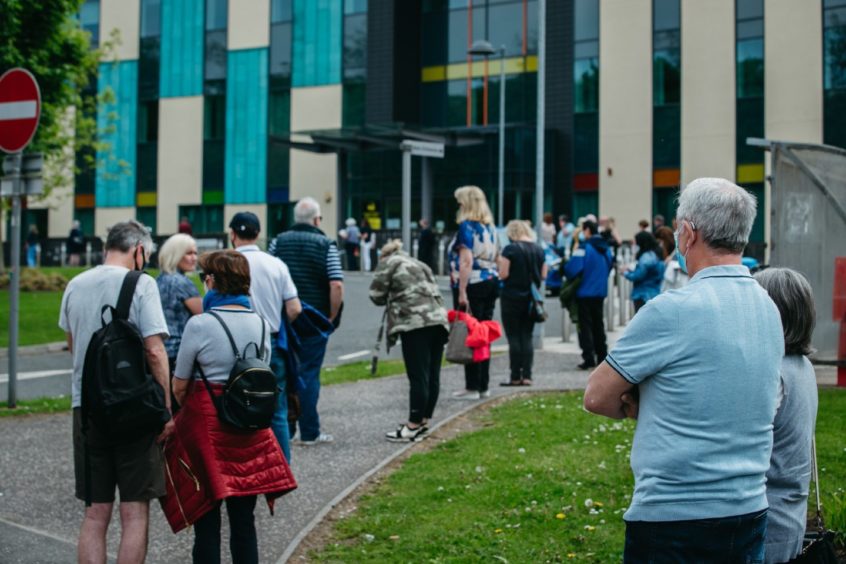 Sturgeon said the situation in Glasgow appears to be stabilising, with case rates falling from 146 per 100,000 to 129 in recent days.
She said: "This means that people in Glasgow – as has been the case in most of the rest of Scotland since mid-May – will be able to meet in homes in groups of no more than six, from a maximum of three households.
"It also means that indoor licensed hospitality can reopen, and that people can travel again between Glasgow and the other parts of Scotland.
"A number of venues will also be permitted to reopen, and outdoor adult contact sports can resume.
"These changes are significant. As someone who lives in Glasgow, I know they will make a huge difference to quality of life."
But she added: "I ask everyone to remember that though stable and starting to decline, cases in Glasgow do still remain high – so please continue to be cautious.
"In particular – and this actually applies to all of Scotland, particularly while we enjoy some better weather – although limited indoor meetings are now possible, it is still better to stay outdoors where possible.
"And in level two, groups of up to eight people from up to eight households can gather outdoors."
The vast majority of Scotland's central belt will remain in level two restrictions.
Sturgeon told MSPs there could even be an argument to move these areas into level three restrictions, given the raw figures, but the impact of the vaccination programme has meant this would not be needed.
"However, it is important to stress that this is a pause, not a step backwards," the first minister said.
"And level two is not lockdown. It does have an impact on opening hours of pubs and restaurants and the numbers that can attend certain events."
She added: "And taking a cautious approach now – while more people get fully vaccinated – gives us the best chance of staying on the right track overall."
Meanwhile, evidence of transmission of coronavirus in outdoor settings such as fan zones is "relatively modest", according to a leading scientist.
Glasgow City Council announced last month it would hold a fan zone event at Glasgow Green for football's European Championships, which would allow 6,000 people to gather together per day.
Fans will be able to watch the Scotland men's team play in their first major tournament since the World Cup in France in 1998.
Professor James Chalmers, an epidemiologist from Dundee University, told BBC Radio Scotland's Good Morning Scotland programme the risk was relatively low if the event went ahead.
"Although there have been successful trials of outdoor and even some indoor events with testing, outdoor transmission is believed to be much less of a risk than indoor transmission," he said.
"While as a health professional I want as few people to be infected as possible so I would always say take the most cautious path, the evidence that there's large-scale transmission in outdoor situations like an outdoor fan zone is relatively modest.
"So I think we have to balance public health with the evidence and that's a decision that, thankfully, I don't have to make regarding whether to go ahead with these big outdoor events."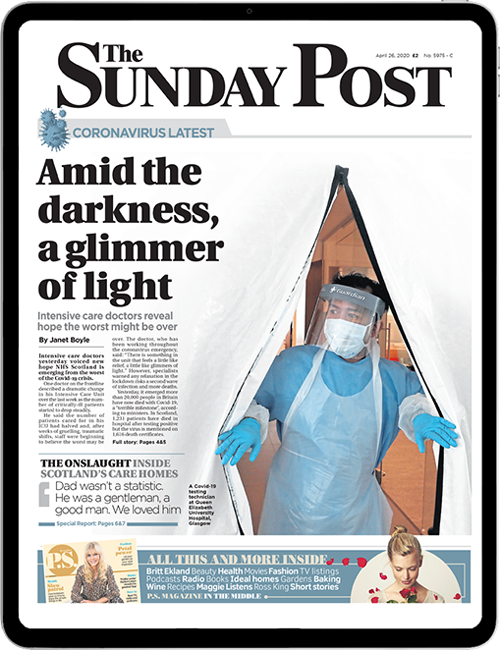 Enjoy the convenience of having The Sunday Post delivered as a digital ePaper straight to your smartphone, tablet or computer.
Subscribe for only £5.49 a month and enjoy all the benefits of the printed paper as a digital replica.
Subscribe