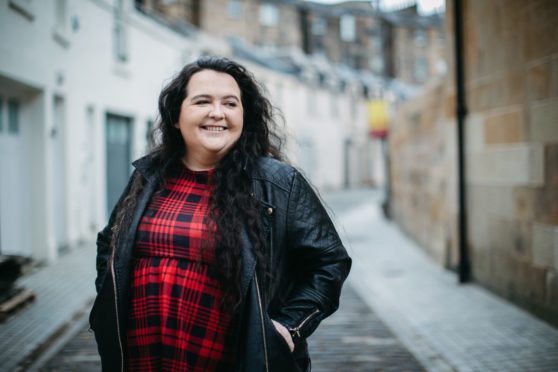 For actors, every role means diving into a new character, raking about in their psychological wardrobe and adopting a completely different personality.
When Ashley Storrie landed the lead in her first television series it was the opposite. She could at last be herself.
The 33-year-old stand-up comedian makes her acting debut in BBC Three's new comedy drama series Dinosaur playing Nina, who is autistic but yet to be diagnosed.
Filming the pilot episode, which aired last week, was a liberating experience for Storrie who, like Nina, has autism spectrum disorder but spent years trying to hide her true self in order to fit in.
"Playing Nina was probably the most liberating thing that's ever happened in my entire life," explained Storrie. "A big part of my autism is 'masking' but Nina just kind of wears it out there. That's what I loved about her. When you've got autism, you spend so much time trying to hide it, which just takes up so much energy.
"So, being Nina has made me realise that I should just be me and spend less time trying to make everybody feel more comfortable around my weirdness.
"She's not diagnosed so she doesn't know that it's something she has to be hiding – it's something about her that just 'is'. It was a very liberating, wonderful experience."
Filmed under lockdown restrictions – which for Storrie was preferable because she loves following rules ("I got up, I was sent a schedule, we stuck to that schedule, I got fed at a certain time, somebody picked my clothes. It was a dream") – Dinosaur is her breakout role since amassing a huge online following.
Her videos – Scottish parodies of popular culture, from Harry Potter to The Handmaid's Tale – have racked up millions of views around the world, while her late-night stints, mixing a stream of idiosyncratic banter and music, on BBC Radio Scotland have also gathered a cult following.
Dinosaur's producers – Two Brothers Pictures, who worked on Phoebe Waller-Bridge's acclaimed Fleabag series – cast Storrie after she sent them an audition tape filmed by her mum – fellow comedian, actress and the voiceover hit of lockdown, Janey Godley. She was so perfect for the role, it was decided the show would be filmed and set in Glasgow.
Storrie explained: "It felt like the part could have been written for me. The minute I read the script, I got goosebumps. There were bits in the story about My Immortal, a weird fan-fiction I have read on YouTube that nobody else knows about but I know inside and out. So, when I read that in the script it was so weird.
"Dinosaur wasn't written for a Scottish voice but they were open to making it not necessarily a Scottish story but a story that is Scottish because it's mine."
Her mum, Storrie admits, has never been prouder – particularly because the show isn't just "something for young people", the usual response Godley gives after watching her daughter's routines and sketches.
She continued with a laugh: "Usually when I make something for online or BBC Scotland, she'll say to me (mimicking Godley's recognisable accent), 'Wisnae for me, but I liked you'.
"That's what she says about everything I've ever done. But when she saw the pilot for Dinosaur she was crying and saying, 'Oh, it's so good, you were good, other people were good, and the writing was good!'
"I did the self-tape with her, and we did a scene where Nina is talking about Harry Potter. She kept looking at me and saying (again, the impression comes out), 'Ashley, you know about that weird stuff!'
"She's never been that complimentary about anything in her life so I was a bit shook."
Storrie followed a career in comedy after growing up "constantly surrounded by stand-up comedians" thanks to her mum. However, as well as showcasing her comedic timing and natural wit, her new gig means fulfilling a lifelong passion to become an actor, which she was discouraged from pursuing while at school.
"My dream was to die on The Bill and Casualty," she explained with a smile. "But when enough drama teachers tell you that you don't have the 'right look', you think maybe you should just put yourself behind the camera instead. That really dents away at you.
"I was always around stand-up comedy, and so I would do bits on stage if they needed someone to walk on and say something stupid. I thought I was just that spare part that was hanging about, but the comedians would always tell me I should do a show. I would say, 'Oh I don't have the right face to be looked at because a lady told me that when I was 17 and I've took it awful to heart.'
"But it just got to the point that I had literally nothing else I could do and it seemed like a good way into writing and other things. So, I did it and then realised I was good at it."
And, Storrie says, telling jokes to a crowd, whether in the basement of a comedy club or at the Edinburgh Festival Fringe, is where she now feels most natural.
She added: "I can't really explain it. There are people who sit and write notes and practise their routine but that's the one thing I don't have to do. For example, I watch videos of train stations so I know how to walk through it, where I am and what I'm doing, and if I don't I'll be very anxious.
"But on stage is the one place I don't feel like I need to practise. I just feel very at home."
So, with a new series under her belt, a regular radio show and millions of online followers, what's next for Scotland's rising comedy star?
"Well, I hear The Bill might be coming back, so maybe I'll finally get a part," laughed Storrie. "No, I don't know, really. I just want to keep living a life that's purposeful. For me, comedy has never been about being famous. I don't have many talents – I'm not good at maths, I couldn't be an accountant, I can't run a bakery because I don't bake – but I can talk, I can be honest, and I can share my truth.
"So, I'm focused on making that purposeful and living in a way that makes people like me feel like they're less alone because, for so long, I felt like it was just me."
---
Sound & vision
Here, Ashley Storrie shares a few of her favourite things…
What is the funniest movie you've seen?
The Christopher Guest masterpiece Best In Show tickles all my funny bones.
It's your fantasy dinner party. Who's on the guest list?
Doris Day, Ruth Bader Ginsberg, Dwight D Eisenhower and George RR Martin. I'd sing show tunes with Doris, chat politics with Ruth, ask Eisenhower what he knows about Aliens (because I feel like he's the president who'll know stuff) and force George to tell me how Game Of Thrones was supposed to end.
Who is the greatest legend of entertainment?
Barbra Streisand, beyond the fact she's multi-talented, she's just so secure in who she is and she lives her best Barbra Streisand life.
What is your favourite book?
Soulless by Gail Carriger. I have loads of favourite books but this is one of them. I love stories about plucky Victorian ladies who solve crimes and then smooch a swarthy werewolf.
Which song speaks to you the most?
Time in a Tree by Raleigh Ritchie has this line that accurately describes how I feel sometimes, trying to function in a neuro-typical world: "I'm on the edge of crying all the time, cause I can't human right."
---
Dinosaur, BBC1, Monday, June 7, 10.45pm, and available now on iPlayer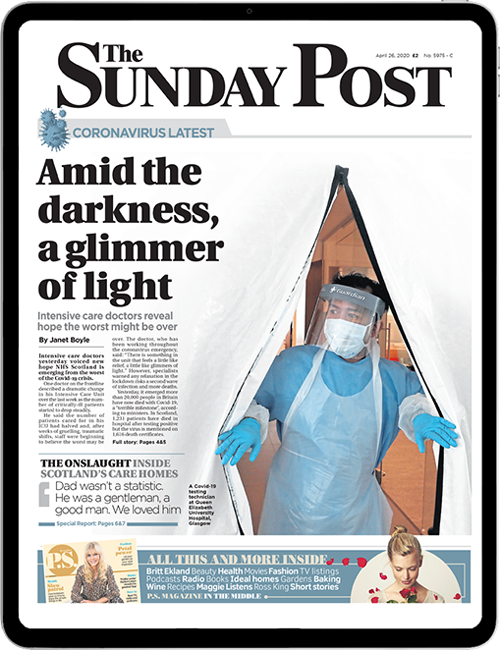 Enjoy the convenience of having The Sunday Post delivered as a digital ePaper straight to your smartphone, tablet or computer.
Subscribe for only £5.49 a month and enjoy all the benefits of the printed paper as a digital replica.
Subscribe