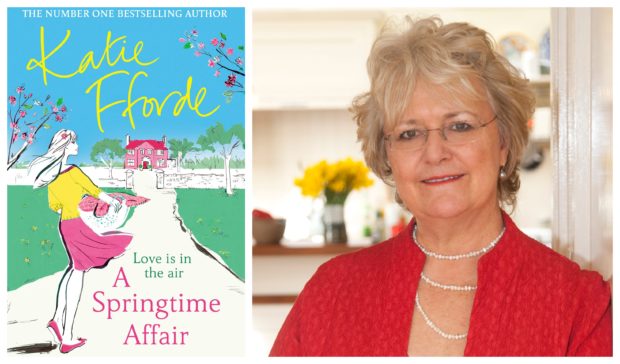 Romantic novelist Katie Fforde's working life is not all hearts and flowers. When it comes to researching books, she admits she is more than happy to get her acrylic nails dirty.
Mum-of-three Katie, 67, whose new book A Springtime Affair is out later this month, has even put herself through a Ray Mears survival course in the name of research.
And she says she owes that tough streak, and a love of the great outdoors to her Scots mother-in-law.
The Cotswolds-based author – who married Desmond Fforde in 1972 – tells P.S.: "Sometimes I get an idea for a book that won't let me forget it but about which I have no experience. That's when my research gets a little more out of left-field.
"No one who knows me can imagine me surviving in the wild without a down duvet, my own bathroom, and a silk pillow case.
"They would have been surprised to see me on a Ray Mears survival course.
"Ever since I've been married I have been going up to Scotland. My mother-in-law used to live on the edge of Loch Tay. After she died, the family kept a bit of land, reluctant to let go of a little bit of heaven.
"Desmond's mother had always been a fan of billy-can teas, rowing boats on the loch and a sort of Swallows and Amazon lifestyle. So I learnt how to build a fire and keep it going early on in the relationship."
She smiles: "Apart from wearing acrylic nails, I kept my end up quite well in the survival camp!"
This time round Katie – mum to Guy, Francis and Briony – was able to keep her hands clean, as her latest offering focuses on the relationship of fictional Gilly, a B&B owner, and mum to weaver Helena. With the arrival of spring comes budding new love – could it be the season of new beginnings for them both?
Katie says: "There are always reasons why I write a book, and A Springtime Affair is no different.
"I wanted to explore the relationship between mothers and daughters. More particularly the relationship between a woman, really quite like me (glammed up a bit!) and one who could be my daughter. My actual daughter has been married a while and has three children, so she's not quite like my character Helena, but our relationship is interesting.
"It's a friendship. We have fun, enjoy each other's company and share almost everything. But we also protect each other from uncomfortable truths in a way you don't with normal friendships."
Real life filters into Fforde's fiction, lending it authenticity. Her beloved Scotland featured in From Scotland With Love and Summer At Sea. She says: "The scenery in Scotland just asks to be written about. The lochs, mountains, the stillness, the colours, they all get my imagination going."
---
Kate Fforde A Springtime Affair, Century, £14.99