Scotland's religious leaders yesterday branded UK Government plans to offshore refugees to Rwanda "un-Christian and immoral".
The moderator of the Church of Scotland, Rt Rev Dr Iain Greenshields, said flying asylum seekers to Africa contradicts basic teachings of the Christian faith, while Archbishop William Nolan, the Catholic Archbishop of Glasgow, also denounced the plan.
They voiced concern as Prince Charles reportedly described Home Secretary Priti Patel's plan as "appalling".
On Friday, a legal challenge against the deportations was rejected by the UK High Court and the first flight is due to leave on Tuesday.
Yesterday, an asylum seeker told he was being sent to Rwanda revealed how he won a reprieve and, after travelling north to Scotland, promised a landmark legal action to secure sanctuary.
The Sunday Post View: Cruel and needless, offshoring asylum seekers is a shameful stunt by a shameless Prime Minister
Meanwhile, Dr Greenshields said the court's decision was "deeply disappointing", adding: "The teachings of the Christian faith – where we are encouraged to welcome the stranger and support those fleeing persecution – run completely opposite to both the finding of the court and the philosophy of this government. The government believes they have found a solution to keeping refugees out of the country, which is in line with their own deeply flawed approach to both immigration and in particular refugees who are fleeing desperate situations.
"I would call upon the UK Government to think again and adopt a more compassionate and humanitarian outlook rather than send people to Rwanda which is manifestly ridiculous."
His concern was echoed by Archbishop Nolan, who leads one of the UK's largest Catholic communities. He said: "The policy of forcibly deporting people who have come to this country in search of safety and security is morally wrong. It is an offence against human dignity and against all the best traditions of welcome of this country.
"It represents a new low in the UK's recent policy of creating a hostile environment for people arriving in this country and the practice should be halted immediately."
The church leaders spoke out yesterday as the Prince of Wales reportedly voiced opposition to the Rwanda policy in private claiming he was "more than disappointed" by it.
In April, Clare Downing, Moderator of the United Reformed Church General Assembly, criticised the Rwanda plan, saying "to fail to speak out would be a denial of our gospel calling", while the Archbishop of Canterbury also denounced the move in his Easter sermon.
'No one should see what I have seen. I got here and thought the terror was over but it was not': Asylum seeker reprieved from Rwanda flight mounts Scots test case against policy
First Minister Nicola Sturgeon has also condemned the Rwanda policy and criticised Scottish Conservatives leader Douglas Ross for defending it. She mocked him for abandoning "independence of thought", saying: "If he can't even find it within himself to speak out against a policy as disgusting as this, I'm not sure what he'll be able to stand up to Boris Johnson on."
The UK Government insists the plan will help deter people from trying to make the treacherous crossing of the Channel and curb the activities of people smugglers but the number of asylum seekers risking their lives to make the crossing has risen since the policy was announced two months ago.
There were 2,871 arrivals in May compared with 1,619 in the same month last year. Last year, 28,526 people are known to have crossed in small boats – up from 8,404 in 2020.
There have been more than 10,000 so far this year, according to Border Force union officials. Under the Home Office's Rwanda plan, a five-year trial would see some refugees sent to Rwanda to claim asylum there.
Officials said the move was aimed mostly at single, young migrants who arrive through "illegal, dangerous or unnecessary methods" such as on small boats or hidden in lorries.
Asylum applications have remained stable in recent years in the UK. But in the year ending March 2022 the number of applications increased to 55,146, 56% more than in March 2020.
Claims can now be judged inadmissible if people travel through another country to get to the UK. However, there are currently no recognised or legal safe routes between the UK and countries including Syria, Yemen and Sudan for those trying to escape.
On Friday evening the High Court rejected a legal challenge by refugee charities Detention Action and Care4Calais, which aimed to prevent the first flight leaving to Rwanda on Tuesday. A further challenge – lodged by Asylum Aid – will be heard tomorrow.
Home Secretary Priti Patel said: "I welcome the court's decision in our favour and will now continue to deliver on progressing our world-leading migration partnership.
"People will continue to try and prevent their relocation through legal challenges and last-minute claims but we will not be deterred in breaking the deadly people smuggling trade and ultimately saving lives.
"Rwanda is a safe country and has previously been recognised for providing a safe haven for refugees – we will continue preparations for the first flight to Rwanda alongside the range of other measures intended to reduce small boat crossings."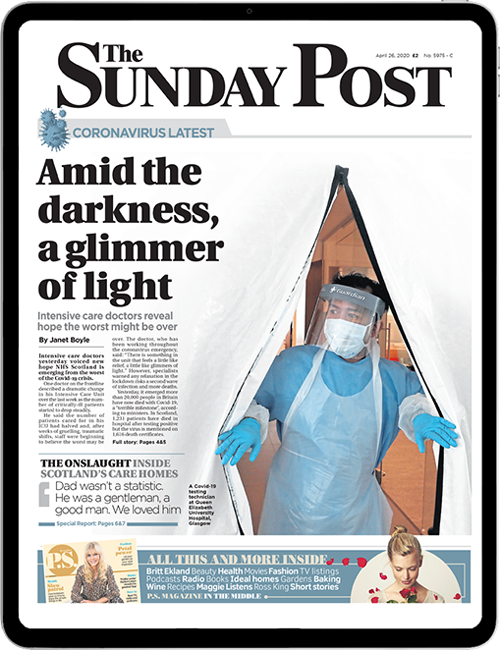 Enjoy the convenience of having The Sunday Post delivered as a digital ePaper straight to your smartphone, tablet or computer.
Subscribe for only £5.49 a month and enjoy all the benefits of the printed paper as a digital replica.
Subscribe