A new film launched by the Chris Mitchell Foundation and the SPFL Trust has highlighted the impact of the footballer's death and his remarkable legacy.
The video, Mitch: What Happened Next?, looks at how Mitchell's death by suicide in May 2016 has led to an increased focus on mental health in Scottish football.
It come as the SPFL Trust announces that all 42 member clubs have put staff through NHS accredited Mental Health First Aid training.
Mitchell's tragic passing followed a period of depression after his football career was ended by injury.
He had played for Bradford City, Queen of the South, Clyde and Falkirk, memorably scored the winning goal for the Bairns against European giants Ajax in an international challenge match.
The Chris Mitchell Foundation was set up by Chris' dad and sister Laura following his death, with the aim to dispel the stigma associated with mental health in Scottish football through education and by raising awareness.
The new film is a sequel to Mitch from February 2018, which featured six of Chris' friends discussing his tragic passing and sharing their memories of him.
Philip Mitchell, co-founding trustee of the Chris Mitchell Foundation, said: "We miss Christopher every day and set up the foundation in his memory. We want to prevent other families from having to go through the pain that we've been through in recent years. No one should have to experience the loss of a loved one to suicide.
"The Mental Health First Aid Training programme has been an enormous success, with over 600 people trained. This is at all levels in the SPFL, Women's football, and the grassroots game.
"I want to thank the people that have taken part. You're helping Scottish football to have a conversation that is desperately needed. It is people like you who give us hope. Things are changing in the conversation around mental health, and there is no going back."
There has been a significant increase in the rate of sign-ups for mental health training through the SPFL Trust during the pandemic – accounting for nearly 20% of all participants since the training launched.
On average five members of staff from each SPFL club, such as community and academy coaches, pastoral staff, and even football managers, have completed the course.
In total, over 600 people have taken part in MHFAT with delegates attending from across football in Scotland at all levels from the men's and women's game.
It comes at a time when Scotland is facing significant mental health problems. There were 833 suicides registered in Scotland in 2019, compared to 784 in 2018.
Over the last four years there has been a worrying trend showing an increase in suicide.
Men are still three times as likely as women to die by suicide, and men in their middle years (25-54) account for the largest group.
Rangers star Scott Arfield appears in the film, recalling his memories of Mitchell as a friend and former teammate, as well as an increased focus on mental health in locker rooms across the country.
He said: "I see it in the Changing Rooms now, people talk, people are far more open, there's no doubt what happened to Chris has changed things massively.
"Chris was my best friend, he is sorely missed by all of us, every day. But, he will always be remembered.  He was so popular and a pleasure to be around. It's not easy to think about the circumstances around his tragic passing but I am hopeful that our charity work underlines the importance of mental health awareness and training to break the stigma.
"No matter who you are, or the circumstances you face, please don't give up and speak to people around you for support."
Bernadette Malone, chair of the SPFL Trust, said: "The SPFL Trust is committed to using the power of football to enable a change in conversation, because we know talking can save lives.
"Our partnership with the Chris Mitchell Foundation was born out of tragedy, and we know that his family mourn his passing every day. But from that darkness there has been some light. Scottish football is now talking about mental health.
"There is still so much to do, as recent trends show us. No death by suicide should ever be inevitable, and so we will continue to support and build programmes that use football for good."
Mark Fleming, director, Positive Mental Health Scotland who deliver Mental Health First Aid Training on behalf of the SPFL, said: "Mental Health First Aid Training aims to give participants a better understanding of mental health and the ability to spot indicators of poor mental health.
"The conversation is changing around mental health, and people are starting to realise it is just as important as physical health. Your mental health needs to be nurtured and exercised on a regular basis. We want to help people understand the preventative measures to help others before it becomes too much."
Gayle Brannigan, chief executive officer at St Mirren Charitable Foundation, said: "The conversation around mental health in sport, and in general, has changed, and people want to be able to help each other.
"From out of the tragedy of the Mitchell family losing their son, something quite incredible has happened with this course and the legacy it is creating. The family should be proud of that and its impact on so many people's lives. We all work to continue the conversation, and this is a must for anyone who wants a better understanding of mental health."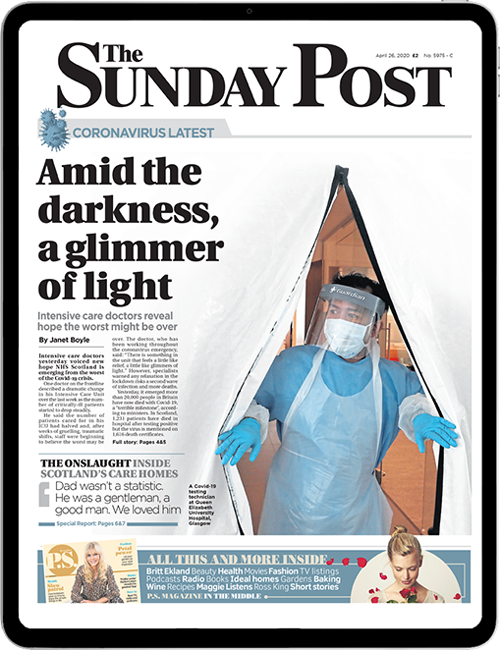 Enjoy the convenience of having The Sunday Post delivered as a digital ePaper straight to your smartphone, tablet or computer.
Subscribe for only £5.49 a month and enjoy all the benefits of the printed paper as a digital replica.
Subscribe