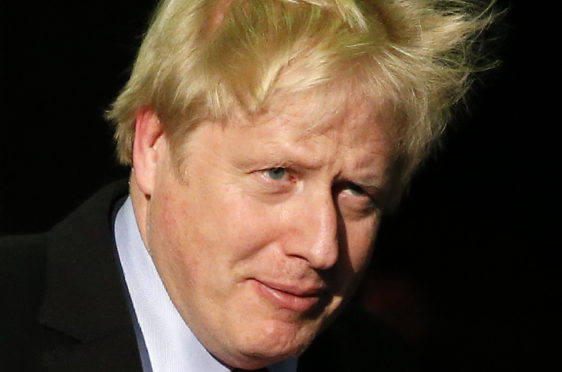 According to the BBC, 2.3 million people watched Andrew Neil interview Nigel Farage on Thursday night. The main event was not, in fact, the interrogation of the ruddy Brexiteer, but what followed.
Dismissing Farage, Neil turned directly to the camera to say that, despite the BBC's best efforts, Boris Johnson had refused to agree a date. "No broadcaster can compel a leader to be interviewed but it has been a key part of the BBC's prime-time election coverage for decades," said Neil.
"We do them to scrutinise and hold to account those who would govern us. That is democracy. We have always proceeded in good faith that the leaders would participate and in every election they have, all of them, until this one."
A clip of this short, pointed oration went viral on social media. There was outrage at Johnson's cowardice, fury at the BBC for failing to secure the Prime Minister before proceeding with the other party leaders, and a lot of debate about whether any of it matters.
Well, it does and it doesn't. Millions of people are aware Johnson lacks the guts to face the Neil blitzkrieg. Yet I find it vanishingly unlikely that many, if any, of them will change their vote as a result.
Ultimately, there are bigger issues to consider – Brexit, the economy, foreign policy, anti-Semitism, revolutionary socialism, Scottish independence etc. Amid all that, what does one empty chair amount to?
But it matters at a deeper level and in a more insidious way. Professor Bo Rothstein of Gothenburg University, one of the world's foremost experts on trust in public life, is fond of quoting an old Chinese saying: the fish rots from the head down.
Rothstein's research has shown that in countries where public leaders behave with honesty and integrity, those values are more commonly found in the general populace. In countries with low levels of honesty and integrity at the top, there tends to be more corruption and less trust throughout society.
If you transplant an individual from one of the latter countries to one of the former, that person's behaviour often improves. In short, if you believe most other people can be trusted, you will behave in a trustworthy fashion.
This, I think, is the real danger of the Trump/Johnson era – the destruction of good faith.
Western democratic politics has long been governed by an unwritten ethical code. You don't tell outright lies. When it comes to the crunch you put the interests of your country above your own. You don't shut down Parliament to avoid scrutiny. You don't boot out of your party everyone who disagrees with you. You turn up for the interview. You understand the ethical code is there for a reason.
This election campaign has ended all that. It has been an exercise in bad faith. Lies have been told repeatedly, by both main UK parties.
In better times, the character of the two potential candidates for PM would exclude them from that office. Both men are putting ideology and self-aggrandisement ahead of the national good. They are unravelling the conventions that usually act as national stabilisers.
We can all see the fish's head decaying – what worries me is what happens next.