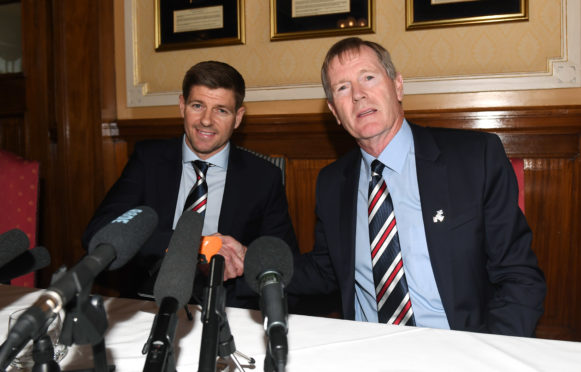 As feel-good news items go, Steven Gerrard's new deal is about as tasty a treat as Rangers could have hoped to serve up on a cup final weekend.
Appointed Light Blues manager 18 months ago the Liverpool icon has proved himself every bit the class act Dave King and the Ibrox board believed he would be.
The trauma of Pedro Caixinha's time in charge – and here recall the Portuguese standing in a bush to argue the toss with fans after the disastrous loss to Progres Niederkorn – now seems a distant memory.
Though only 39 years old and an incomer to Scottish football, Gerrard carries out his duties with the dignity and gravitas in keeping with predecessors such as Walter Smith, Jock Wallace and Bill Struth.
That a man who has lifted the Champions League trophy and won 114 caps for England should conduct himself well in a management role is not a huge surprise.
The drive he has shown to raise standards at all levels throughout the club, however, talks of a coach who is aiming to reach the very highest level.
No easy job given the scepticism with which Scottish football is regarded south of the border.
Speaking to the media on Friday afternoon, Gerrard made a point of reiterating that he knew what he was taking on when accepting the job of Rangers manager.
Given years to consolidate while their historic rivals battled their way up through the lower leagues, Celtic have built up formidable momentum.
The fact that they are bidding to win their 10th successive domestic trophy says it all, and Rangers know they are currently out-muscled both in terms of squad strength and player budget.
But Gerrard also knows how quickly things can change in football.
His Champions League success in 2005 is one of the best examples of that truth.
The Miracle of Istanbul saw Liverpool fight their way back from 3-0 down to Milan to win the trophy, with Gerrard both scoring and winning his side a penalty kick.
If it is fanciful to imagine quite such a storybook ending to today's showpiece, there is certainly reason for Rangers supporters to believe their team can win.
In Alfredo Morelos and Ryan Kent, they have two players with the ability to torment any defence.
The latter proved it in his displays against the Hoops last season and, for sure, he owes the team a big display this afternoon.
Win the Cup, and the title itself will look that bit much more do-able to all connected with the Ibrox club, who already have big changes coming, following Dave King's decision to stand down as chairman.
Where finding money for new signings in January had looked difficult previously, a way might suddenly be found to give the squad that boost it could undoubtedly do with.
As encouraging as the news of Gerrard's contract extension is, what happens next is the question that remains on the lips of all supporters.