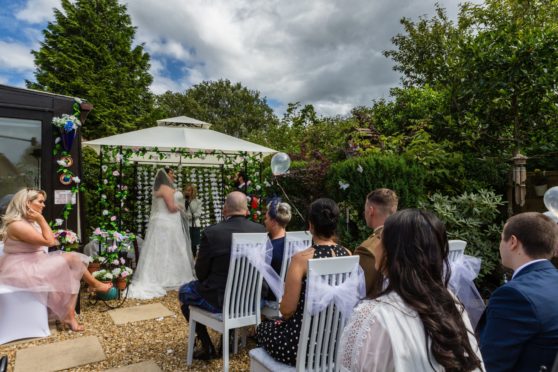 Couples desperate to marry during Covid are ripping up plans for their big day and getting hitched in their back gardens.
With numbers attending weddings cut to just 20, including the bride and groom, home celebrations have taken off.
The walk down the aisle has instead become a stroll down the garden path to exchange vows yards from the drying green and kitchen window.
Rebekah Morris, 25, married her Australian fiance Matt King, 30, at her grandparents' home in Cumbernauld.
She linked her dad Gordon's arm as neighbours cheered in the quiet North Lanarkshire cul de sac. Her grandparents Christine and Larry built an archway of flowers over the path to the back garden.
Rebekah met Matt when she worked in Perth, Australia, two years ago and the couple soon became inseparable.
"My visa expired and I returned home to Glasgow with Matt and we arranged to marry in the plush Eastwood House in East Renfrewshire on August 1," said Rebekah. "However, when lockdown closed venues, we had to abandon our plans. Matt's family had to cancel their flights from Australia and we didn't know when we would marry."
When weddings resumed in July Christine and Larry kindly asked if they wanted to marry in their back garden.
Rebekah said: "I had almost grown up in the house, from when I was baby, and it was a wonderful idea.
"Home is where the heart is, they say, and we planned for 15 guests. My beautiful dress was perfect for a posh venue or garden and I left by the front door, down the garden path, while neighbours cheered and raised glasses in the street."
Matt's family were booked up to visit Scotland before the coronavirus pandemic but their flights were cancelled due to the new restrictions so they instead watched online from Australia, eight hours ahead.
"My gran has always doted on her garden and it was a picture," said Rebekah. "We were offered an alternative date at Eastwood House but by then we had our hearts set on marrying at home. There's something very romantic about marrying at a house with wonderful childhood memories."
Her brother, David, iced a three-layer wedding cake, despite not being a baker. The traditional handfasting was with a tartan ribbon and a scarf with the Australian flag, and the garden was decorated with eucalyptus leaves.
Humanist wedding celebrant Maureen Kettle said: "Rebekah and Matt are the sixth couple I have married at home during Covid. Others have taken their vows in woods by their homes.
"Love will find a way. If a family home is filled with happy memories then it's a perfect venue. Rebekah's family and indeed her neighbours made their day special."
Disposable cups of fizzy wine were placed in the street for the neighbours to toast the couple and some had festooned their gardens with beautiful flowers.
Matt said: "When Rebekah left the front door I could hear a big cheer and knew she was about to arrive."
Rebekah added: "Our original venue was costing £1,000 to hire alone, without buying even a sandwich, far less the wedding meal. No doubt our funds will go on something else, but that is the nature of life."
Indoor and outdoor wedding venues are currently restricted to a maximum of 20 people, excluding celebrant and interpreter.
Outdoor marriages or civil partnerships are recommended due to the reduced risk of transmission.
---
Our garden wedding was small but beautiful
Elizabeth Docherty married fiance Ieuan Thomas in her parents' back garden in the Borders village of Oxton earlier this month.
The couple had planned to tie the knot in a wedding venue barn with 120 guests on May 2.
"We spent weeks earlier this year watching coronavirus move closer until lockdown forced weddings to stop," said accountancy firm worker, Elizabeth, 26.
"We could have rebooked for next year but we wanted to marry.
"We held a private exchange of vows by Zoom at home on the day we should have married.
"My parents, Linda and Paul, suggested we marry at their home and made a beautiful floral archway. Mum baked the cake and we had a lovely buffet.
"It was a small but beautiful wedding with just 11 guests. Both my parents gave me away."
The couple met as students at Edinburgh University.
Ieuan said: "It was everything we could have asked for. Just perfect.
"We plan to have a big party with family and friends after Covid…in our garden."
Elizabeth added: "If I am pregnant by then, I'll get a dressmaker to let it out so it will be a double reason to celebrate."
---
We had wanted a castle but this was wonderful
Jane Rice and Canadian fiance Andrew Sudmant's plans to marry at a castle were cancelled due to the lockdown.
"Along with my parents, Susan and Duncan, we decided to plan a wedding at home," said Jane, 30, a fundraiser for research programmes at Oxford University's chemistry department.
"Covid has taken over so many aspects of our lives, and this was our way of taking back control."
The sun shone as celebrant Candice Dillen officiated at Jane's parents' East Lothian home.
"It was a small but wonderful wedding on our planned wedding date of July 4, just nine people, with photographs later at the beach.
"Our original plans were for 140 at Winton Castle but we will have a big celebration after Covid. My dress fitting was scheduled for the day after lockdown in March so I had to find one online. I sent back countless gowns, until eventually a lovely midi one looked and fitted perfectly."
The couple fell in love when they met on a tour of London's historical coffee houses.
"It would have been lovely for my parents and grandma to be there but travel was difficult and so they watched online from Vancouver," said Andrew, a climate researcher at Leeds University.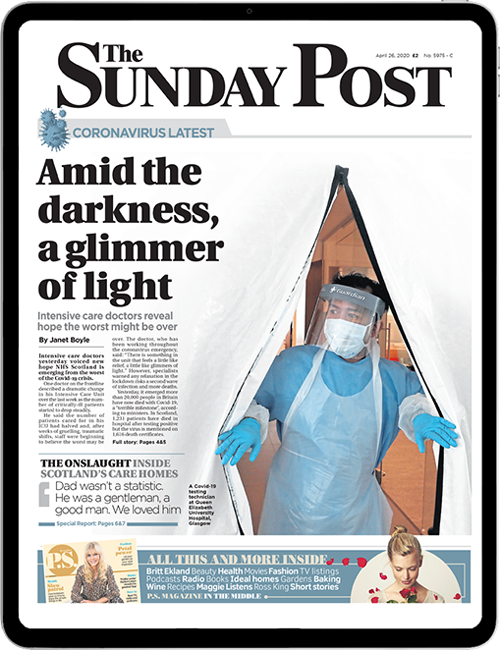 Enjoy the convenience of having The Sunday Post delivered as a digital ePaper straight to your smartphone, tablet or computer.
Subscribe for only £5.49 a month and enjoy all the benefits of the printed paper as a digital replica.
Subscribe