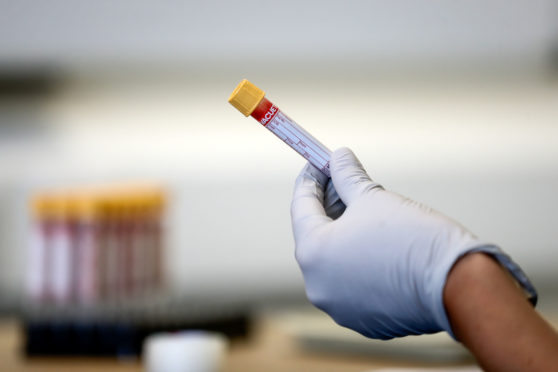 Care home operators yesterday warned testing delays are risking staff and residents after the return of schools provoked a surge in the number of children being tested.
Robert Kilgour, who operates the ­family-run Renaissance Care group of 15 homes, said the return of schools has meant results have not been ready for up to six days.
He said: "The situation is at times frustrating beyond belief when we are trying our best to keep everyone safe.
"It took months for the Scottish Government to finally get the once-a-week testing in place for our 1,100 staff, and we were getting results back within 48 hours, which was acceptable.
"However, the moment they allowed schools to re-open, we've been beset with problems about trying to get test results back in time so we can keep every­one safe – and suddenly it's taking up to six days. We discovered that 7% of our staff were asymptomatic but tested positive, which is why it's so vitally important they are tested once a week and the results get back quickly."
The delay in getting test results for ­ staff has been highlighted as an ­increasing concern by many homes.
In May, Health Secretary Jeane Freeman committed to weekly testing of all 50,000 care home staff in Scotland but that target has repeatedly been missed.
The government has been criticised for failing to prioritise care home staff who are in close contact with high-risk older people in the same week that 17,500 low-risk children were tested, with only 49 positive and at least 20,000 told to self-isolate on Wednesday.
One of Scotland's biggest ­operators, Balhousie, which runs 26 homes, said 846 staff were tested but it had only received six results by Friday.
Tony Banks, chairman of Balhousie Care Group, said: "Between Monday and Friday of this week we had 846 staff members tested and by the end of Friday only six results had been returned. That's a cruel waiting game to play on anyone, and it's unacceptable. Our staff are anxious, our managers are in the dark and our residents are at risk of being exposed to asymptomatic staff.
"We want an assurance from the government that efficient weekly testing and results are given urgent priority. The lives of society's most vulnerable depend on it." Gary Smith, leader of the GMB union in Scotland, which represents staff in care homes, said: "This is a shameful ­reflection of how these key workers are valued."
Dr Donald Macaskill, chief executive of care homes umbrella body Scottish Care, said: "It is important all of us consider carefully whether a child requires a test in line with recommended guidance."
A leaked letter to care homes from the interim deputy director of the ­government department responsible for testing blamed a backlog at the UK Government-funded Lighthouse Laboratory in Glasgow. Tracy Slater said it could take weeks to sort out.
On Thursday, Nicola Sturgeon said a Public Health Scotland review was under way. On delays in getting test results back to care home staff, the Scottish Government said: "We are aware of a significant increase in demand for testing this week and are implementing contingency plans to increase capacity."
Meanwhile, care home owners have confirmed patients with Covid were discharged from hospital into care homes as official investigations continue into the controversial bed-clearing policy.
Operators have revealed trust between hospitals and homes was undermined because health authorities were "clearly under enormous pressure" to move patients out of wards in the weeks before and after lockdown.
Their comments came after we revealed dozens of patients were sent to homes after testing positive.
Last week, the First Minister and her official spokesman insisted the patients may not have been infectious by the time they were transferred and that it was not "definitively, categorically" clear if patients were carrying the virus into Scotland's care homes where 2,000 ­residents have died in the pandemic.
But Mr Kilgour confirmed one of his company's homes in Aberdeen took in a patient with Covid who had been discharged from a hospital in the city. He said: "Luckily for all of our other residents and staff, we have had a strict isolation and barrier nursing policy in place for all new residents since the outset of Covid-19, so we were able to protect everyone.
"I'm proud we have such a dedicated team of staff and that meant, despite being positive for coronavirus, this lady was nursed back to health and survived."
The woman had arrived from hospital after NHS staff said she had twice tested negative. However, within an hour of arrival, the hospital called to say she was, in fact, positive.
Two weeks ago, we revealed 37 patients were discharged from Scottish hospitals after a positive test as ministers moved to clear NHS beds to cope with an expected onslaught of Covid patients.
Greater Glasgow and Lothian health boards has so far refused to publish its figures, while NHS Ayrshire and Arran said its earlier figure of 17 ­positive tests was a mistake and the ­figure was actually three. Care home operators said it was no surprise mistakes were made in the frenetic weeks around lockdown as ministers demanded hospitals clear 900 beds.
Mr Kilgour said on another occasion in mid-April, a female hospital patient from Edinburgh was sent to one of his care homes after assurances by the NHS that she was negative for Covid-19.
He said: "What they neglected to inform us, until several days after she had been admitted, was that all the other hospital patients she had been in ­proximity with had been Covid-19 positive. Again, the consequences could have been disastrous for everyone in that home but for the fact that we had preventative measures in place."
Mr Kilgour says government pressure to empty hospital beds and place as many patients as possible into care homes has "changed the dynamic" between NHS medical teams and care homes.
He said: "Before Covid-19, our ­managers would go into hospitals and, along with doctors and the NHS health teams, they would assess each patient so we knew exactly what care and support they needed when they were ready to move into one of our care homes. However, things changed dramatically with the onset of the pandemic and we were no longer able to go into the hospitals and it became clear they were under enormous pressure to move as many patients as possible from wards to care homes. Because of this, we decided we could no longer have the same level of trust in what we were being told, and our experience has proved us right."
Lib Dem health spokesman Alex Cole-Hamilton said the Scottish Government should increase its testing capacity and prioritise care home staff. Scottish Conservative health spokesman Donald Cameron said: "More lives will be lost if the virus is allowed to rip through care homes once again."
NHS Grampian said: "We cannot ­comment on individual cases." It has also emerged that hundreds of patients with suspected coronavirus were moved between hospitals during lockdown. Official figures show 914 patients who were tested for Covid-19 were transferred by health boards in April.
A further 1,020 patients who were not tested for the virus were also moved between hospitals.
The figures were obtained ­following freedom of information requests to Scotland's 14 health boards.
Mr Cameron said: "Covid patients may have been sent from one place to another, taking the virus with them and infecting others. For this to happen on such a scale, with half of all transferred patients not being tested, seems reckless in the extreme."
Jim Crombie, deputy chief executive of NHS Lothian, said: "It is not uncommon to move patients between hospital sites often in order to access speciality healthcare services. Any patient move is co-ordinated by our clinical teams. As part of our ­strategic Covid-19 plans we established discrete Covid and non-Covid pathways with designated ward areas to support appropriate provision and reduce risk for our patients."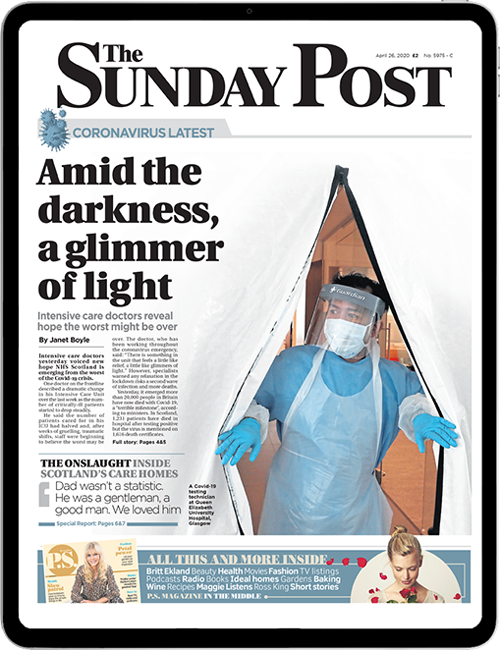 Enjoy the convenience of having The Sunday Post delivered as a digital ePaper straight to your smartphone, tablet or computer.
Subscribe for only £5.49 a month and enjoy all the benefits of the printed paper as a digital replica.
Subscribe