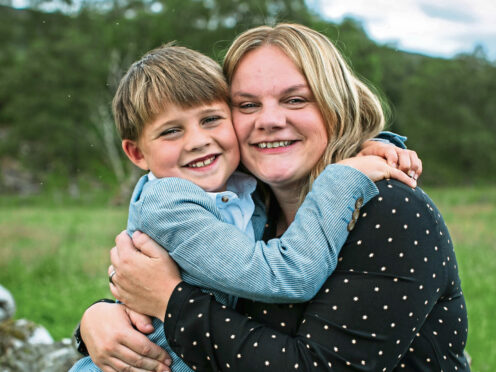 In her darkest moments as she nursed her young son in a children's cancer ward Mhairi Kyle would watch NHS staff worked tirelessly to help save young lives.
Her son Callum was just three when he was diagnosed with an aggressive form of leukaemia in 2018.
He was to battle for months to survive, often in isolation with Mhairi and nurses wearing masks to avoid him dying from infection.
The mum of three, 39, from Crianlarich, Stirlingshire, said: "The nursing staff made our 24 weeks in the children's cancer ward much more bearable. They were kindness itself to me, my husband Gavin, our families and, of course, our lovely Callum. It sparked a need in me to become a nurse and care for others in need."
Callum was to spend his fourth Christmas in isolation in the Royal Hospital for Children in Glasgow, sometimes only able to see his big sisters Emma and Erin through a glass partition or by video calls. The slightest infection could have overwhelmed and killed him.
Mhairi said: "Those were difficult days, being separated from our two daughters at home with Gavin, but the nurses, consultant and others made them bearable. Callum endured all his treatment with great courage and inspired us all to remain upbeat and hopeful, when we were at our lowest. All the parents were terrified that their children would not survive and my heart went out to those whose did not. All we could do is rally round and support them."
But the tough challenge of caring for desperately ill patients only strengthened her will enter the profession.
Mhairi said: "I knew I could not return to a children's cancer ward because that would be too upsetting, so I focused on qualifications for the midwifery degree course.
"As a mum I had watched midwives and marvelled at how they cope, often in emergency deliveries. It was one of the reasons I am a huge fan of the NHS and feel it is our national treasure."
It took a year of intense study at Forth Valley College to get a Higher National Certificate in healthcare practice and a coveted place on the nursing degree course at the University of the West of Scotland.
She added: "It will be tough going with three children, Emma 11, Erin 10, and Callum now seven, but Gavin is a devoted dad and husband and with his support and that of our families, I am determined to celebrate my 40th birthday graduating as a midwife."
To add to the family's joy, the mum has been nominated in the prestigious Sunday Post People's Choice nurse of the year. The award is a popular category in the Royal College of Nursing Scotland's annual recognition of nurses and midwives who go above and beyond the call of duty.
She was nominated by children, with the nomination forwarded by their dad. The carefully completed form describes in touching words a caring and devoted mum.
Gavin said: "We are all proud of Mhairi, not least because she is taking her experience of being a mum of a child with cancer and go on to nurse others. Childhood cancer is extremely difficult for families to endure but Mhairi showed strength which helped us all through."
Mhairi says she is stunned to be nominated. She added: "I never expected it. The country has thousands of midwifery and nursing students giving their all to patients."
Callum's amazing bravery through months of treatment has gone on to inspire Mhairi's sister Denise McPhee to change her career – from a scientist working in pathology at Monklands Hospital in Airdrie to senior scientific officer for Cancer Research UK at the Beatson Institute for Cancer Research, Glasgow.
She said: "I was visiting Callum in the Royal Hospital for Children and bumped into a colleague who told me there was a job coming up at The Beatson and I knew I wanted to be part of that.
"If I could not directly help Callum, I could help others by working in cancer research. It was an entirely new field to me but I was ready for the challenge.
"Seeing Callum and other children in the Schiehallion wards is humbling, not least because the treatment is so rigorous and they always manage a smile."
Callum's leukaemia was one of the most aggressive types which oncologists battle. Treatment is rigorous and difficult to tolerate.
"To be honest, Mhairi broke down and wept for two days after Callum was diagnosed, and then said that the worst had not happened to them because they still had their son and they must all remain optimistic.
"She let others help her which is hard to do when you are trying to remain strong enough to cope. She will be a great midwife because she is already a wonderful mum and inspired us all."
---
To nominate a nurse, midwife or nursing support worker for the coveted Sunday Post's People's Choice award with the Royal College of Nursing Scotland log onto www.rcn.org.uk or email scotland nurseawards@rcn.org.uk or write to Royal College of Nursing Scotland, 42 South Oswald Road, Edinburgh, EH9 2HH.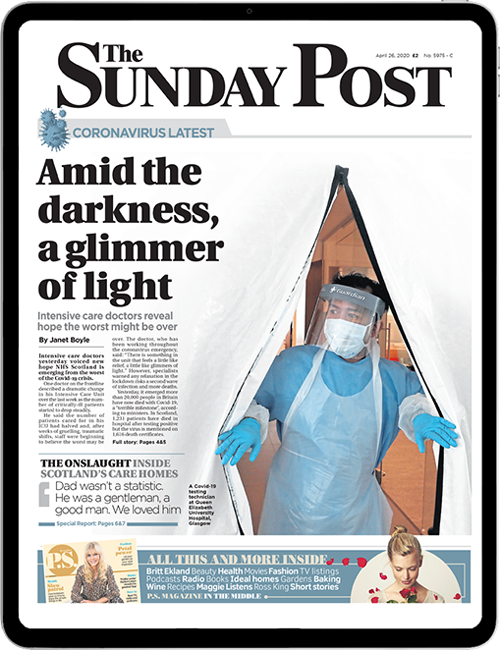 Enjoy the convenience of having The Sunday Post delivered as a digital ePaper straight to your smartphone, tablet or computer.
Subscribe for only £5.49 a month and enjoy all the benefits of the printed paper as a digital replica.
Subscribe