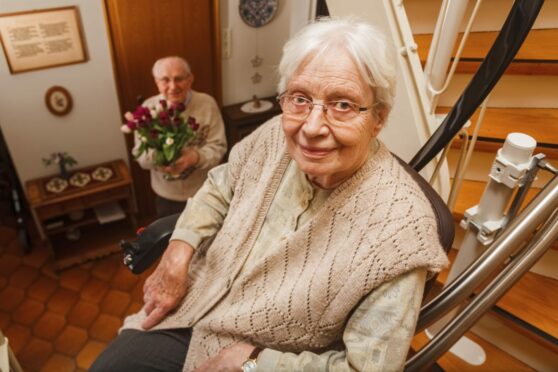 If you mention the phrase "mobility aid" to a loved one, you may be met with some resistance. After all, thoughts of implementing the likes of a wheelchair, motorised scooter, or stairlift can be intimidating to older people at first.
However, this really isn't the case. Mobility aids not only enable you to be independent, but grant you flexibility, encourage inclusivity, and, most importantly, preserve your dignity. How can a mobility aid help you feel more independent today?
Some Sunday Post online content is funded by outside parties. The revenue from this helps to sustain our independent news gathering. You will always know if you are reading paid-for material as it will be clearly labelled as "Partnership" on the site and on social media channels,

This can take two different forms.

"Presented by"

This means the content has been paid for and produced by the named advertiser.

"In partnership with"

This means the content has been paid for and approved by the named advertiser but written and edited by our own commercial content team.

---
Where can I buy a mobility aid or wheelchair?
Do you or your loved ones need a mobility aid? They can grant you everyday freedoms in small ways that older people, or people with restricted movement, can vastly benefit  from.
If you're considering whether it's time to buy a wheelchair or mobility aid, visit Ableworld Paisley in person.
Jacky and Stuart Simpson are the husband and wife team heading up the Ableworld Paisley store. With a prime location in Paisley situated within Abbey Mill Business Centre, part of the historic Coats Mill complex, it's the perfect one-stop destination for you to start considering mobility aids for either you or your loved ones.
A personalised service you can trust
When you buy a mobility aid, you want the right guidance. The team at Ableworld Paisley are on-hand to provide you with personalised service, which is why Jacky believes the shop has such a loyal following and trustworthy reputation in the area.
"They appreciate the service they get. We have regulars and returning customers who trust us and our advice," Jacky said. Ableworld Paisley is adamant about providing a trustworthy service and experience for its customers – all staff are DBS checked, Trusted Trader endorsed, and they follow a strict policy to never pressure sell. Jacky adds: "They [customers] know that we give advice in their best interest."
We would never sell something unsuitable to a customer."
The team at Ableworld Paisley welcomes all customers into store, where they can show you product ranges and guide you through the options available for your needs. From larger mobility items to smaller products, like bathing and incontinence products or walkers, everything helps to promote independence.
They are able to provide product demonstrations in store and also a short assessment, ensuring that you are getting the right product for you.
How can a mobility aid help me or my loved ones?
Think a mobility aid isn't for you? Think again. Jacky believes that mobility aids actually open up a world of possibility: "They allow freedom and flexibility, independence and preserve your dignity."
Here are some of the top ways a mobility aid can help you feel more independent today.
Rising recliners to help you stand after sitting
There's nothing better than sitting back in your favourite chair with the daily paper, a gripping book or while watching your favourite programme with a cuppa. But when it comes time to stand up, some people with mobility problems may struggle. A rising recliner chair helps you stand after sitting without a struggle. Enjoy your leisure time without a niggling worry of falling back on your chair with a rising recliner from Ableworld Paisley.
Stairlifts to enable access to your entire home
Your home is your pride and joy. But for many people with mobility issues, they are confined to one floor or area and are not able to enjoy or move freely throughout the entire home. A stairlift instantly enables you flexibility and freedom of movement to go up and down as you please.
Ableworld Paisley is home to a dedicated engineering team specialising in stairlifts. With a variety of stairlifts to suit most budgets, you can choose from reconditioned stairlifts, new stairlifts or even rental stairlift, available for straight staircases and staircases with curves or bends.
Buy a wheelchair or mobility scooters to keep up with the family
Imagine that you set off with the family for a lovely family stroll in the countryside. Feeling the fresh air, taking in new sights and enjoying family time is one of life's greatest pleasures. But what if you're struggling with your mobility? Rather than waiting in the car, join in on the adventure with a wheelchair or mobility scooter. These aids don't exclude you from the fun – in fact, they help you join in.
Signs you or your loved ones could use a mobility aid
Increased difficulty in walking, standing or standing up after sitting down.
Difficulty in balancing and increased falls, especially if you take medication that can make you dizzy.
Suffering from conditions such as paralysis, cerebral palsy, stroke, multiple sclerosis, muscular dystrophy, arthritis and spinal cord injury.
Mobility aids, wheelchairs, scooters, and stairlifts – while these may seem intimidating and like they symbolise a big life change, these aids are here to help you live the life you deserve by fostering freedom, encouraging independence and inclusion and preserving your dignity.
---
Learn more about how to buy a wheelchair or mobility aid today. Browse the full stock of Ableworld online, or visit in store, no appointment necessary.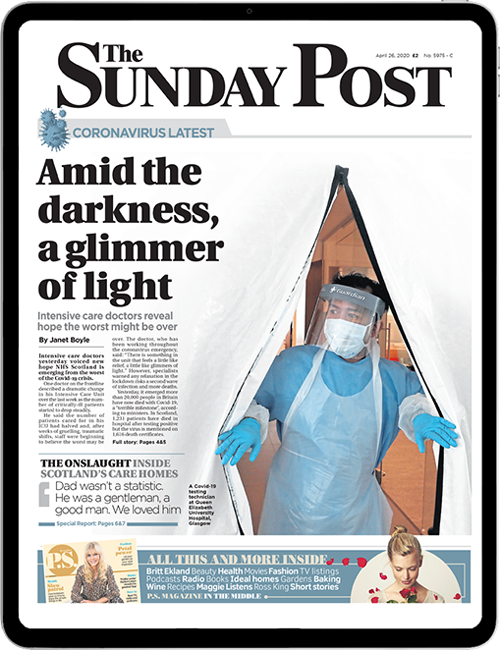 Enjoy the convenience of having The Sunday Post delivered as a digital ePaper straight to your smartphone, tablet or computer.
Subscribe for only £5.49 a month and enjoy all the benefits of the printed paper as a digital replica.
Subscribe