Britt Ekland was one of the most recognisable women on the planet in the 1960s and 70s.
On screen, the Swedish-born actress starred opposite Michael Caine in Get Carter, Edward Woodward in The Wicker Man and Roger Moore in James Bond film The Man With The Golden Gun.
She had high-profile relationships with Peter Sellers (to whom she was married for four years) and Rod Stewart.
At 77, she continues to enjoy her acting work and will tour Britain in a new production of the famous thriller The Cat And The Canary later this year.
"I am enjoying every moment of being on stage again," said Britt.
"I never started out to be a stage actress and when I first did it some years ago, I was well-known for being in films.
"I was terrified that it would all go wrong when I first stepped out on stage to act in front of a live audience. I still get nervous now, of course, but I am loving it."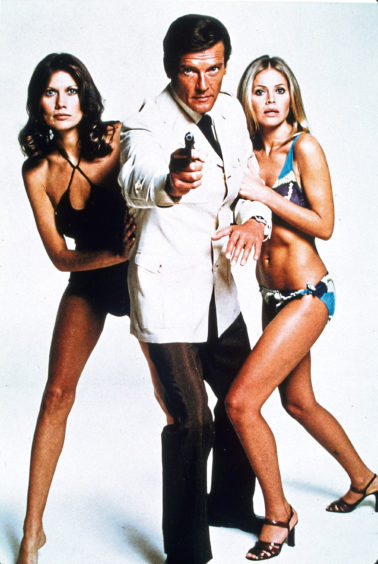 Britt has had quite a career – quite a life in fact – right from the day she was born in Stockholm in October 1942.
"I am not going to tell you I had an unhappy childhood, I certainly didn't," she recalled. "I was very happy, I had wonderful parents, a nice home and I cannot remember any family trouble, ill health or anything. It was great.
"I loved animals – and still do – and I thought that I would like to become a vet so I could work with and help animals, but then I also liked the thought of maybe being in films.
"I used to be told when I was a teenager that I looked like Brigitte Bardot and because of that, I used to get offers for photo work.
"I think it was that which really made up my mind that I would like to work in the movies. I didn't really go for a career on stage at that time – just movies, although I did think about it because I had been to drama school for two years after I finished school when I was 17.
"I toured with a kind of variety show for a while and picked up some film extra work.
"That was exciting because in Sweden everyone loved the movies and if you were in films, that was very special, even if you only had a fleeting moment on screen.
"The screen had more prestige than the stage. One of the films took me to Rome. The next thing I knew, I had a contract with 20th Century Fox and I was on my way to London."
The move to England proved to be life-changing, both on and off the screen.
"It was coming to London which led to me meeting Peter Sellers and, of course, I married him. I was still quite young but I couldn't resist him. He was always very funny although crazy at times too.
"Our marriage was fun, but he did quite a few things I didn't really agree with. That was Peter though."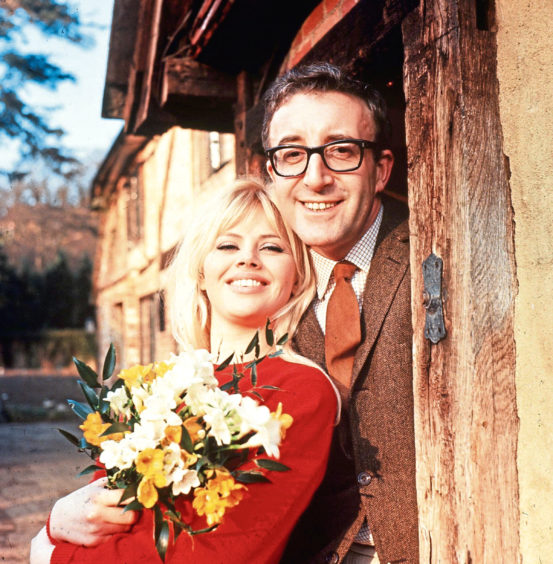 They married in 1964 and divorced four years later.
Britt was also in a long-term relationship with Rod Stewart in the 1970s.
"Rod was always good fun too and a fantastic singer of course," she said.
"I am often asked if it is true that he used to wear my underwear on stage and it is true, he did. He found them more comfortable for the work he had to do when he was in a big arena giving a concert.
"That was the only time and place he wore them, I might add."
Britt's catalogue of film successes is almost like a movie directory and she has worked with countless international megastars.
"I like the whole Hollywood thing, it is fun and making movies is fun too," she said.
"I have been fortunate to appear with so many great actors and actresses. I have even been a Bond girl which is a real big deal.
"In The Night They Raided Minsky's I worked with one of the funniest men I have ever met – Norman Wisdom.
"I knew of him, of course but working with him and spending time with him was fantastic. He was very, very funny and would fool around all the time, although he took his work seriously and would suggest improvements all the time. A brilliant man."
Britt still receives shoals of fan mail, although she has been less busy on the movie studio and having almost a second career on stage.
"I did my first pantomime a while ago and I really didn't know what to expect," she said with a smile.
"Everyone told me it would be good fun but it was more than that. It was such great fun. No two performances were exactly the same and all that audience reaction was fantastic.
"I love pantomime and I also enjoyed very much being in stage comedy. I did Run For Your Wife with Robin Askwith, Eric Sykes and Ian Lavender. That was so good.
"Now I am a stage actress as well as a movie actress and in The Cat And The Canary I play quite a spooky lady, the housekeeper who has lived alone in a big house for about 20 years but always felt she had spiritual company. You see, I told you she was spooky.
"This is my first stage play since I was in panto about six years ago and it was definitely a challenge and that suited me fine. I love a challenge, always have done since I was just a little girl.
"I have done almost everything you can think of in my career. In March two years ago I did Strictly Come Dancing in Sweden. I was the oldest competitor and I really enjoyed myself.
"I think that your own mental attitude to life is important, not just what you eat and how you move. You have to have a very mobile mental attitude.
"As you get older what you look like matters less but you've got to challenge yourself to stay relevant and continue working. I could just sit down with a cup of tea and biscuits and watch television… but I don't do that.
"Yes, I have had some surgery. When you are older you have the right to do that and you did it for yourself and your health.
"I do not understand when I see really attractive young people who go for cosmetic surgery just because they feel that they ought to. Many of them spoil the beauty they already have.
"When you look back at people like Sophia Loren or Elizabeth Taylor, they had natural beauty when they were young. You don't see such natural beauty these days because young girls are masking themselves with make-up and then surgery from a very young age, too early.
"I have learned a lot in life and I am still learning. I have learned that if you are looking for the ideal man you will not find a husband. If you are looking for the ideal film to come along you will never work.
"I know I was lucky to be born when I was and fit the ideal at the time. I am pleased with what I have done and I am very happy if someone says, 'Oh yes, you were a Bond girl, weren't you.' Yes I was and very proud of it. It is a title of honour."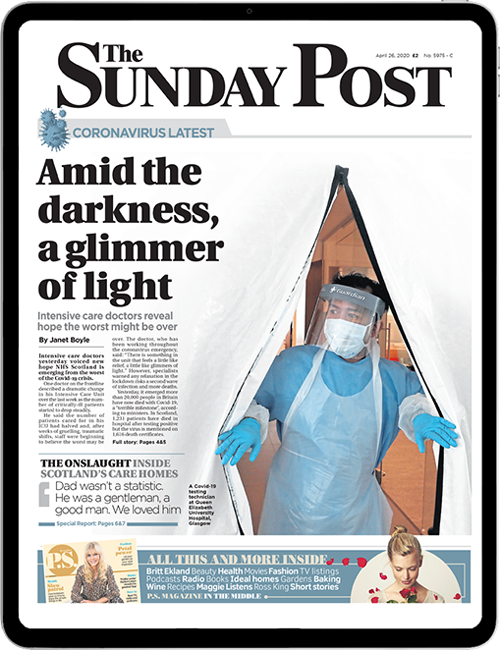 Enjoy the convenience of having The Sunday Post delivered as a digital ePaper straight to your smartphone, tablet or computer.
Subscribe for only £5.49 a month and enjoy all the benefits of the printed paper as a digital replica.
Subscribe