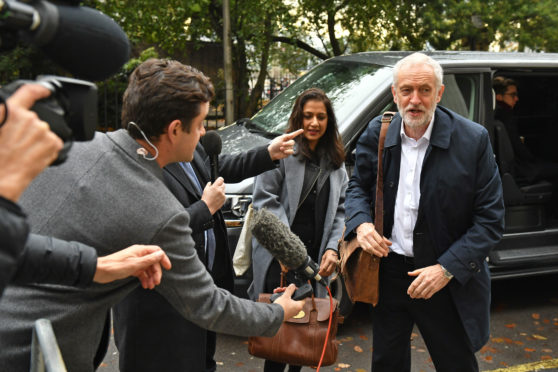 Labour will reaffirm its vow not to allow a Scottish independence referendum in the first years of government after Jeremy Corbyn met senior party members to finalise their election manifesto yesterday.
A source said Labour will pledge no referendum in the formative years of government in its election manifesto.
Nicola Sturgeon has called for a referendum in 2020, but Labour will say an early vote is "unnecessary and undesirable".
The meeting to sign off the agenda was attended by Mr Corbyn as well as Scottish leader Richard Leonard.
Last week, Mr Leonard told The Post tackling austerity would reduce support for independence.
A Labour source said yesterday: "There will not be a mandate for another referendum, because of the difference a transformative Labour government will make to Scotland.
"Nicola Sturgeon knows that, and that's why she's threatening to vote down a Labour government. She'd rather Boris Johnson stays in power because he's the biggest threat to the UK."
However, Scottish Conservative leader Jackson Carlaw described Jeremy Corbyn's decision not to rule out a second Scottish independence referendum as "chilling".
Mr Carlaw, in a speech to supporters in Newton Mearns, said there was "real and present danger" of an independence referendum "very soon".
He said: "To see the leader of one of a once-great political party casually dismissing the need to stop the break-up of our country is chilling.
"Time after time, Mr Corbyn had the chance to say no to Nicola Sturgeon.
"He had ample opportunities to say something positive about our United Kingdom – to talk up his belief in our Union.
"Yet he point-blank refused. Refused to simply agree he was even a Unionist.
"It is now beyond doubt that the leader of the opposition, the heir to Attlee, Smith and Brown, believes Scotland is expendable."
Former Lib Dem leader Sir Vince Cable predicted a hung parliament yesterday but said his party would not accept Mr Corbyn as PM.
He said: "We've been absolutely clear we couldn't possibly allow that to happen.
"It would probably be some more neutral figure and then leading into a referendum to resolve the Brexit issue and then a General Election."
Nicola Sturgeon was campaigning in Arbroath and Ellon yesterday, where she said Brexit will hit Scotland's north-east worse than any other part of the UK.
She will today unveil plans to help families save up to £300 a year on their energy bills with a free supplier switching service.
Under the party's proposals, every household that hasn't switched energy provider in two years will be contacted about the cheapest tariffs available.
Around two-thirds of households currently don't switch supplier, including older people without access to the internet.
The SNP said it would press for a national free switching service, which would compare the market and give customers clear explanations of their bills.
A database, to be held by regulator Ofgem, would be used to contact people.
Nicola Sturgeon said: "If elected, SNP MPs will push for legislation to tackle some of the financial pressures facing families, and which are being made worse by Brexit.
"With households spending around £30 billion on gas and electricity each year – an average of around £1,123 – the introduction of a national switching service will help to alleviate some of the financial strains facing households."
Murdo Fraser, Scottish Conservative economy spokesman, said: "The SNP is more than welcome to propose UK-wide reforms to the UK energy market and debate them in the House of Commons.
"It will, however, be difficult to do that if Scottish MPs aren't there – which is what independence would entail."
---
Focus on: Glasgow East 
Voters in Glasgow East caused a political earthquake 11 years ago when, for the first time in more than half a century, they failed to return a Labour MP to Westminster.
Since then, the seat has changed hands twice.
The SNP won in 2017 with the 10th smallest majority in the UK.
Labour's Kate Watson, a charity work adviser, managed to slash the SNP's majority of more than 10,000 to just 75.
She said: "Since then we've had another two years of a Tory government and austerity.
"People in this constituency were already struggling on insecure work, zero-hours contracts and low incomes.
"We still have the same issues we had in 2017 but things have got worse."
Ms Watson said the single biggest issue on the doorstep was not Brexit or Scottish independence but people's standard of living.
She said: "It's about being able to pay the bills. I know exactly what it's like not to be able to afford to put the gas fire on at night."
Ms Watson, who was director of operations for pro-union campaign Better Together, said she had found no appetite on the doorstep for another independence referendum.
She said: "People are more concerned about what affects them day-to-day, like whether they are getting their Personal Independence Payment, whether they have to go
to a food bank and whether they have enough to heat their homes.
"The NHS and what their kids' schools are like matter to people more than talking about another independence referendum."
She said it had been a mistake by First Minister Nicola Sturgeon to focus on Scottish independence.
"When the SNP did this in 2017, they lost a third of their seats."
Labour supporter and ambulance driver Derek Stark, 59, said he feared privatisation of the NHS in a post-Brexit trade deal with America.
He said: "I love the NHS and I don't want to see healthcare privatised like it is in America."
The SNP's David Linden was elected as MP for Glasgow East two years ago, replacing Natalie McGarry, who was later convicted of embezzlement.
David said Labour were losing voters over their position on Scottish independence.
"We ask people at every door we go to what they think about independence. The difference between us and Labour is that people know what our position is on a future referendum.
"Over the course of Jeremy Corbyn's visit to Scotland this week, he had umpteen different positions on whether Scotland should have an independence referendum.
"People are incredibly unclear on where Labour stand on the two biggest issues of the day – a future independence referendum, which we know is coming, and Brexit.
"There is an inescapable fact here that Labour will tell people in Shettleston one thing about Brexit and people in Sunderland an entirely different thing."