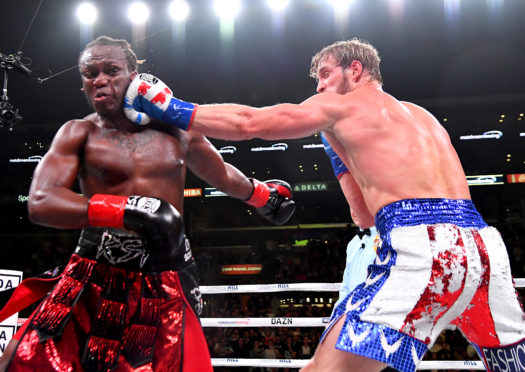 As I pulled up to my house in the wee small hours of last Sunday morning, I was surprised to notice my downstairs lights were on. Which could only mean one thing – someone was still up partying.
Well, my teenage son Rory was indeed still up, and he hadn't broken into my booze cupboard.
He had stayed up to watch a blockbuster boxing match being streamed live from the Staples Center in LA.
No big deal. Due to the time difference, televised boxing in the States is usually shown at the crack of dawn.
But, given I regard myself fairly knowledgeable about the noble art of pugilism and the world of professional boxing, I wasn't aware of any major bouts taking place that day. And I was also a bit surprised to learn that Rory was interested in boxing, as he had never cracked a light about that before.
But I couldn't have been more wrong, and the news that there was indeed a huge, money-raking bout taking place between two bitter rivals packed a punch that almost floored me, making me feel out of touch and very old.
This was no normal hyped-up slugfest between two giants of the ring, such as legendary fights featuring household names like Mohammad Ali, Joe Frazier, George Foreman, Mike Tyson, Frank Bruno, Ken Buchanan, Jim Watt and Chris Eubank. Or, more recently, Lennox Lewis, Amir Khan, David Haye, Anthony Joshua, Floyd Mayweather and homegrown Scots like Ricky Burns and Josh Taylor. No, this was a blood-pumping rematch, KSI v Logan Paul, the second Battle of the YouTubers.
And it was being streamed live to an estimated 2.5 million pumped-up pay-per-view fans, with an overall global reach of 40 million expected to watch the highlights.
I became slightly punch drunk hearing this. As, not being too social media savvy, I had never heard of these two guys, let alone what a professional YouTuber was. It turns out KSI and Logan Paul are two of the biggest names in vlogging – someone who makes and posts video content online using social media platforms like YouTube. Yeh, I know, it's sort of lost me as well.
And using this form of web television they have become multi-millionaires.
They also hate each other and decided to settle their differences in the ring by having a very public square go, not once but twice (the first one in Manchester ended in a draw). Fights which had professional boxing promoters like Barry Hearn moving heaven and earth to land and major sponsors scrapping with each other over the rights.
An estimated £150 million was banked for the event, with each man earning around £30m.
No wonder they were all keen for a second scrap to take place, as this fight would set even more viewing records and also break the bank.
And what a scrap it proved to be – a six-round nonstop blood-thumping pounder in front of 20,000 mums, dads and kids in the sold out Staples Center arena in Los Angeles. Both fighters were evenly matched and gave it their all. And I loved every minute of it.
As expected, though, many boxing purists were quick to point out disparagingly that they weren't proper boxers and couldn't fight properly.
But I absolutely loved this fight all the more as it was exhilarating and real and better than half the supposed professional clash of the titans I've watched in the past.
On this occasion Brit KSI narrowly won over USA's Logan Paul with a split decision, which I'm sure he won't be too upset about once he gets his split of the earnings.
But the real winner here must be the sport of boxing, which in recent years has taken many a low body blow and lost some of its appeal.
Forget 10%.
If only 1% of those who tuned in to this fight and the many similar bouts that will surely follow are inspired enough to pick up some gloves and learn to box, then the towel will not be getting thrown in on this great sport for generations to come.
Surely something that even the rope-a-dope purists will have to accept is a much-needed shot in the arm for the sport.