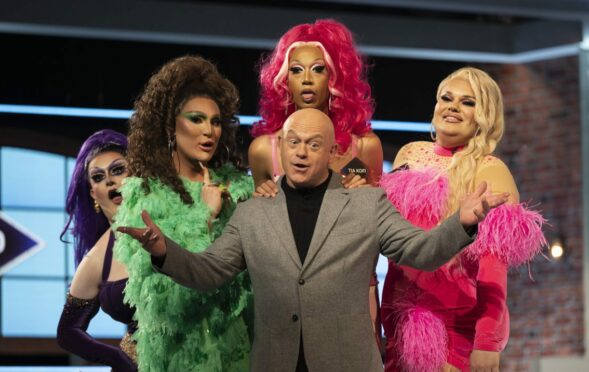 Ross Kemp has faced his fair share of drama in life. As EastEnders' Grant Mitchell, he became a household name as a soap hard man, before playing an SAS sergeant holding firm in the face of enemy fire on ITV drama Ultimate Force.
As himself, he's plunged down into the depths of the ocean, visited some of the most hostile parts of the world and met with real-life villains for over 120 documentaries.
Now, the sense of jeopardy is on the contestants he's guiding through BBC gameshow Bridge of Lies, and one of TV's toughest men isn't afraid to shed a tear along the way.
"I am the last person that should be hosting a game show, but it seems to work," he laughs as he takes a break from a gruelling filming schedule at a brand-new studio facility in Glasgow.
"I think the landscape of TV has changed significantly in the last six, seven years. Actors once upon a time didn't do commercials, now A-listers do them. If you worked in television, you couldn't be in movies or if you were in movies you'd never touch TV.
"Now you see film actors doing TV series. And that snobbery I would suggest is dissolving. And that's got to be a good thing I guess."
Kemp, 58, believes the concept of the gameshow, which will go primetime next Saturday for eight celebrity specials, encapsulates a lot of his own work to date.
"It's got a lot of soap in it and a little bit of social investigation," he explained. "You get a demographic of the country and the people that live in it.
"It's an inclusive game show that nearly anyone can play. You might think it starts off really easy but, a bit like life, it gets hard the further you get through it.
"There's a lot of analogies in Bridge of Lies that I think land with an audience and I'm really pleased that I'm part of it.
"I welled up the other day. The prize was £450 and it was so important to this family. Some people win £8-9,000, but that was life changing money for them. And the woman started welling up. I'm doing it again now."
Kemp is filming in Glasgow having just finished exploring the wreck of the Mary Rose for a documentary.
And he's just as all-in on the concept of the gameshow as he is in his deep dive documentaries that have taken him across the globe.
He said: "One minute I'm forty metres down with a metal detector scrambling trying to find bits of a Tudor ship and the next I'm on a stage in Glasgow, asking whether or not the cavemen lived in the Palaeolithic era. It's very different.
"People seem to genuinely like it. It has a very individual tone and feel to it and it has so many different outcomes.
"I'm not really using autocue very much now. It's so much more inclusive, you're looking straight at the person rather than reading off the screen. And I think that people respond to that as well."
An STV Studios production, filming for Bridge of Lies is the first usage of the brand new BBC Studioworks location at Glasgow's famous Kelvin Hall.
The purpose-built, high-tech studio covering 10,500 square feet is being utilised to its full potential for the impressive set which has given the series an extra sparkle for primetime.
At the centre of it all is the bridge, the daunting gameplay area where contestants must make their way from one side to the other without stepping on any statements that are lies.
"You've got to be patient with it but it looks fantastic and it also has a very defining look," Kemp says. "There's no other show like it.
"You've got contestants moving around and you never know where they're going to be, the bridge dictates where they go. It's a very clever concept and I'm very pleased that I'm part of it.
"It's great to be back working for the Beeb and it's great to be in Scotland."
Kemp is, of course, no stranger to the city, having served (albeit briefly) as rector of the University of Glasgow between 1999 and 2000. He's also immersed himself behind bars at Barlinnie for a documentary series.
"I've always really had a fantastic time up here," he said. "The restaurants are sensational and the architecture's pretty stunning. Edinburgh always gets the plaudits but the area that I'm running round where I'm staying is stunning.
"I like Scotland but I've got an affection for Glasgow particularly and it seems to like me. Even travelling to town in the car, people are stopping and shaking my hand through the window. I don't get that everywhere."
Kemp has been spotted enjoying his daily run around the city's Botanics, but pacing around the Bridge of Lies set is probably what contributes the most to his daily step count.
"Most gameshows, the presenter stands still. Some of them sit down – I'd love that," he laughed.
To keep him going there's a little dookit concealing from the cameras a coffee for the morning shoots and a Diet Coke for those later in the day.
He's just shown off some of his moves having wrapped filming the celebrity special featuring Strictly contestants and, asked if he'd do it himself, he said: "I don't think you can ever say never to anything and that also goes for the obvious questions about going back to EastEnders.
"It's more likely to be Borehamwood than Hollywood looking at my career. But you never know, do you? You never rule anything out.
"Life can throw some things at you. I'm very lucky that I started working when I left drama school in 1985 with Richard Wilson and John Thaw in repertory theatre, and I'm still working."
As soon as the words "touch wood" leave his mouth, he realises he's missing something and leaves the room to retrieve a special possession.
Returning with a locket containing a small piece of wood, given to him by his wife, he explained its origins: "If you're in an armoured personnel carrier, and it tips upside down and you want to touch a bit of wood, there ain't no wood. If you're in a helicopter that's about to crash at Quito airport, which I was in, there is no wood. So my wife bought me a necklace with some wood in it."
It's the actor's only superstition in a varied career which he reflects upon with a sense of luck and great pride.
"TV was always quite important to me because, when I grew up in the 70s, it was in the corner of the room, it was the go to," he said. "I've always had a deep affinity for television as a medium.
"If you said to the young Ross Kemp when he'd just walked out of drama school: 'you're going to end up making 120 documentaries, being in TV dramas and then do a gameshow', he'd say: 'Oh, no, I'm going to do The Swan in the National and I shall be taken seriously!'
"Well, it just didn't break that way but you know what, I carried on working and enjoying it."
What's it like facing The Bridge of Lies?
Take a wrong turn on a trip for a swim at Glasgow's Kelvin Hall leisure centre and you could end up in a completely different world, writes Ross Crae.
Just behind a few double doors from the public area lies a huge new multi-million pound studio set-up where Ross Kemp's gameshow Bridge of Lies has been putting a new batch of contestants through their paces.
Next door is the set for Channel 4 prison drama Screw, filming its second series, and a stint in the slammer might actually be a slightly less daunting prospect than taking on this high-concept series.
The Bridge of Lies set is a vast arena with a fairly industrial feel to it. There's a lot of exposed brickwork, rustic railings and, of course, the bridge in the middle – a giant screen on the floor on which contestants must carefully tread their way from one side to the other to scoop the jackpot.
It feels like the kind of underground submarine dock that James Bond emerges from the water in when infiltrating a supervillain's lair, and that sense of jeopardy is key to the show's success.
We've been invited along to watch the taping of a celebrity special, featuring previous Strictly contestants John Waite, Debbie McGee, Katie McGlynn and Rhys Stephenson.
They're walked through the high concept game, where you cross the bridge by stepping on circles that are truths, losing half your cash for putting your foot on a lie, with three lives.
The celebs have mixed fortunes on a series of topics, ranging from European airport codes to scout badges, but after they waltz their way to a fantastic cash win for their chosen charities, we were miked up and headed out to the floor to have a go at the final round for ourselves.
Kemp, taking on the role of our commander in leading us through this adventure, joins us on the bridge to lead us through a test of our general knowledge. Perhaps this is where his SAS sergeant character Henno in Ultimate Force retired to.
Even though for us there's not the pressure of having the jackpot on the line (the £5000 displayed on screen was a fairly generous estimate of how we'd've done in earlier rounds) stepping out onto the bridge requires a gulp before proceeding.
The visuals are so impressive you could be forgiven for feeling a little seasick, with the screen below your feet showing a lapping pool of water not too dissimilar to the one kids are splashing about in next door. Here, however, there are no lifeguards.
I was up first, which meant I'd get the easiest steps first, a fact that I'd like on record that I only realised AFTER volunteering…
It's amazing, though, how much your brain turns to mush when under the studio lights and the icy glare of Kemp who, off camera, was a gentleman. Then there's the dread of the lights going red and being jettisoned from the game if you take one wrong step.
With the help of my teammates and some knowledge plucked somewhere from the back of my brain, I retired with a 100% record – which I'll be putting on my CV – to let another team member take on the next couple of tries.
It's easy to see why this show has been a popular addition to the BBC daytime schedules, and why the celeb version has been promoted to Saturday night primetime.
It's got a good concept behind it, which Kemp clearly is all-in on, and even just watching you get fully invested in the contestants, host and indeed the bridge itself as characters as the show progresses.
Little do those next door in the leisure centre know, there's a far more rigorous workout going on over at the Bridge of Lies…
---
Celebrity Bridge of Lies, Saturday January 14, BBC One, with the regular series weekdays from January 16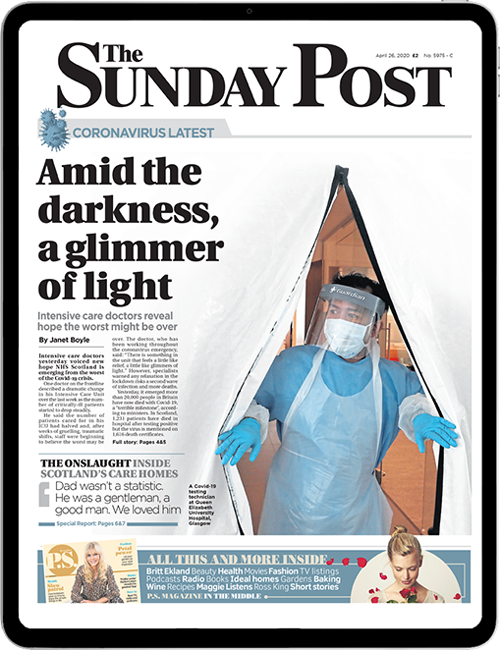 Enjoy the convenience of having The Sunday Post delivered as a digital ePaper straight to your smartphone, tablet or computer.
Subscribe for only £5.49 a month and enjoy all the benefits of the printed paper as a digital replica.
Subscribe