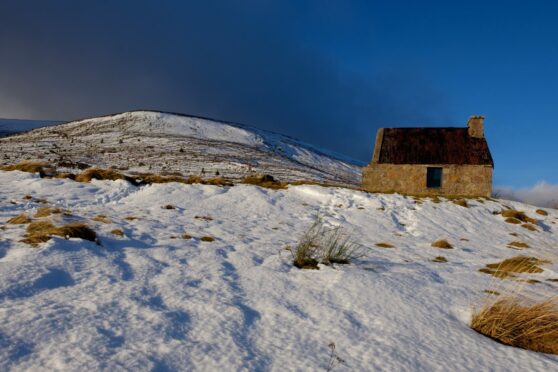 As Scotland's trails and hills are usually pretty quiet at this time of year, treat yourself to a choice of three winter adventures.
Meall A' Bhuachaille Run
The 8.9-kilometre (5.5 miles) run includes 548 metres (1,800 feet) of total ascent and took 2.5 hours.
Christmas Day proved to be the ideal time to run a mountain near the popular town of Aviemore in the Highlands. Timing it perfectly – when most festive revellers would be sitting down to their Christmas dinner – my husband Gordon and I completed a circuit of Meall a' Bhuachaille from Glenmore Forest Park Visitor Centre.
It was a real treat to climb a popular mountain path, in what is a normally busy tourist area, without the usual stream of walkers. The weather was also picture-postcard perfect, with sunshine and a bright blue sky – except for some atmospheric cloud at higher altitudes on the 810m (2,657ft) peak.
Even better still, the winter conditions provided the opportunity to see a relatively rare optical phenomenon. As Gordon and I took a moment to rest at a large stone shelter at the summit of the mountain, having briskly ascended 488m (1,600ft) on the southern slope, we looked down on a stunning Brocken spectre. It was only my second such sighting of this colourful phenomenon in the clouds. "Now that's a brilliant Christmas gift," I said, as I smiled broadly at Gordon.
From the summit, we descended east on a steep zigzagging path, before joining the Pass of Ryvoan. The ancient drovers' route travels below mountains on either side and passes magical An Lochan Uaine – the green lochan – which is fabled to be where the fairies do their washing. Again, we were struck by our solitude as we ran along the pass, past the tourist hotspot lochan and a final stretch through a forest of fabulous old Caledonian pines to return to the visitor centre.
Misty Mountain Bike Ride
The circuit extended to 32km (20 miles) with 457m (1,500ft) of total ascent, and took less than 2.5 hours.
With a late family meal scheduled for Christmas Day, but the promise of an unusually bright winter's day, my festive adventure needed to maximise limited time.
Solo would mean fewer hold-ups and rests – and an outing at my own pace.
A mountain bike also seemed like the right transport to explore country trails north of my Glasgow home without the need for a car.
Although sunny, it looked chilly, and I set out wearing insulated MTB shoes, double-layered gloves, a windproof jacket and fleece-lined cycling tights. Following a familiar route to start with, I cycled the southern end of Scotland's famous West Highland Way and soon felt the exertion warming my cold muscles.
Before long I was in peaceful solitude on the normally bustling long-distance trail as I rode north through an undulating rural landscape.
The views of hills and distant mountains – including the famous Ben Lomond – were obscured by an eerie morning mist that rose gently from the frosty ground.
At the village of Strathblane, I joined the off-road Strathkelvin Railway Path to ride to Lennoxtown, where I followed more tracks to ascend into forestry to the south of the town. The higher I climbed, the more expansive the views became as the mist disappeared and clouds collected. The benefit of the darkening sky was the formation of a rainbow over the nearby Campsie Hills.
Seen from a high moorland trig pillar, the vista was dramatic and uplifting.
Riding a delightful downhill section next, I left behind the tracks for a while and headed on to minor roads in a westerly direction. The return home took me on to more local paths, passing Milngavie Reservoirs and returning through Mugdock Country Park.
After a morning of being almost completely on my own, I enjoyed a few cheerful "Happy Christmas" exchanges with a handful of dog walkers.
I arrived home to the heartening sound of Gordon uncorking a bottle of fizz!
Snowy Ben Wyvis Hike
The route on Ben Wyvis is around 14km (nine miles) with more than 930m (3,050ft) of total ascent.
A move to the Black Isle, Ross & Cromarty, with Gordon in the summer of 2021 put the iconic Highland Munro of Ben Wyvis on our doorstep. It's often a busy mountain due to its location – just 40 minutes from the city of Inverness.
I've reached the 1,046m (3,431ft) top numerous times since our relocation.
Yet Ben Wyvis offered a convenient adventure on our first Christmas Day in our new home.
Accompanied by three friends who had joined us for the festivities, we had a lazy breakfast and a slow start.
After a recent dump of snow, and with a forecast of sub-zero temperatures at higher altitudes, we packed full winter kit – including crampons and ice axes – and dressed in warm and windproof layers.
For some reason, I'd expected the car park near the village of Garve to be as jam-packed as usual – it's often full to capacity – but there were just a couple of cars.
So it was no surprise to meet only a few festive walkers on the rocky path that snakes up the south-western slope. Most had decided to retreat from the high, wide ridge before reaching the summit trig due to fierce conditions.
From around 609m (2,000ft) elevation, the ground became slick with ice and then, as we reached a cairn at An Cabar at 944m (3,100ft), a strong wind revealed its full force. The subsequent walk north-east to gain another 91m (300ft) elevation was both arduous and very chilly.
There were rewards, however, for the challenging hike to the top of Ben Wyvis – including being seemingly the only people to make fresh footprints in the wind-blown snow that day.
The feeling of wild solitude with good friends was simply exhilarating.
There was also the heady sensation of doing something totally different on a day that is normally so traditional.
We sipped hot mulled wine from our flasks and ate Christmas cake as we descended out of the cold.
Even better still, our festive meal that evening felt much less like an indulgence and more of a necessary calorie booster. As we basked in the heat from our woodburning stove, we decided that, from now on, every Christmas Day should include a big adventure.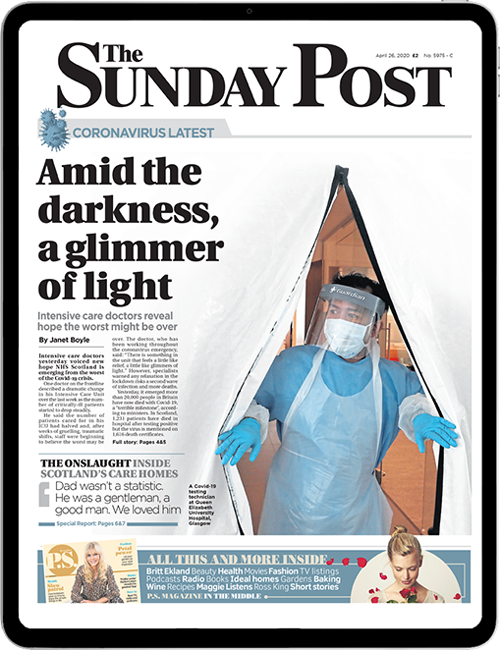 Enjoy the convenience of having The Sunday Post delivered as a digital ePaper straight to your smartphone, tablet or computer.
Subscribe for only £5.49 a month and enjoy all the benefits of the printed paper as a digital replica.
Subscribe