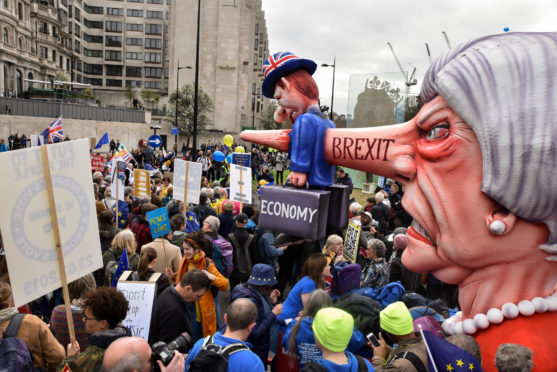 Up to one million people marched to the Houses of Parliament yesterday to demand the public have a final say over Brexit as pressure on Theresa May mounted.
Marchers took to the streets of London to call for a second referendum on leaving the EU as the Prime Minister prepared for another torturous, crunch week.
Many of her own MPs believe she may no longer be in Downing Street by the end of it as she plots to prevent MPs taking charge of the Brexit process.
Meanwhile, details emerged of how she was forced to sit for six hours in an office at the European Council while, yards away, European leaders argued over Britain's request for a Brexit extension on Thursday night.
The 'Put it to the People' protest set off from Hyde Park Corner around midday yesterday, with marching bands, chants and whistles.
Campaigners from across the UK attended the march, including from Scotland and even one protester from the Orkney isles.
Organisers said more than a million people had joined the march.
Speakers included First Minister Nicola Sturgeon, who said Scotland's voice had been ignored, with 60% voting to stay in the EU.
She said: "It is not merely our voice that has been ignored –but the voice of the 48 percent who voted remain across the UK has been ignored.
"And the voice of those wanting to leave but who could never have contemplated the maze that Brexit has become. Their voice is being ignored as well.
"But today we make our voices heard."
Sturgeon said May had been 'keeping herself in Downing Street' despite repeated failures to negotiate an exit deal.
She added: "That is not acceptable."
She also told the crowd: "It's no surprise to anyone in here that I support Scotland being an independent country.
"I want Scotland's voice to be an aggressive one within the British Isles in the European Union and within the world.
"My message is for every European national living in the UK, in Scotland and Wales and Northern Ireland.
"We think you are welcome here and we want you to stay.
"What has been done to you by these Brexiteer politicians has been nothing short of desperation."
Other speakers included Labour's deputy leader Tom Watson, who said the Prime Minister's deal "pleases no-one".
He said: "If you voted remain it's a rubbish deal, if you voted leave it's a lousy deal. There are no winners, only losers.
"Brexit is stuck in the parliamentary pipeworks and it's not going to find a way out."
Mayor of London Sadiq Khan also addressed the crowd saying: "No matter how you voted in the referendum, no matter what political party you support, we can all agree that Brexit has been a complete and utter mess.
"With days to go we're in danger of falling off the cliff, which will have catastrophic consequences."
Demonstrators wore blue and yellow berets and flew large EU flags above their heads as they made their way to Parliament Square.
Placards bore messages urging the Government to "Revoke article 50" and for Brexit to be put to the people.
The demonstrations come after EU leaders agreed to extend Brexit to May 22 if the PM can get MPs to back her deal in the Commons at the third time of asking.
But the chances of getting her withdrawal agreement through on a third vote – most likely to take place on Tuesday if at all – are highly unlikely.
The DUP, which props up her government, last week played down the prospects it would back the deal and accused her of a "disappointing and inexcusable" failure to secure changes to her Brexit deal.
In a letter to MPs, May said she may not even try to get the deal through the Commons again, admitting she may not have enough support.
If the vote is not passed, the UK has to set out an alternative plan by April 12, which could mean a much longer delay to Brexit and require the UK to hold elections to the European Parliament.
A failure to come up with a plan could mean a "no-deal" Brexit.
Tory peer Lord Jitesh Gadhia, a former member of David Cameron's inner circle, predicted the next few days in Parliament may be "very dramatic" and could see the end of May's time as Prime Minister.
He said: "Theresa May has to make a judgment as to whether or not to bring back Meaningful Vote 3.
"My sense is she is back- sliding on that because she knows she is going to be defeated."
He added: "And frankly she may not survive the end of the week."
Former Conservative chancellor George Osborne said: "The best outcome now would be a long delay, and it's not the worst thing in the world to ask people to vote for some MEPs, and certainly better than stockpiling medicine and turning Kent into a car park."
Meanwhile an online petition demanding the Government stops the Brexit process had gathered more than four and a half million names by yesterday evening.
It is now the most popular ever submitted to the Parliament website.
The People's Vote march in London coincided with pro-Brexit campaigners continuing a hike from the North East to the capital, which began last week in Sunderland.
Former Ukip leader Nigel Farage rejoined the March to Leave when it set off from Linby, near Nottingham, yesterday morning.
He told around 200 Brexit supporters that May had reduced the nation to a "state of humiliation" and that those attending the People's Vote march were not in the majority.
On the street
Thousands of Scots travelled to London to join the march yesterday.
Joe Russo, 35, got an early flight from Glasgow to London yesterday. He said: "The people next to me and in front of me on the flight were also going to the march. A lot of people travelling down had EU flags and EU stickers and we were all chatting about the march.
"When I got there it was mobbed. It was much bigger than the other ones I have been to."
Mr Russo, a PhD researcher studying German, said: "I think we should be staying in the EU and it would be a disaster if we were to leave, particularly with no deal. Freedom of movement is very important to me as someone who works in the modern languages sector."
Gill Bird was among a contingent who travelled from the Scottish Highlands to London for the march following a fundraiser to help pay their costs.
A partnership with an anti-Brexit group in Lambeth saw them set up a crowdfunder which raised £2,500 for the 1,400-mile round trip for a coachload of 70 people.
Gill Bird, who lives in Moray, said: "We arrived at Wembley and we were met by people from Lambeth for Europe. We gathered with other Scottish groups and we have been chatting and laughing. The sun has shone and the atmosphere has been lovely."
"The EU is a huge trading bloc and being part of it allows us to compete with America and China. I am also in favour of collaboration and cooperation, working with the EU towards meeting the climate change challenge."
Among those who travelled from the Highlands were a group of students led by Sorcha Kirker.
She said: "Students are a vital part of the push for a People's Vote, as it is their future that is at stake with Brexit."
Psychologist Niamh Donnellan, 49, travelled to London from Edinburgh for the march.
She has campaigned for a People's Vote "for a long time".
She said: "So many people. And they are all fed up with Brexit."