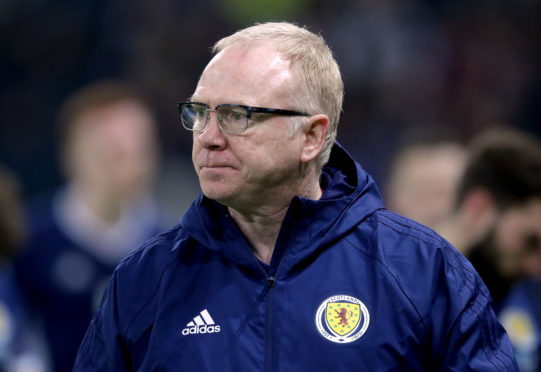 Alex McLeish cites his own experience as the perfect example of how the balance of power has shifted between football managers and medical staff.
Had Aberdeen's European Cup-Winners' Cup Final against Real Madrid in 1983 been played in the current environment, he argues, he would never have secured his place in history as a Gothenburg Great.
"It's definitely different to when I played," said the Scotland manager.
"We would go in there with some injuries. I was even telling the lads the other night  how I had a back problem going into the Final in Gothenburg.
"A couple of weeks earlier, we were having work done in the back garden in Aberdeen, and I bought paving stones.
"I carried them around the back instead of rolling them.
"I felt my back go and the guy who dropped them off was like: 'You're meant to roll them, ya mug'.
"Anyway, for the next 10 days I needed intense treatment.
"I had to tell Fergie what I'd done and, of course, the response wasn't favourable.
"But I worked really hard to get fit. There was no way I was going to miss the Final.
"For the two nights before the game, I actually slept with the mattress on the floor.
"Had we had a Sports Scientist, I wouldn't have played. I'd have been ruled out.
"But because we didn't, I played and I was able to get that medal."
The anecdote is rolled out – much like the paving stones should have been – against a background of the Scotland coaching team's frustrations about losing the use of many of their most-effective footballers at international level on the advice of their clubs' medical staff.
So is the country being disrespected by the people's whose interest lies south of the border in the challenges posed by the hectic fixture schedules of the English Premier League and Championship?
"No," said McLeish. "But the medical side of things is a huge factor. There's no doubt.
"If Graeme Jones, the SFA's Head of High Performance, and the Doc come to me and say we can't take a player for a certain reason, that's the way it is.
"Take Steven Fletcher (a player who has played almost every fixture for Sheffield Wednesday this season but pulled out of the double header for routine treatment) as an example.
"I spoke to Fletch personally, and then I asked James McFadden to give him a ring.
"But Fletch was adamant in himself that he needed to get a bit of recuperation in the international break.
"You saw what he contributed when he came in for the Nations League ties (against Albania and Israel) with his experience.
"But there's nothing we can do about that for these games, so we have to get on with it. We wanted him in, because he strengthens us. So, of course, to not have him available is frustrating.
"But, as I say, we are guided by the medical team. They are so important nowadays.
"If they say to us a player is out , I can't ask to talk to him to try and persuade him.
"He is out and that is it.
"It's a firm decision and it's not one that's up for debate where I can bring him in by hook or by crook.
"I mean, Kieran Tierney was here with the group in Kazakhstan and we lost him. But he stayed with us until Friday night.
"Have things gone too far? That could be a debate."
For many disgruntled fans, the response to the frustration of multiple call-offs should be to punish the players involved by making a point of shunning them for future matches.
With a limited pool from which to fish, the manager himself insists he will always choose instead to follow a pragmatic approach.
"If I can make Scotland better with these guys, I'm not going to cut my nose off to spite my face," he said.
"I'm not in this for Alex McLeish. I've been through a lot of highs and lows, had a fair bit of success but been knocked down a few times as well, with the resilience to get back up.
"And that's where we are again.
"So there is no way I'd do something that I thought didn't help the national team."
With today's opponents San Marino rated bottom of the FIFA Rankings, that same nation will expect nothing less than comfortable success.