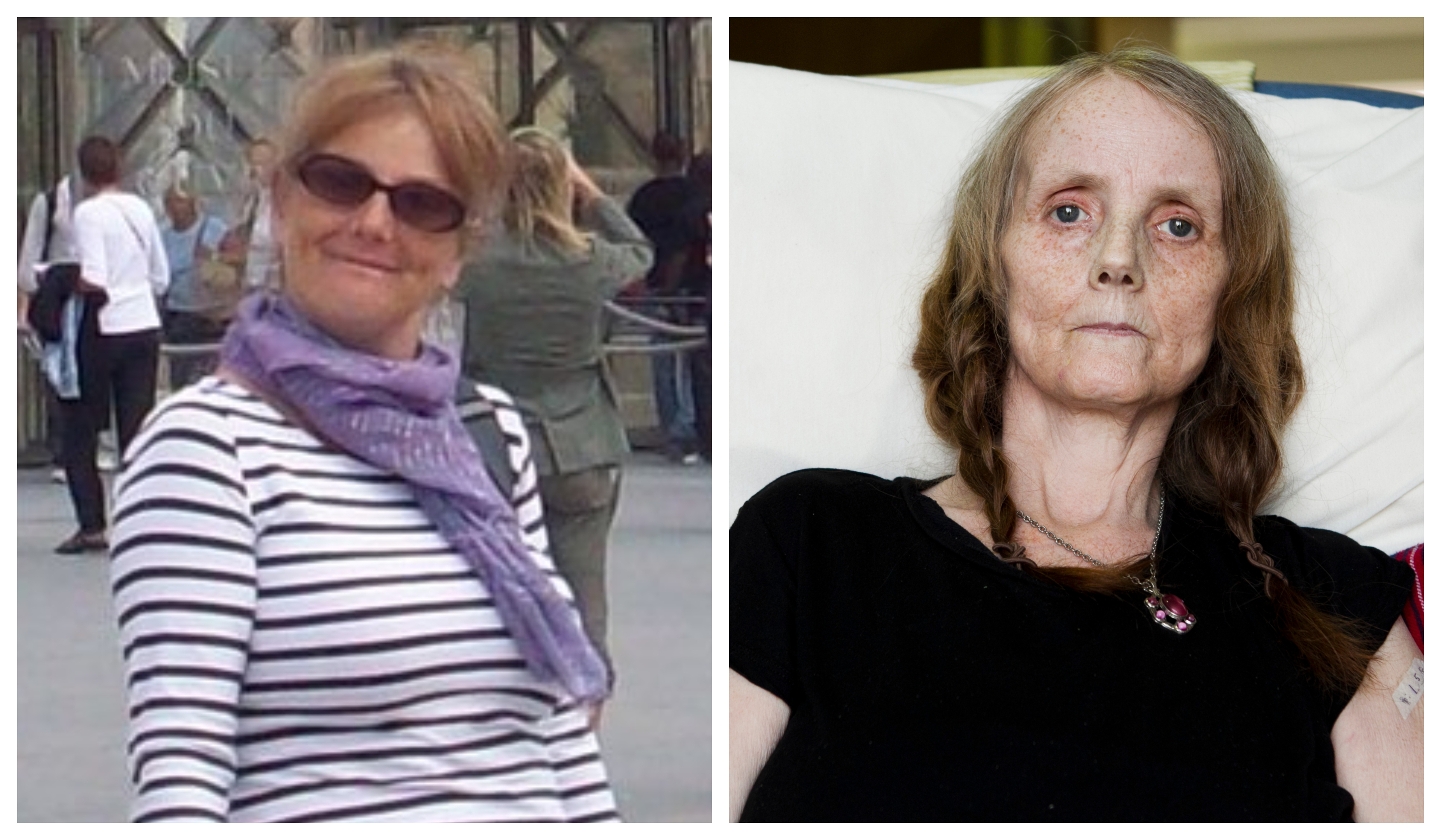 A MUM dying from cancer could not get chemotherapy after six mesh operations left her too ill for life-saving treatment.
Michele McDougall, 55, who has not long to live, believes the controversial hernia implants denied her the chance of precious years with her family.
From her hospice bed, Michele, 55, said: "I can't prove mesh caused my illness – but it prevented the treatment that could have given me more time.
"One way or another, mesh has taken my chance to live."
Michele is dying from a cancer so rare it has been recorded less than 30 times in medical journals.
Yesterday, comforting her mother in St Columba's Hospice in Edinburgh, her daughter Lauren, 31, said: "We blame mesh for this dreadful situation."
Bravely, in defiance of her illness, Michele wanted to speak out, to highlight the effect mesh surgery has had on her and thousands of patients who have suffered life-changing complications.
Michelle added: "There is no hope for me, but I want to raise my voice to expose the dreadful side effects of plastic mesh."
Medical research has not established a link between Michelle's cancer and mesh.
But she said: "Who knows how long I may have lived if I'd been able to get the standard treatment available to other cancer patients?
"Chemotherapy could have given me the hope I no longer have."
After 20 years struggling with the crippling side effects of six hernia mesh implants in her groin and abdomen, Michele, from Leith, in Edinburgh, was diagnosed with vaginal neuroendocrine cancer in June.
But after so many surgeries and mesh complications, she was told by cancer specialists she had been left too weakened for chemotherapy,
Michele said: "I was given 35 radiation therapy treatments, but the cancer spread to my lymph nodes and lungs.
"Every day is precious, and I know I will never see my only daughter getting married or hold a grandchild in my arms.
"But I still have my voice and I am using it to let people know that putting plastic mesh inside their body can be devastating."
The former community education worker insists she was never asked whether she wanted to have plastic mesh implants to treat her hernias.
She said: "Like so many other women, I'd no idea polypropylene mesh was being used until it was too late to do anything about it.
"Hernia mesh is the same stuff as the vaginal implant mesh that has caused terrible injuries to thousands of women and I've suffered the same symptoms."
The six hernia meshes placed in her groin and abdomen have turned rock hard.
Doctors had to repeatedly snip mesh fragments protruding through her skin, causing open wounds.
She said: "I'm 55 years old, and should have at least another 25 years to live out the rest of my life in peace.
"Instead, I'm lying in a hospice knowing I only have a very short time left, angry and bitter that I've been fobbed off by those I trusted.
"Nobody warned me about the possibility of the problems I've suffered since the first implant. I wasn't given a choice.
"If I had been, I would never have chosen to put plastic inside my body.
"When I discovered surgeons had used polypropylene, I asked why they hadn't used biological mesh.
"I was told it was very expensive."
After the operations at Edinburgh Royal Infirmary, Michele became very ill, suffering agonising pain.
The mesh appeared to harden across her abdomen as if it was wrapped in a metal shield.
She said: "The specialist told me the mesh had calcified.
"I couldn't even stand without pain, and I was having terrible problems with my bowel.
"Whenever I asked questions, I was told I was 'unique'.
"But everything changed three years ago, when I began reading about other mesh women who had also been told they were unique. Then the penny dropped.
"I realised I was being fobbed off, just like the other mesh women."
Michele contacted Scottish Mesh Survivors for support.
Daughter Lauren said: "Mum was going downhill, she was in so much pain.
"She kept going for tests, but nothing seemed to explain her condition.
"Holes appeared in her abdomen where mesh was coming through her skin.
"The doctors would snip them off, but the mesh kept working its way through.
"At times mum was treated very badly by the NHS, accused of making up her pain to get medication.
"Either doctors didn't know what they were looking at or they didn't understand what was going on. We eventually managed to get a meeting with a consultant three years ago.
"He assured us mesh was inert and it didn't react once inside the body despite what the injured patients were saying."
Michele added: "All along, I don't feel I've been told the whole truth. I feel betrayed and angry."
And then, a year ago, the final terrible news was delivered when she was told she had the rare cancer.
After a consultation with a pain specialist last June, Michele was referred to a gynaecologist who admitted her to hospital for a scan.
Five days later, to her horror, she was diagnosed with cancer.
Michele said: "It's so rare, most doctors have never treated anyone with it."
Radiotherapy treatment began immediately, but there was no hope of chemo. She said: "I feel cheated that I couldn't have the chemotherapy as my body was too weak.
"It's too late for me now and I won't live to prove whether or not mesh and the cancer are linked.
"But what I do know is that my chances of living a little longer may have been greater if I'd had the chemo."
Dr Tracey Gillies, medical director at NHS Lothian, said:"My sympathies are with the patient and their family. However we are not at liberty to discuss the care of individual patients." Now, all Michele has left is her voice.
She said: "I hope what happened to me is a warning to others to make them question everything about what is being put inside their bodies.
"If I can prevent one other person having to go through this, it will give me some peace. The world is waking up to the danger of plastic in our oceans, but surgeons are still putting it in our bodies."
Michele's last days will be spent in the hospice. Her daughter Lauren is constantly by her bedside and family and friends help keep Michele's spirits up.
Lauren said: "Mum has been my inspiration throughout. I am constantly amazed by her strength and her determination to do the best for others.
"Despite all she is going through, telling her story so others can think long and hard before saying yes to mesh, has kept her going. "
Michele said she is heartbroken she hasn't been able to join campaigners in Parliament because of her pain.
She said: "But telling my story will be my legacy. I am at peace with that."
In spite of her great suffering, Michele's greatest concern is for her daughter and her 81-year-old father.
She said: "It's so painful seeing them going through all this with me.
"The hardest part is knowing I won't be here to see Lauren living her life to the full, or comforting my dad in his last days.
"Lauren makes me so proud. One of the best days of my life was when she graduated from the University of Glasgow after studying Scottish literature.
"It's unbearable knowing I don't have much time left with her. And it's hard to tell your father that you are dying. No father should ever have to hear that from their child.
"I've only have weeks left, so every day is precious now. I'm being well cared for at St Columba's where everybody is kind.
"But of course I'm angry. I'm dying before my time and I can't help asking if mesh murdered me?"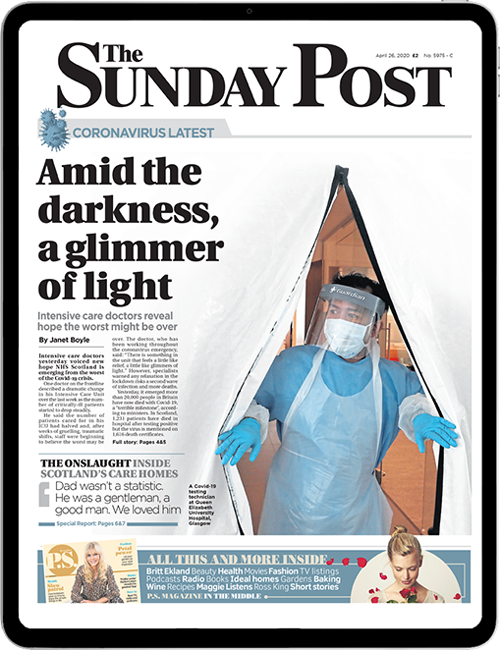 Enjoy the convenience of having The Sunday Post delivered as a digital ePaper straight to your smartphone, tablet or computer.
Subscribe for only £5.49 a month and enjoy all the benefits of the printed paper as a digital replica.
Subscribe