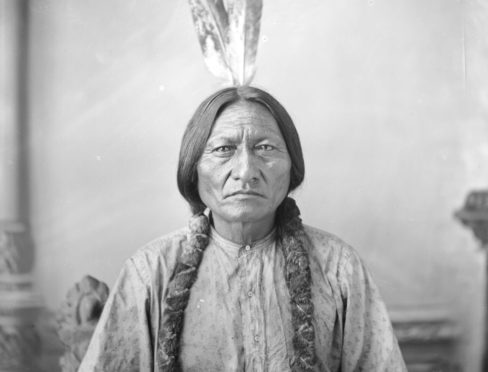 When Steven Lewis Simpson returns to Scotland today, it brings a remarkable 20-year journey full circle.
The filmmaker, once a high-flying stockbroker, says his life changed after watching a report about a historic Native American relic being returned by Glasgow's Kelvingrove Museum.
The ghost shirt, believed to have been worn by a Sioux warrior killed in the 1890 Wounded Knee massacre, was handed back to the Lakota Sioux Indians in a moving ceremony 20 years ago this summer.
Steven travelled over on a whim, befriended the tribe, and has since made three films on the Pine Ridge Indian Reservation.
His latest, Neither Wolf Nor Dog, has been a box office phenomenon in America and is now being shown in Scotland.
"It was a lightbulb moment for me when I saw the TV report," explained Steven, originally from Aberdeen. "I felt the need to go out there. Within three hours, a local guy was showing me around the area where the massacre happened."
Neither Wolf Nor Dog was made for just $25,000, raised through a fundraising campaign, and is based on a novel championed by Led Zeppelin's Robert Plant.
The film is the longest first-run theatrical release of any movie in the US in at least a decade, which is all the more remarkable as Steven distributed it through his Edinburgh production company.
The film's star is Dave Bald Eagle, who was 95 at the time of filming. A Lakota elder who lost relatives at Wounded Knee, he was left for dead after being gunned down on D-Day but recovered and went on to work in films alongside Marilyn Monroe and Errol Flynn.
The ghost shirt was presented to Glasgow in 1891 when Buffalo Bill's Wild West Show visited the city.