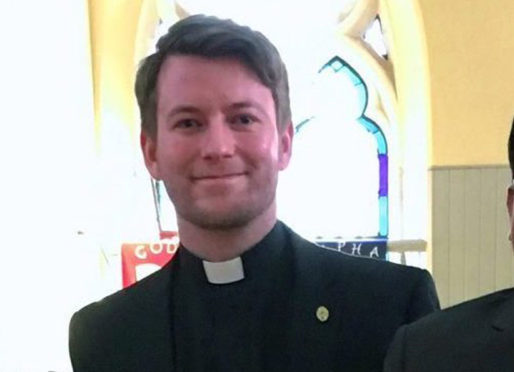 The Kirk minister sacked over allegations of inappropriate relationships has claimed his autism leaves him struggling to be "normal".
In blogs about his condition, Elijah Wade Smith, 32, admitted he was guilty of making "embarrassing" and "hurtful mistakes" and "misinterpreting what I am told".
One of the Church of Scotland's youngest ministers, he was dismissed last week amid complaints of inappropriate relationships with women.
Claiming he only discovered his autism two years ago, in a blog about the condition, he wrote: "I've spent my entire life learning to put on 'normal'. I feel I must do this because of the negative responses I have received for not behaving a certain way.
"So very much of what many people take for granted as natural practice within social interactions are things I have had to learn.
"It takes a massive amount of cognitive energy to maintain even just one of these two layers of 'normality'.
"When a behaviour is not natural, I make some embarrassing – or, even worse – hurtful mistakes.
"All too often I misinterpret what I am told."
The former St Andrews University student, who came to Scotland from California, has also described himself as being a "hipster Christian", a phenomenon which has seen Hollywood stars turning to Christianity, citing fashionable preachers who have put the "cool" into religion.
From his "uniform" of checked shirts and skinny black jeans to show off what he has described as his "sexy Scottish legs", Rev Elijah Wade Smith suggested he was one of a new breed of preacher.
Before his sudden fall from grace, young Church of Scotland minister Rev Wade Smith admitted embracing the preening "cult" of the Christian hipster which he described as "very complex in a pretentious and inexplicable way".
In a critique of a book written about hipster Christians, he compared himself and said: "Much like a cartoon character, I wear virtually the same thing every day: a tartan-plaid ­western-style shirt (preferably one with snap buttons), all-black Converse All-Stars, and my skinny jeans (to accent the sexy Scottish legs with which I have been blessed).
"My appearance mixed with my interest in the arts seems to make me a prime candidate for the title 'hipster'. I am also a Christian, so it appears that I am a Christian hipster."
In a series of blogs, he has also spoken extensively about finding himself drawn to the community in Glasgow's Queen's Park and Govanhill, which he described as "family".
He wrote: "I have the ­opportunity to build relationships with so many different kinds of people, networking between organisations, playing my very modest part in the incredible work that goes on in this wee patch of Glasgow." The minister has described his "job" as "miserable but the best thing in the world".
He said: "People often ask me about my calling and I grant that it's rather unusual as there are fewer than a thousand of us in post at the moment. I often describe it, in brutally honest terms, as miserable, but the best thing in the world.
"I have the great and humbling honour of serving a wonderful and accepting congregation. In addition to my 'church family', I have an extended family of one of the largest parishes in Scotland. "
Rev Wade Smith can appeal his removal from the Church of Scotland over what it has indicated are concerns about relationships with women.
The Church of Scotland said: "A Presbyterial Commission was convened to consider complaints against Dr Elijah Smith, who was then minister at Queen's Park Church, Govanhill.
"The complaints were upheld and a sentencing hearing was held on Wednesday, May 15. The decision of the Church court was to remove Dr Smith's status as a minister."
Last night, Rev Wade Smith declined to comment.