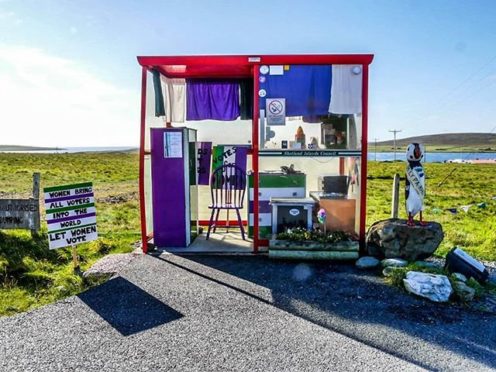 Remote and moody, the Isle of Unst -Shetland and Scotland's most northerly inhabited island – is a flat expanse of greys, greens and rocky outcrops; Scotland's last port of call before diving off into the icy waters of the Norwegian Sea.
But scanning this muted landscape, just outside the island's main village of Baltasound, you'll notice a strange and unexpected interruption of colour: an unusual little bus stop that's come to be known as Bobby's.
The curious story of Bobby's bus shelter began over 20 years ago, when six-year-old Bobby MacAulay and his friends would seek refuge from Unst's often unforgiving weather while awaiting the bus to one of Britain's most northerly schools.
Battered by wind and rain, the weather hadn't done the bus stop any favours, and, tumbledown and rusty, the local council decided to take it away.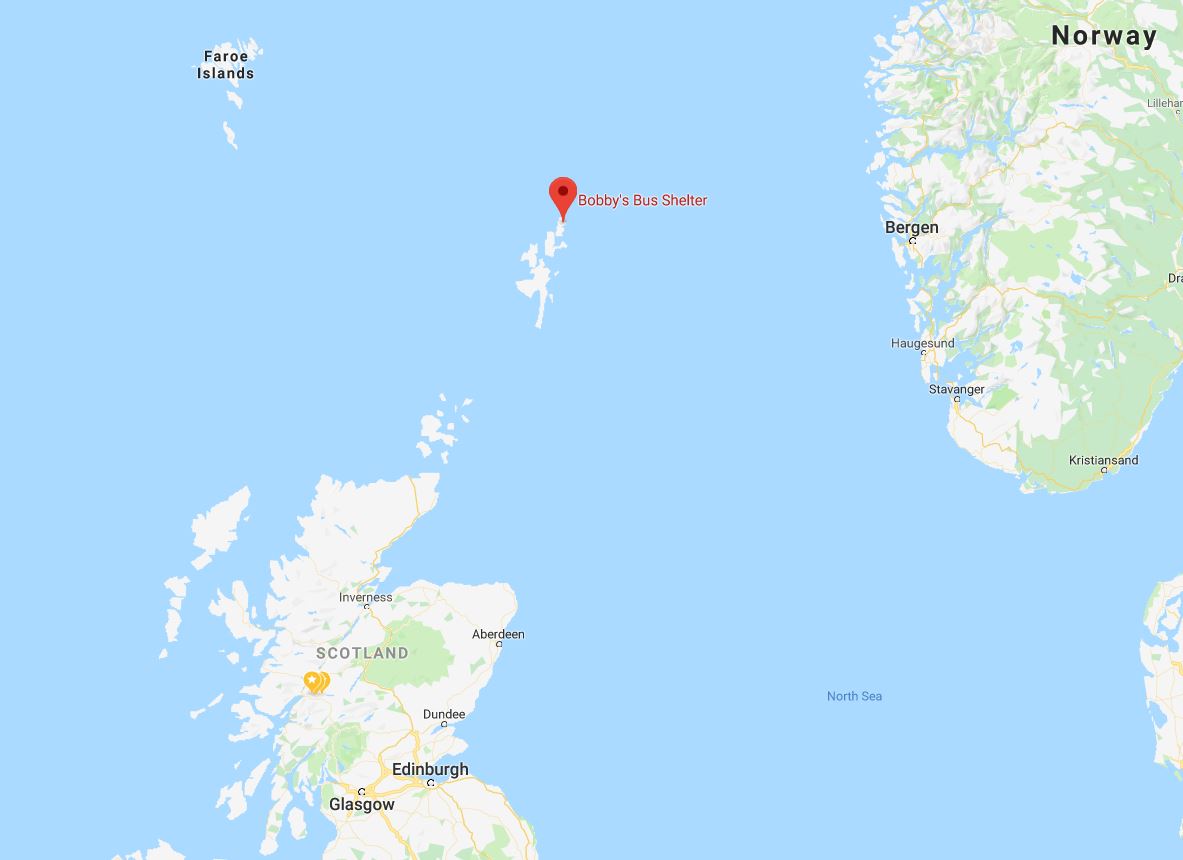 But little Bobby was outraged.  He decided to write a letter to his local paper, The Shetland Times, asking for a new one to be built in its place.
Touched by his letter, the paper called on the council to heed Bobby's request. They duly obliged, and a brand new shelter was soon built in its place.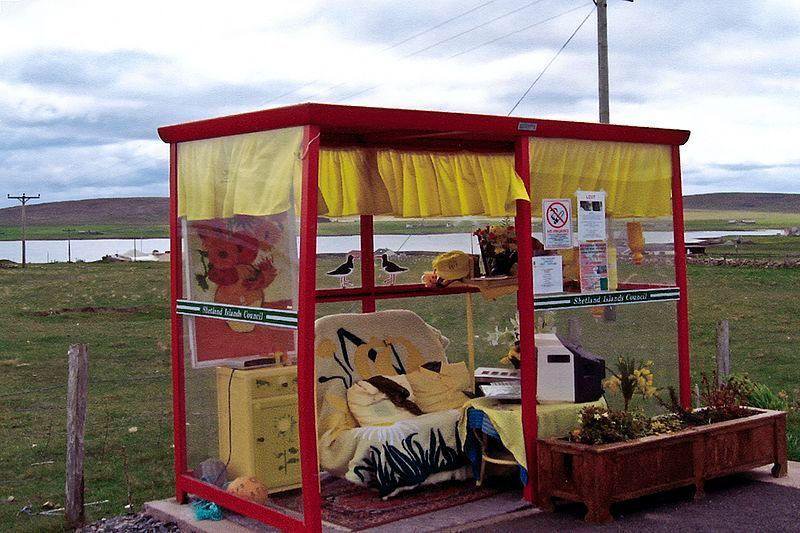 But soon after, strange things began to happen. A small wicker table and sofa appeared in the bus stop. Then a microwave, then a carpet, telephone and curtains. Soon, there was a television and a pair of (fake) hamsters living in the shelter too.
"In the early days, I remember just turning up and there were these strange new additions," says Bobby, 30, who now lives in Glasgow and is studying a PHD.
"But then my mum became involved and started putting in additions like cushions and intricate extravagances that would need extra management because of the weather. There was even a hot snacks dispenser at one point. So that needed more of a team involved."
With a proper team came new heights of creativity, and come 2002 the bus stop had been completely transformed by a new theme – the Queen's Golden Jubilee. Next year, the theme became 'Underwater,' then the year after that, 'Africa,' to celebrate Bobby's trip to the continent.
---
Bobby's Bus Shelter Themes by Year
2002  Golden Jubilee
2004  Underwater
2005  Africa
2006  Space
2007  Yellow
2008  Blue
2009  Pink
2010  World Cup
2011  Tall Ships
2012  Diamond Jubilee
2013  Sheep
2014  Tribute to Nelson Mandela
2015  Puffins
2016  Flowers
2018  The Suffrage Movement
2019  Fake Gnus
---
Eventually, news of the little bus stop had spread far beyond the realms of Unst's population of just 650, becoming something of an island icon and one of its main tourist attractions.
Now managed by what has come to be called the 'Bobby's bus shelter maintenance team,' at the start of spring every year, no visit to Unst is complete without admiring their handiwork.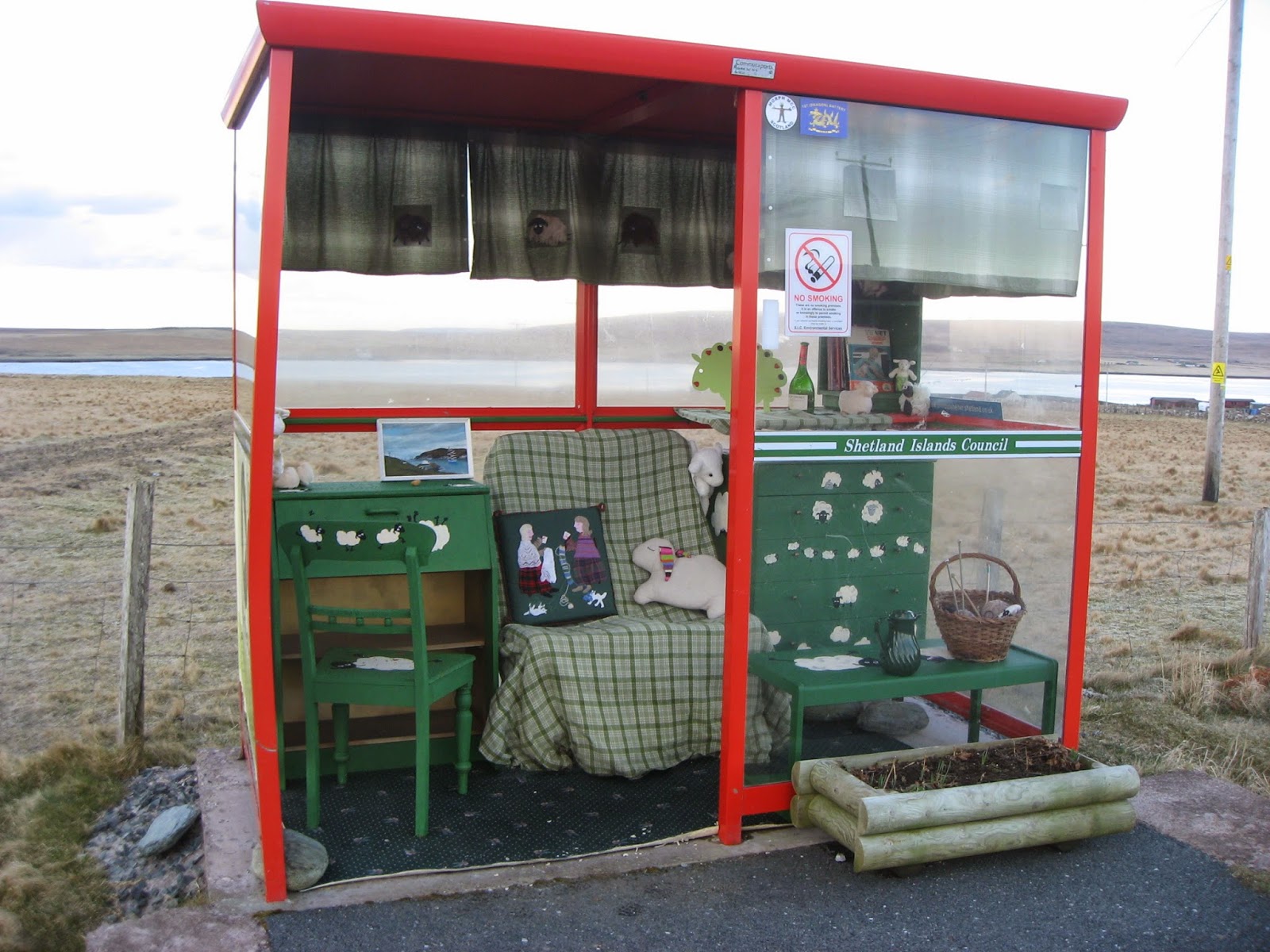 "Folk from all around the world have come to see Bobby's bus stop," says Unst community councillor, Gordon Thomson.
"It's one of the island's most popular attractions and every time I drive past it, summer or winter, there's always people taking photos or looking in.
"It's not quite the most northerly bus stop in the UK, but it's close – and judging by the guest book inside, it's certainly one of the most popular ones."
In 2009, the bus shelter welcomed the BBC's film critic Mark Kermode (and his mum) to the UK's smallest screen festival, Screenplay. The bus stop acted as a two-seater cinema, complete with tickets, ushers, popcorn and ice-cream, with Shetland's young filmmakers group, Maddrim Media showcasing their work in the shelter.
Bobby's Bus Shelter in Unst – the most Northerly bus shelter in the U.K. – is really worth a visit. Has curtains and a library! We've even shown films there as part of Screenplay Fest. pic.twitter.com/VtAlzUOLE1

— Mark Kermode (@KermodeMovie) January 21, 2019
Every winter, on an island which sees just six hours of sunlight, Bobby's bus stop provides a sparkly and bright intermission from the shroud of polar darkness.
"They hook the bus stop up to a nearby house for electricity in the winter so they can cover it in fairylights," continues Mr Thomson.
"There's always a Christmas tree put up at it every year as well."
A resident concrete puffin is always located just outside the shelter's entrance, forever connecting it to Unst Fest and a hunt that takes place every year to find the island's most unusual places. While other puffins move, Bobby's always remains – a talisman to the island's most bizarre creation.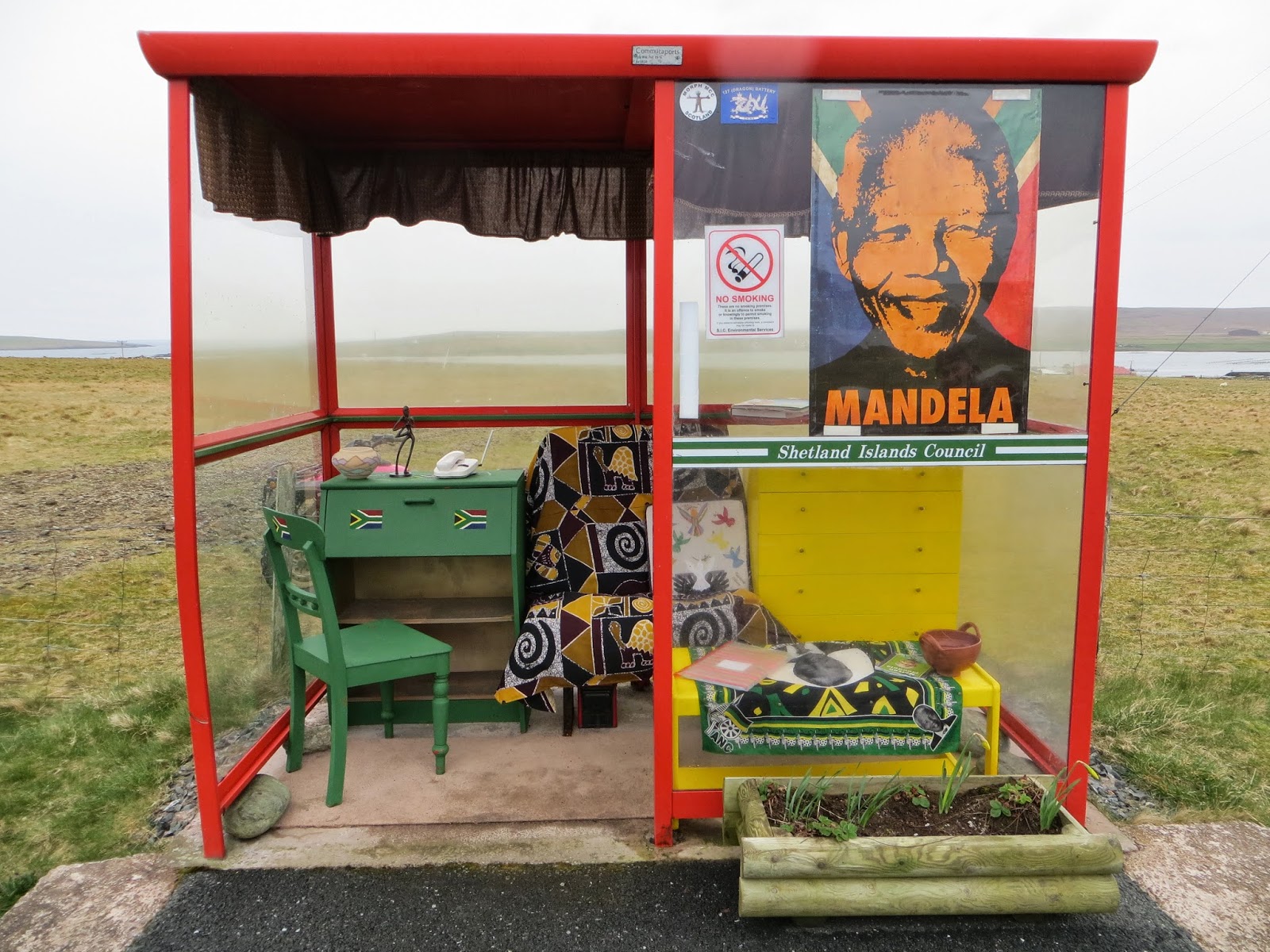 Travelling forward to present day, the theme for 2019 is 'fake gnus,' and sees the bus stop decorated with fake wildebeest in a tongue-in-cheek homage to our current social media culture.
It's now been 14 years since Bobby lived on the island that created the bus stop named after him, but Unst's allure and way of life is still unlost on him.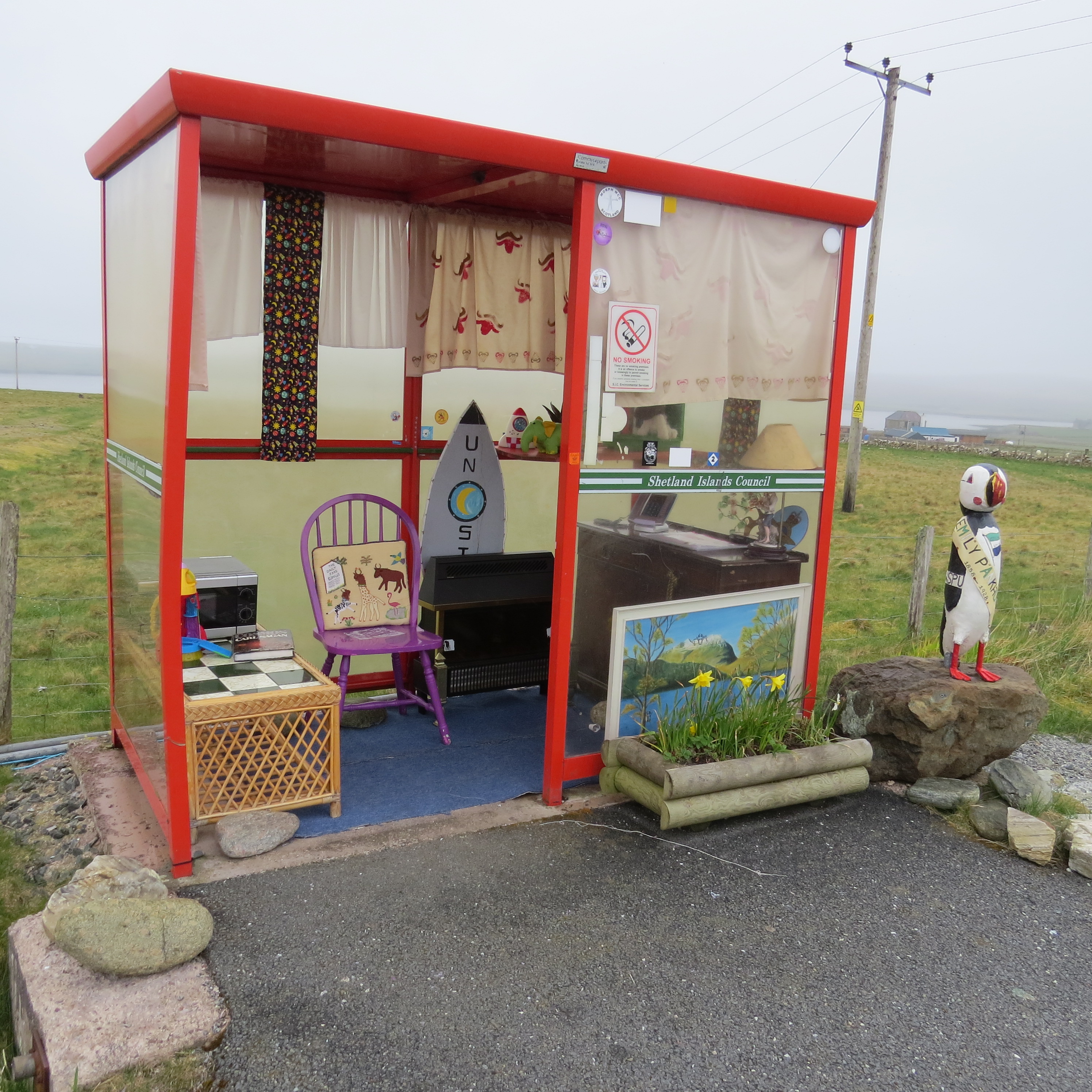 "Sometimes I think about going back," he says.
"It's a really happy way of life and I gained a lot through being brought up there.
"There's also not been a permanent policeman on the island for the last 10-15 years, so I think that tells you something."
And if he were to go back, would he take up a spot on the bus shelter maintenance team?
"Yes," he laughs. "I don't think there'd be much way to escape it."
---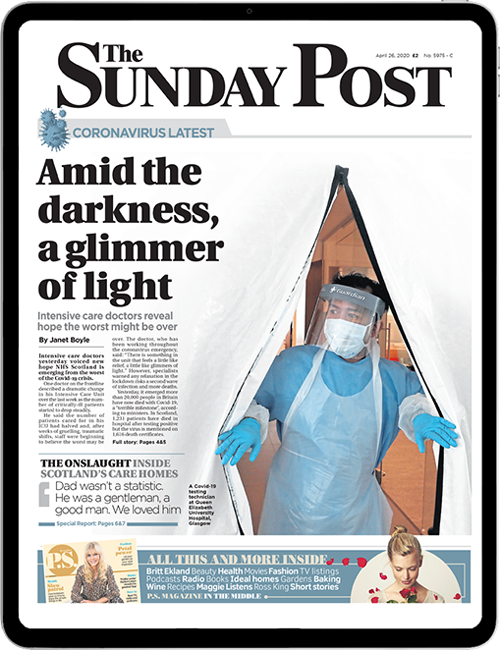 Enjoy the convenience of having The Sunday Post delivered as a digital ePaper straight to your smartphone, tablet or computer.
Subscribe for only £5.49 a month and enjoy all the benefits of the printed paper as a digital replica.
Subscribe