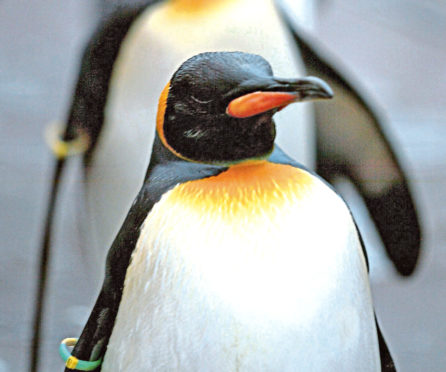 Penguins on parade at Scotland's most famous zoo have entertained children of all ages for generations.
Now, however, the coronavirus lockdown has rained on the bird's parade…and they're missing the company.
For just the second time since 1951, Edinburgh Zoo has been forced to pause the famous black-and-white show as the top Royal Zoological Society of Scotland (RZSS) attraction remains in lockdown.
The zoo would normally be packed during the Easter holidays, but now it is deserted apart from the animals and their keepers.
"In general, I think that, as times goes by, the animals are noticing there are no visitors, particularly more sociable animals like our primates," said Darren McGarry, head of living collections at the zoo.
"They are used to seeing people coming and going but I've noticed them sitting and looking out the windows of their enclosures as if they are wondering why there are no people on the other side.
"The penguin parade has stopped because we largely rely on visitors around the parade route to keep the penguins on the right path and focused on where they are going, otherwise they're off in five different directions.
"The first few days they'll have wondered why they weren't coming out on parade but they can still move around their big enclosure."
While the penguin parade might be on hiatus, Edinburgh Zoo's dedicated staff are marching on to ensure the animals in their charge receive the best possible care during the Covid-19 crisis.
"During the Easter holidays we should be packed with 3,000 people a day but the zoo is empty," said Darren. "We don't have the option to work from home for two months because we have to prioritise the care for our animals while social distancing with colleagues as much as we can."
For now, the zoo's food supply chain is unaffected and there's enough emergency food, including frozen meat and fish, stored for the next few months.
Darren's greatest concern is for the zoo's financial future. Edinburgh Zoo expects to lose out on hundreds of thousands of pounds over the Easter holidays this year alone and could stay closed during its peak visitor season.
The RZSS has recently launched a fundraising campaign urging animal lovers across Scotland to support the zoo and its animals.
"As a charity with no government funding, the majority of our money comes from gate admissions and sponsorship," said Darren.
"It costs £55,000 per month to feed our animals so the prospect of the zoo being closed over our busiest summer months is a nightmare. We are all worried about the future of the zoo and our animals.
"Every month we're losing vital funds so, as a charity, it's really important we can raise money to feed and care for our animals."
Meanwhile, the zookeepers and vets face the daily challenge of tending to and feeding animals while maintaining social distancing.
Staff work in split shifts, wear face masks, visors and gloves in the vicinity of animals to minimise the risk of infections, and try to avoid major changes to the animals' routines.
"Wearing protective gear like face masks and gloves is something we are used to, especially with the big cats and primates," Darren explained. "Chimpanzees share around 98% of their DNA with humans so they can catch the same illnesses as us, like the common cold, very easily, so there's always a risk of cross-contamination.
"We would usually only wear visors for quarantined animals but we have to take every precaution now."
There has been some good news at the zoo during lockdown. Several baby animals have ventured out for the first time, including the zoo's latest koala joey, Inala, and there could soon be the pitter patter of baby penguin feet.
"We now have eggs on our Northern Rockhopper nest site, which is very exciting because they are one of the endangered species of penguin we have," said Darren.
"Hopefully we'll see some chicks emerge soon. People can watch the Rockhoppers' progress on our webcams.
"Our two lion cubs are outside a lot during the day with their parents. With the nicer weather, they're going to be really active."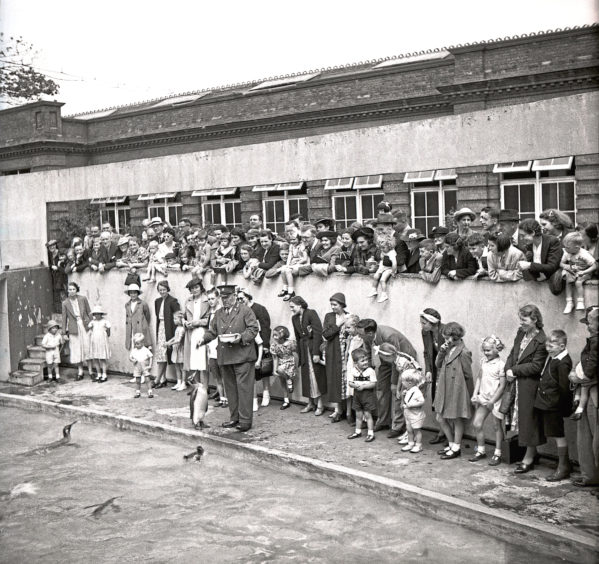 Darren has also seen local wildlife in the zoo become more prominent during lockdown. "Many of the foxes on Corstorphine Hill that usually venture down to raid restaurant bins at night have become more gallus. With no visitors around they are wandering around during the day."
However, the pandemic has brought more disappointment for the UK's only female giant panda, Tian Tian, who will not deliver cubs for the ninth consecutive year.
Darren believes Tian Tian came into heat on April 3 but it proved impossible to attempt artificial insemination while social distancing.
"Even though her estrous cycle is only 48 hours, a tiny window, the team spends up to a year preparing for this. For it to be cancelled last-minute is really disappointing but it was the right decision to ensure the safety of Tian Tian and our staff.
"Hopefully one day we'll have a pregnant panda or panda cub. We have a 10-year lease agreement which started in 2011 and that's still up for negotiation. No decision has been made yet."
With the need for public support now more urgent than ever, the zoo is finding more ways to connect people at home with its animals.
Live video streams ensure people can still watch penguins, rockhoppers, koalas, pandas and elusive tigers from their living rooms. On social media, zookeepers are doing Facebook Live sessions and sharing regular animal updates.
Darren says the last time the zoo was this quiet was when it closed for seven weeks during the foot-and-mouth outbreak in 2001.
On the plus side, it means he has no problem social distancing outside his working hours – having lived in the zoo for 34 years.
"My house is on the boundary of the zoo so, when other keepers have gone home, I walk around the whole zoo at night for my exercise. It's a great place to go for a socially distanced, government-approved walk.
"I get to see the animals every day which really lifts my mood. I just wish people at home could do the same."
---
We have to keep our animals safe… even a cold could kill chimps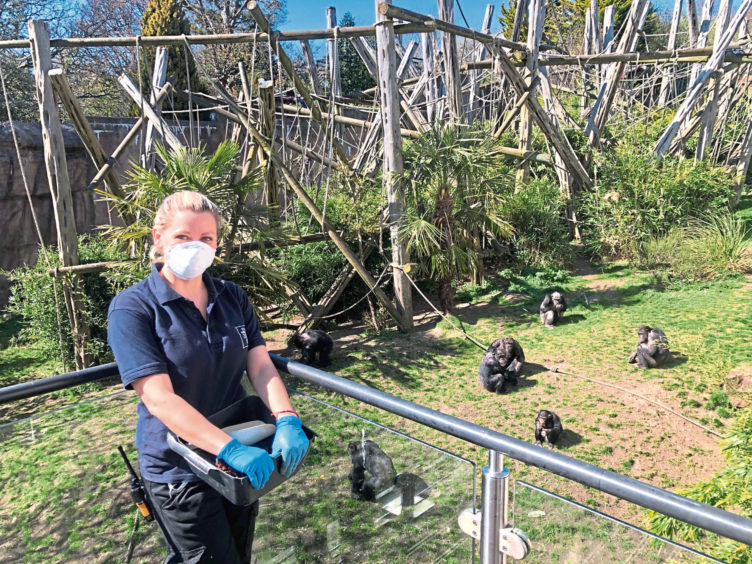 Of the 16 chimpanzees at Edinburgh Zoo, six-year-old Velu is especially missing the attention of his daily visitors.
But he has been keeping his fans entertained at home by showing off on social media.
He features in a video his keepers have shared on Tik Tok, which sees them dancing in front of the enclosure.
"Velu is one of our youngsters and loves being the centre of attention," said senior keeper Amanda Addison.
"He especially loves interacting with children when they come up to the windows, so he does seem to be noticing that people aren't there and is missing that attention.
"We're trying to keep him and the other chimps as busy as possible. He seems to be happy that he's getting more time with us." But Velu also has a new baby sister, adorable three-month-old Masindi, to keep him company.
"Masindi is tiny but she is doing fantastic and is really healthy and strong," said Amanda.
"We actually heard her laugh today for the first time. That has really lifted our spirits."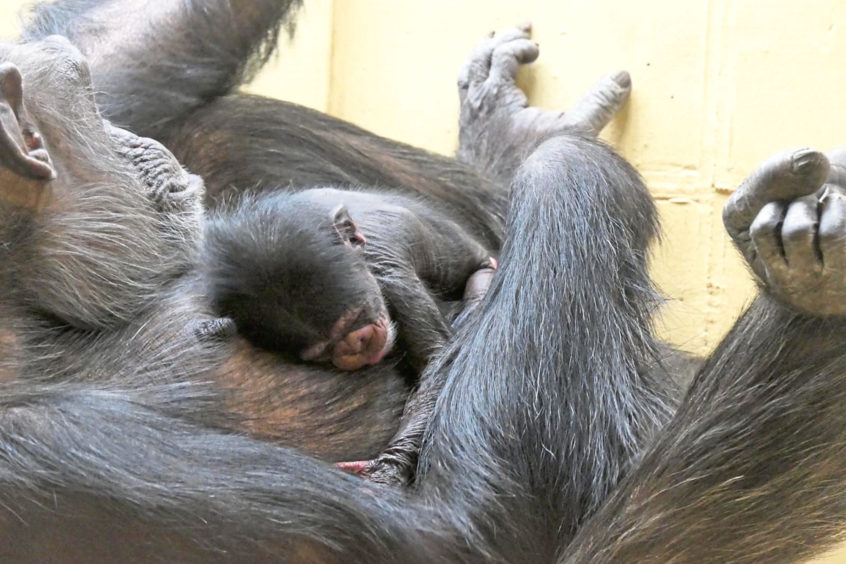 Masindi and Velu are Western chimpanzees, a critically endangered subspecies. The younger shares her name with the nearest town to the Budongo Conservation Field Station in Uganda, where RZSS funds vital conservation efforts for the species.
Amanda's team already had protective measures in place before the coronavirus outbreak but are now taking extra precautions.
"Chimps can actually catch the common cold and could die from it. They could be severely affected by this virus so we're taking every precaution to ensure their safety." Amanda shares her colleagues' concern for the zoo's future as the lockdown continues indefinitely.
"Things are hard for everyone but if people could donate just a few pounds it will make such a difference.
"It will mean we can feed our animals and continue to support the conservation projects."
To support the zoo, visit www.edinburghzoo.org.uk/support-us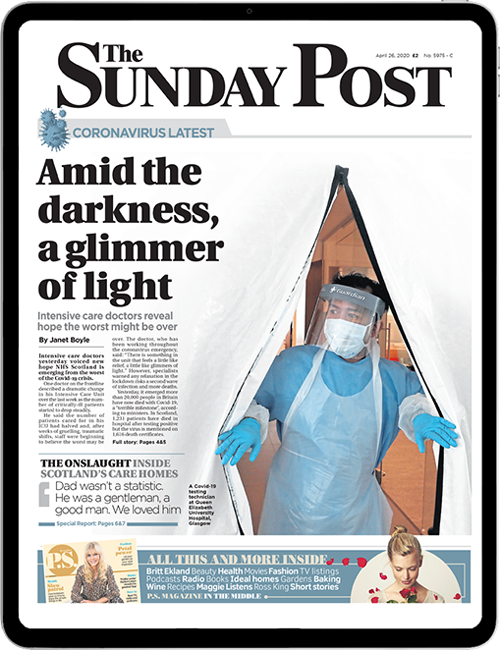 Enjoy the convenience of having The Sunday Post delivered as a digital ePaper straight to your smartphone, tablet or computer.
Subscribe for only £5.49 a month and enjoy all the benefits of the printed paper as a digital replica.
Subscribe