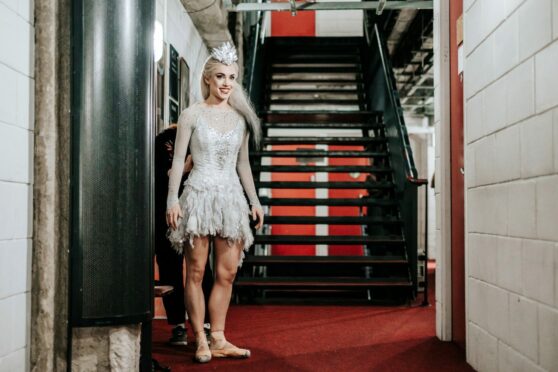 The rows of seats in the theatre may have been empty as Bethany Kingsley-Garner pirouetted around the stage but Scottish Ballet's principal dancer was not alone.
Dancing the Sugar Plum Fairy in a locked-down production of The Nutcracker, she was eight weeks pregnant with her daughter, Elizabeth.
That pandemic performance shortly before Christmas two years ago was Kingsley-Garner's last before she gave birth and she could not be certain she would ever pull on a tutu and tiara again.
She did, thankfully, and this Christmas will perform as The Snow Queen, with her little girl watching from the audience. The 34-year-old dancer, who has been with the national ballet company for 15 years, says she is enjoying dancing more than ever before since becoming a mum.
"I came back when she was around seven months old but I started the process long before that," she said. "This is huge. You can't sugar-coat it. You've gone through something life changing that requires you to heal very carefully and our job is so physical.
"So it was just knowing my body and talking to it every day and seeing where I was at with it, and slowly things started to kick in. Now I have moments when I'm dancing where I'm in a different zone in my head – it's almost like an out-of-body experience – and I feel I have that more now as a mother than I did before.
"I'm able to transfer myself. I don't know if it's because I know the time in the studio is precious because apart from that my mind is constantly on Elizabeth.
"I think you know your own strength a lot more because you've been able to grow a human, and that's empowering in itself – to come back from it and be able to look after a family and still be a Snow Queen!"
That performance of The Nutcracker in 2020 was a private one, to give the dancers something to work towards during the long, slow months of the pandemic. "I'm pleased she got to perform with me, even at that age," Kingsley-Garner said with a smile.
"I just knew when I came off stage afterwards that I was more than ready. It's quite a ritual of taking off the tiara, tutu and shoes but I wasn't clinging on to anything. It was lovely."
She continued to dance in her own time and space both before and after she gave birth, as it was something she wanted to experience with her newborn. "It was two years of not performing, between the pandemic and the pregnancy but I never felt away from ballet or dancing or the team. I carried on right until she came and very quickly afterwards I was doing ballet movements or arm work, not because I had to but it was what felt nice and what I wanted to share with her.
"She's coming to watch the inclusive performance of The Snow Queen with her dad, who's a personal trainer, and her gran. I took her to see The Nutcracker last Christmas and she fell asleep in my arms as the snow scene started, which was so lovely. We'll see if we have a 'mama' shout when I come out as The Snow Queen!"
For all she was still very much in touch with ballet, the Devon-born dancer couldn't say with certainty that she would ever return to the stage. "No dancer can go into pregnancy knowing you will definitely come back. You just don't know. You don't know how you'll be physically or how you'll feel, and that was always in the back of my mind.
"I took the time and I had a medical team with me at every stage to sign off on my verbal agreement that I was ready to go back. It felt very natural.Next year will be my 16th here, so to suddenly not do it would not have felt right at this time.
"Bringing her into this world of ballet is something I want to do as a family so that she has a few memories when she is older. It's a really special time, because it doesn't last forever."
Kingsley-Garner isn't the first dancer to return to the profession after becoming a parent, and she says there is a pathway in place to enable that to happen.
"There are people all around in different companies who are on this journey of coming back, and that gives hope to mothers and fathers that it is possible and shows the support mechanisms that are out there and how it works," she said. "It's the norm. It's spoken about and it's not separate now. She comes into the studio and comes to work, so that's a natural feeling and that is how life is now."
Kingsley-Garner worked with Dance Mama, an online resource for dancers who are also parents, as she began her return to the stage.
"There's a period where you're not yet ready to go back into class but still want to move, so Dance Mama puts on classes online where you can be in your living room with your child, feeding or playing or whatever, and they give you a professional class to take. It's also a chance to meet other dancers. That group was vital for me," she said.
Since returning to the company earlier in the year, she has had a busy time, performing in acclaimed productions of The Scandal At Mayerling and, at the Edinburgh Festival, Coppelia.
Now, Scottish Ballet is embarking on its biggest winter tour to date – 72 performances across five cities between now and February. This version of The Snow Queen was a world-premiere production three years ago, devised by artistic director and choreographer Chris Hampson in conjunction with the dancers. He has made changes to the narrative, which is inspired by Hans Christian Andersen's classic tale, for this year's production.
"Ballets are living, breathing art forms," he said. "If people are coming back to it and wondering if it's going to be the same, then I'd say yes, but the storytelling and magical qualities have been augmented and deepened, so I think people might enjoy it even more."
Kingsley-Garner has no doubts as to why the ballet has become a festive favourite.
"It has such a Christmassy, wintery feel to it, with the icicles and the imagery. We have falling snow. It looks magical. We have street scenes with hot chestnuts like you see at the Edinburgh market, and children running around with holly and mistletoe.
"There are two characters up there, sisters who are role models for young children, wearing sparkling gowns. It's like a story book.
"For the dancers, it's lovely to be in the studio with everyone again. There's a big street scene and a circus scene, and everyone is involved.
"Because of what we've been through with lockdown, just the joy of touching each other, standing side by side and physically watching each other dance just feels so good. And now we get to take it to audiences, which we've missed so much.
"When we last did The Snow Queen, it was my last season before I went off to have my baby, so it's big for me coming back to this one and I'm still playing The Snow Queen. The character is so powerful and strong, and it's such a lovely role to play even though she has an icy side."
Kingsley-Garner added: "It's a refreshed production and we have new dancers who are experiencing this ballet for the first time. Plus, the music never gets old and it still sends goosebumps to my arms every time I hear it. This is a busy time of the year for us but I wouldn't have it any other way."
There is just snow stopping famous tale
One of Hans Christian Andersen's most famous fairytales, the Danish author is said to have been inspired to write The Snow Queen after his romantic advances were spurned.
He fell in love with Swedish opera singer Jenny Lind after they met in 1840 but, when she wasn't interested in him romantically, Andersen modelled the frosty Snow Queen character on her. The story was published in 1845.
It tells the story of the struggle between good and evil, focusing on the relationship between best friends and neighbours Gerda and Kai, and explores how the discovery of a fragment of a magic mirror which magnifies evil things, and the appearance of The Snow Queen, affects their friendship.
The story has been adapted many times across television, film, dance and opera, and it also inspired the 2013 Disney movie, Frozen, which was subsequently adapted into a hit Broadway musical and led to a 2019 sequel.
As well as versions for the screen by the Soviet Union, Finland, Japan, the UK and Denmark, there have been several operatic adaptations and it was first made for the theatre in 1969 by Josef Weinberger.
The first full-length ballet production was choreographed by the California Contemporary Ballet company in 1998 and ran for 16 consecutive December seasons.
Subsequent adaptations were made off-Broadway, by English National Ballet, Finnish National Ballet, Eugene Ballet in Oregon and at the Grand Theatre in Poland.
Scottish Ballet's version is choreographed to a score arranged from music by Russian composer Nikolai Rimsky-Korsakov and borrows elements from Frozen, such as The Snow Queen's sister, the splintering palace and wolves.
---
Scottish Ballet's The Snow Queen at The Festival Theatre, Edinburgh, until December 10, then Glasgow, Aberdeen, Inverness and Newcastle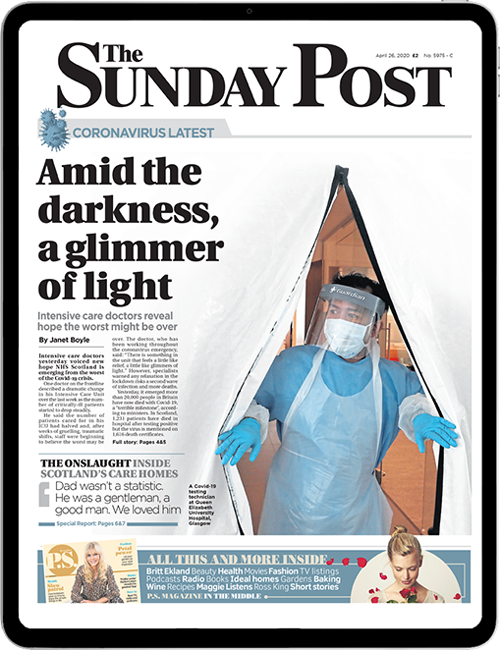 Enjoy the convenience of having The Sunday Post delivered as a digital ePaper straight to your smartphone, tablet or computer.
Subscribe for only £5.49 a month and enjoy all the benefits of the printed paper as a digital replica.
Subscribe