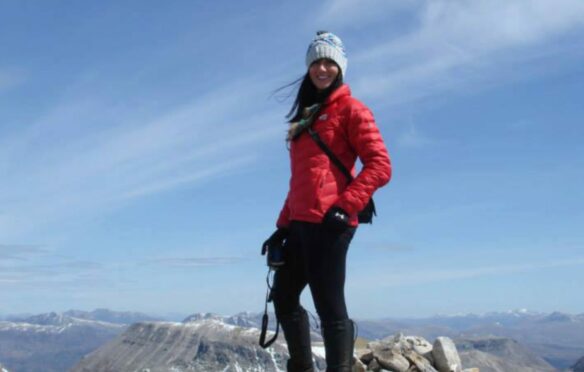 If James Robertson was struck by the majesty and deadly beauty of Ben Nevis, it wasn't evident in his writing.
The Edinburgh botanist drily noted upon reaching the summit how the landscape was simply "a heap of stones thrown together confusedly". That was 250 years ago, on August 17, 1771.
What Robertson lacked in poetry and imagination he made up for in pioneering spirit; his expedition to collect plants was the first recorded ascent of the British Isles' highest peak.
Since then, Ben Nevis has become many things. It is a sangraal for mountaineers, albeit at times a deadly one. It is an oasis of isolation, 4,409ft above sea level, yet also one now beset from time to time with queues. It's a rich ecological site for some and, for others, even a home.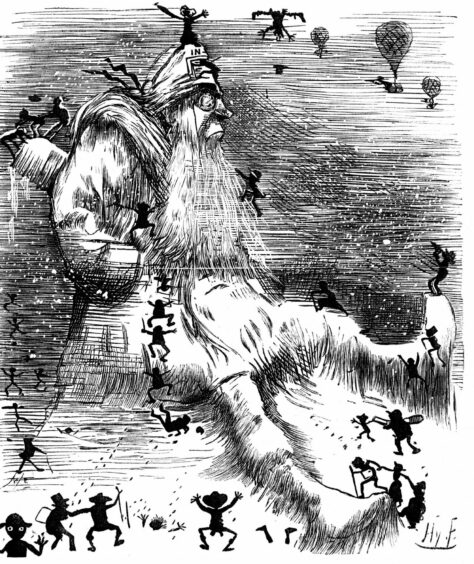 According to wilderness author Cameron McNeish, Ben Nevis is a mountain with many faces; and not just the ones on which mountaineers travel from around the world to test their mettle.
"Because it's the highest peak, Ben Nevis attracts a peculiar clientele, from hardcore mountaineers right through to charity walkers lugging pianos to the top," he says.
"There's some of the finest mountaineering in the world to be found there, and also an easier trudge for less-experienced climbers. The mountain is a former volcano, too, so it's of interest to geologists. Then there's the fascinating wildlife. The plants and lichens are there because of the altitude, you won't find them anywhere else in Scotland.
"Lower down the mountain Forest And Land Scotland plant and harvest trees. Elsewhere are deer stalkers looking after deer numbers. And at the foot there's quite a community living almost on Ben Nevis. Even at the centre of the mountain there's a tunnel bringing water to an industrial turbine. To me it's a mountain of many parts."
The name itself has different meanings depending on translations, too. It is either Venomous Mountain or the more lyrical Mountain With Its Head In The Clouds.
Romantic poet John Keats climbed to the summit in 1818, describing his journey as "mounting 10 St Paul's without the convenience of a staircase".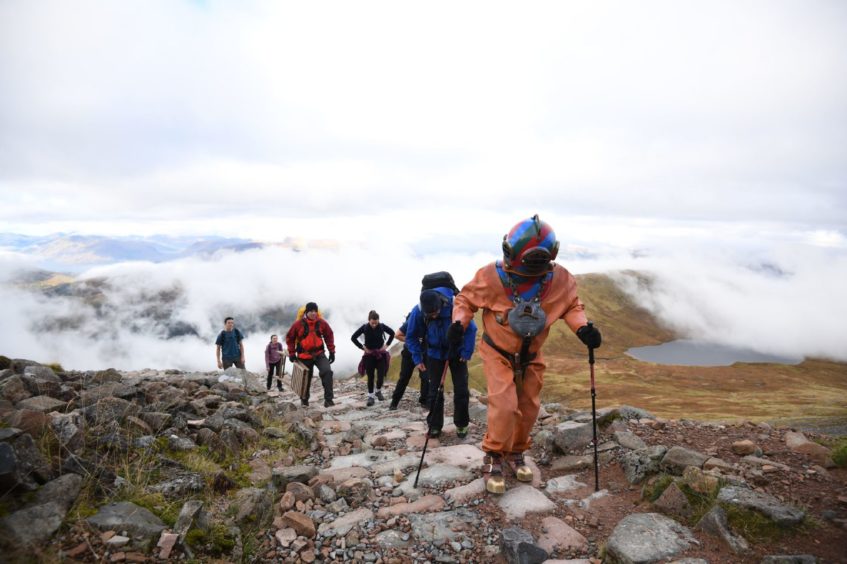 Unlike James Robertson, Keats felt moved by what he saw and scribbled a poem about the Munro's vaporous chasms and misty crags. It was the first entry in a long collection of writing the peak has inspired.
Sarah Jane Douglas is one of the most recent authors to use her trip to Ben Nevis as inspiration. She penned Just Another Mountain, a poignant memoir about grief following the loss of her mother.
In it she describes bagging all of Scotland's Munros, culminating in an ascent of the tallest peak of all.
"The emotion welled inside of me in a giddy combination of joy and pride in being Scottish," she recalls. "Getting to see all this landscape laid out around me as far as the eye can see.
"At the summit, you're reminded of these greater forces at play.
"I'm not surprised people want to climb Ben Nevis, it's the highest peak in the UK. It's because it's there. I couldn't help but think that I may not have much material wealth but on top of that mountain I was the richest person in the world."
For Douglas, the ritual of preparation prior to tackling Ben Nevis was as much a part of the appeal as enjoying the climb.
And, although the solitude of being above the clouds, thousands of feet above sea level, is enjoyable, part of the experience was tackling the climb with friends.
"Each mountain is an experience, and you grow from each of those experiences, whether you're going out by yourself, or whether you're going out with somebody else," she explains.
"When you're tackling Ben Nevis with other people it's a bonding exercise. You've got this whole day stretching out ahead of you. You're making decisions together, you're finding routes together, you're making mistakes together. There's value in that."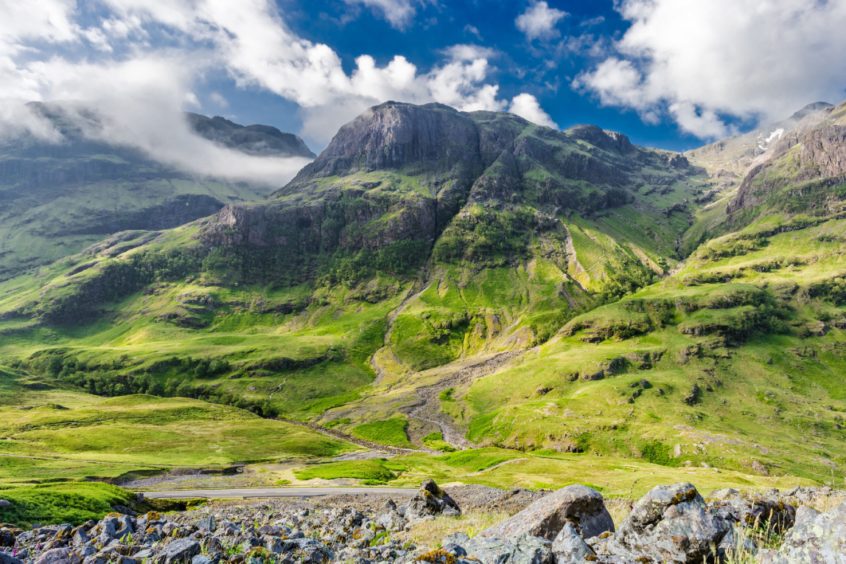 Running into difficulties is a common occurrence on the mountain, even for experienced hikers. About 150,000 people climb Ben Nevis it each year and inevitably there are several deaths.
In June, 24-year-old Sarah Buick's body was found after she went missing there.
Recently tech giants Google were criticised after their online maps took climbers on a potentially deadly path. Google have removed the directions.
"If you're relying on Google to guide you up Ben Nevis you probably shouldn't be going up Ben Nevis," says Robert Wight, editor of The Scots Magazine and an experienced climber and author of Explore The Munros.
"Over the years Ben Nevis has inspired plenty of words from authors and poets. But as well as literary inspiration the mountain should inspire feelings of extreme caution, even fear when the infamous north-east face is considered.
"Most will walk to the top and have a lovely time but of course in Scotland the weather can quickly turn bad, especially given where the mountain is situated on the western seaboard.
"It has quite a volatile climate so there are dangers, and people die on it almost every year.
"Climbers and winter mountaineers are attracted to the north-east face, hidden from roadside views of the mountain. It's a complex area, there are faces of every aspect.
"It's like being in a big cauldron and the area seems to have its own weather system. It's not a place for the inexperienced."
As well as modern GPS technology, Wight recommends a map and compass on Ben Nevis, as well as the ability to use them.
"I remember the first time I reached the summit vividly," he explains. "The views from the top looking out to the sea on a clear day was incredible, you can see The Mamores, the range of mountains at Lochaber, to the south. These are big hills, but look tiny, far beneath you.
"We scrambled up via Ledge Route and it was quiet, but at the top there were about 100 people around," he said.
McNeish, a former chairman of the Nevis Partnership, agrees, saying these days the Munro can be busier than nearby Fort William main street. This is, he says, great for safety.
"There's comfort in numbers of people at the summit of Ben Nevis," he adds. "In summertime it is not the place for your mountain purist, perhaps, who prefers things that are quieter if not an absolutely lonely experience.
"We had a particular issue with climbers leaving little plaques for the deceased. It got to the stage where it was like there was a graveyard on top of the mountain.
"Lots of people go there to scatter the ashes of relatives, which has a bit of an effect on vegetation. Again we ask people to use the Memorial Garden we've created in Glen Nevis."
For Douglas, the experience of Ben Nevis didn't quite evoke the solitude an 18th Century botanist might have enjoyed. It was one, however, which stirred her romantic soul. "I dragged my son up mountains and he asked me, 'Mum, why are we climbing this useless mound of earth?' But to scale Ben Nevis gives you a sense of achievement like no other. There's no way to describe it, other than feeling on top of the world."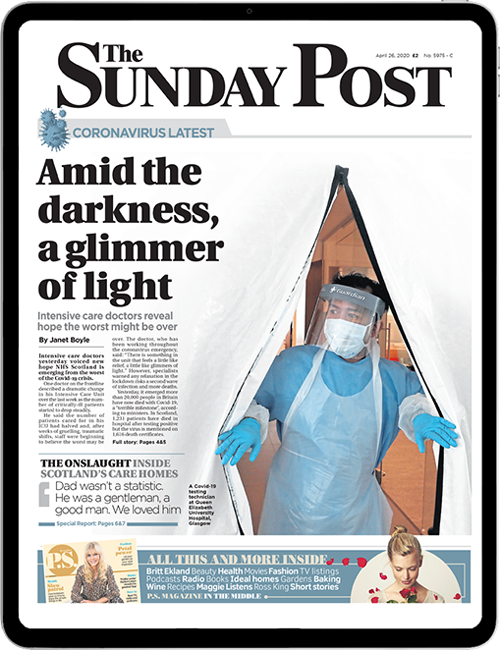 Enjoy the convenience of having The Sunday Post delivered as a digital ePaper straight to your smartphone, tablet or computer.
Subscribe for only £5.49 a month and enjoy all the benefits of the printed paper as a digital replica.
Subscribe