Ewan McGregor's 32-year passion for Volkswagen Beetles shows no sign of fading.
But the Hollywood star is moving with the times after his VW bug broke down and is spending almost £30,000 converting his classic 1954 model to electric.
The actor was left stranded by the side of the road in Los Angeles after the Beetle – worth around £20,000 – conked out.
The Star Wars actor – who bought his first VW as a 16-year-old, before even passing his test, with earnings from a Saturday job – is ditching fossil fuel to go green.
He said in an TV interview: "I have been fascinated by electric powered transportation.
"I have a collection of old cars, and one of my beautiful old cars is a 1954 Volkswagen Beetle, but I was frustrated with it breaking down. It is very noisy, and when I have my kids in it we can't hear each other.
"So I have a company in San Diego called E V West who are converting it to electric. They take old cars – Ferraris, Porsches, VWs and they put Tesla batteries and an electric motor in.
"I did that because I wanted to experience electric, but in an old car."
Ewan, who played Jedi knight Obi-Wan Kenobi in Star Wars, A Phantom Menace, added: "I have started testing electric motorcycles.
"Harley-Davidson have a new electric motorcycle coming out called the Live Wire and it is just fascinating. Firms are now converting bicycles, skateboards, anything, you know.
"It is exciting, and for sure it is the future. In 20 years we won't be burning petrol in our engines any more, we will be plugging them into the wall.
"So I am excited, this is the cutting edge of it."
The father-of-four was bitten by the love bug (Volkswagen's Beetle) at five-years-old.
The schoolboy happily posed alongside a Volkswagen on the way to his first day at school.
The budding petrolhead was smartly dressed in his new blazer and shorts at Morrison's Academy, Perthshire. His father Jim was a PE teacher and careers master at the private school in Crieff. And he even launched a hunt to be reunited with his first car, the green VW which he bought for a couple of hundred pounds, which he earned while working in the kitchens of a hotel in his home town.
Now the star has a battered single cab VW van for bringing home the Christmas tree in, and a split-screen original camper for holidays.
Until recently he kept his car collection, which includes a vintage Rolls-Royce, at the LA home he shared with his wife of 22 years Eve Mavrakis, who he separated from after a relationship with Fargo co-star Mary Elizabeth Winstead.
But the pale blue Beetle, bought in 2009, and with matching furry dice hanging from the mirror, has let him down too often.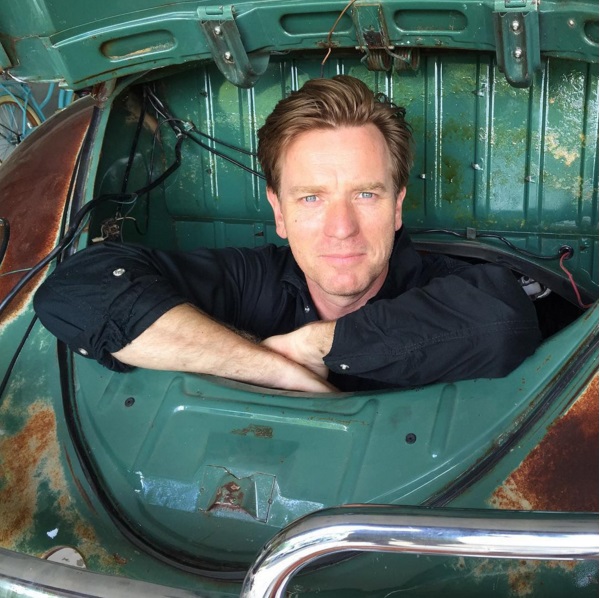 After being forced to push it to the kerb one day he called up EV West, who have a two-year waiting list for conversions, and it is now in their workshop.
Merritt Townsend, from the Californian garage, said: "Keeping classics alive is the biggest reason people go electric.
"Why send them to the scrapyard when you can put new motors in them and new technology and keep the vintage good-looking classic cars on the road?
"We have customers from all walks of life. Someone who went and bought a 1964 VW when they were brand new, or it was their first car, and they have kept it forever.
"But the motor leaks oil, it stinks, they want to keep it, don't want to get rid of it, or they want their kids or grandkids to drive it. Obviously now the way of the future is electric."
The company take out the original engine, and switch it for a new Tesla one, with batteries mounted in the boot or under the seat.
"It takes our technicians about 400 hours, so we say about three months.
"Our standard Volkswagen Beetle conversion kit runs about $17,000 for parts and another $14,000 to install it.
Mr Townsend said: "A stock Volkswagen motor puts out anywhere from 38 to 42 horsepower (hp) and our motor puts out anywhere from 72 to 120hp, depending on the motor.
"We don't do any 0 to 60 mile per hour times, but the car will safely do over 100mph and it will do 100 miles per charge. We are only using five batteries."
He added: "Ewan is a long-time VW fan. His car is still here. We are finishing it up. The motor, the batteries, and the transmission is in, and it's driving."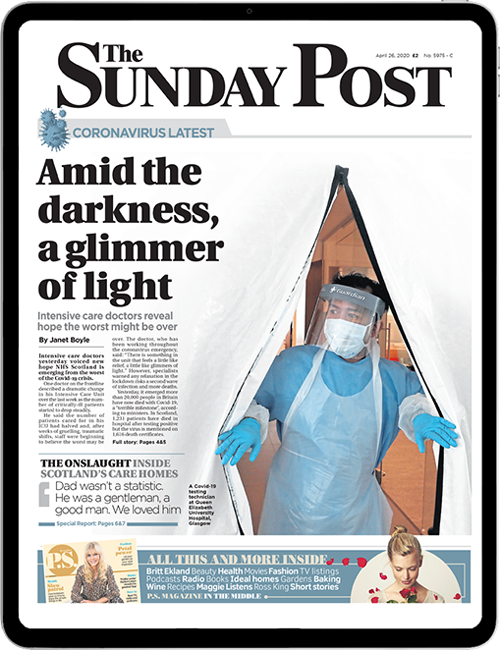 Enjoy the convenience of having The Sunday Post delivered as a digital ePaper straight to your smartphone, tablet or computer.
Subscribe for only £5.49 a month and enjoy all the benefits of the printed paper as a digital replica.
Subscribe