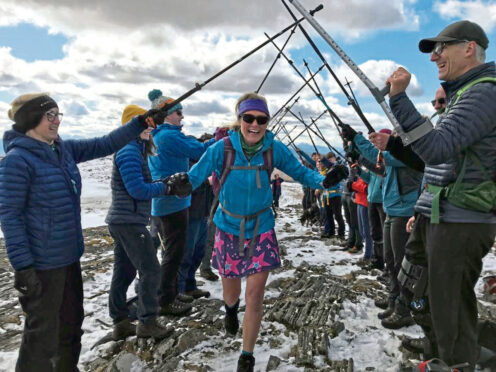 Standing on the summit, I spot another in the distance where my long journey had started. It was on a ridge in Glencoe some 20 years ago that I first touched the cairn of a Munro.
In fact, I reached two Munros that day – but I swore I would never go back for more. The narrow Aonach Eagach is renowned for its steep sides and long drops and, for anyone like me with a fear of heights, the exposure is terrifying.
I decided that if this was what the pursuit of Munro bagging entailed, it was not for me. Yet last week, on Beinn na Lap at 3,074ft, I celebrated walking to my final summit in a list of 282 Munros. Surrounded by 40 friends, I whooped, laughed and cried as I was flooded with an emotional mix of pride, joy and disbelief at my achievement.
To be fair, though, the feat is not new. As far back as 1901, the first person to "compleat" (the archaic spelling still used by baggers) all the Munros was the Rev A E Robertson. I'm the 7,115th person to have registered at least one full round with the Scottish Mountaineering Club, which holds an official list. Almost 350 people have gone on to record two or more rounds – and the current record of 16 rounds is held by Steven Fallon, while Hazel Strachan has the female record of 10 rounds.
However, I never imagined I would – or could – be a compleater, a Munroist. Due to acrophobia, I was sure that many of the more extreme high summits would be beyond my emotional capability.
What I hadn't reckoned on was meeting my now husband Gordon Lacey seven years after the frightening Aonach Eagach outing.
Motivated by raising funds for charity in 2009, I joined a group walk in north-west Scotland. The so-called Five Sisters of Kintail includes three Munros over some 10 miles and with a total ascent of almost 4,600ft.Although physically challenging, I was surprised by how comfortable I felt and how much I enjoyed the adventure and the views. It was then I thought: "So, if this is Munro bagging, I might actually like it."
By chance, Gordon was also part of the charity endeavour and as it turned out he had about 80 Munros to go to finish his round. We became friends – then partners, before marrying in 2018 – and I took to following him up mountains. I was there to celebrate with him on his final Munro, Ben Chonzie, in Perthshire in 2011. Over those two years, I'd come to realise there is so much more to Munro bagging than scary ridge hikes.
There is a huge variety of Munros from relatively easy walks of single mountains, through breathtakingly beautiful day circuits of several summits, to multi-day adventures that require a wild camp just to reach the base of the peak.
But still I had no plan to tick off all the Munros. I didn't believe I had the time, determination or mental resolve for a feat that takes on average 23 years.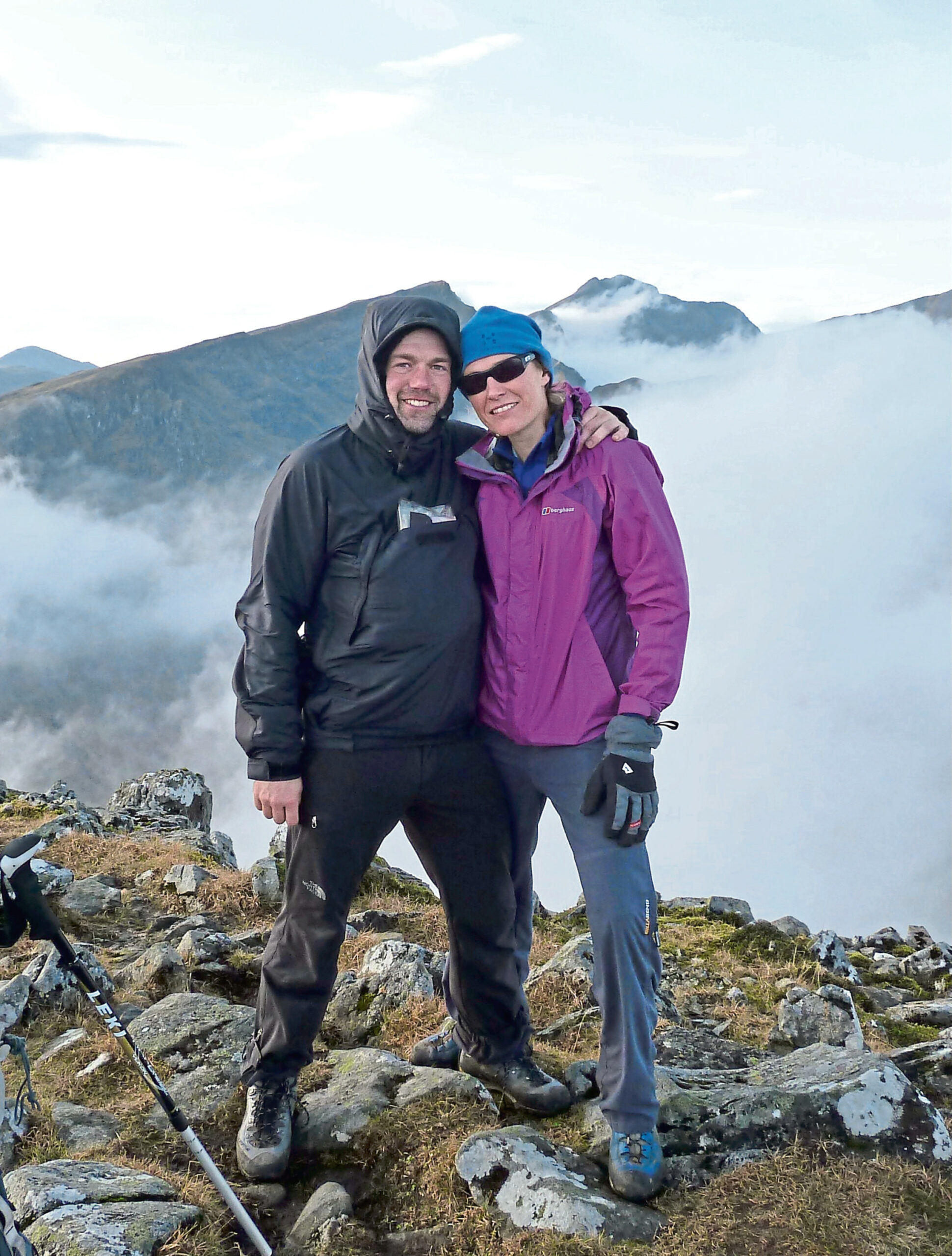 It was only in 2014, when Gordon and I decided to tally my Munros so far, that I realised I'd bagged more than half a round. I suddenly found more focus and in the following years I visited dozens of summits in my bagging quest. I walked in sunshine, rain, snow, thick mist and, on some occasions, strong winds that made me retreat from the tops. I learned new skills such as navigating by map and compass and winter mountaineering, witnessed stunning landscapes, spotted rare wildlife and made many new friends.
Despite acrophobia, I somehow managed to grit my teeth and "never look down" to complete some other ridges, including Liathach in Torridon and the Forcan Ridge in Kintail. It still seems amazing to me but, by 2020, I had fewer than 20 Munros to finish a round and, you won't be surprised to know, the final list included many on the gnarliest ridge of them all, the Black Cuillin on the Isle of Skye.
Revered as the most challenging mountain range in the UK, the arc of jagged peaks stretches almost seven miles and includes no fewer than 11 Munros. And I'd been there before so I knew I would loathe it. In 2016, Gordon persuaded me to brave a daunting peak, the Inaccessible Pinnacle, which rises like a shark's fin from the summit of Sgùrr Dearg.
He's an experienced climber and, with ropes and a friend at my feet to further guide me, I cried and shook my way to touching the top. I was terrified of the long, steep drops and I vowed never to return to the Cuillin.
But, yet again, it was my husband who gave me the mental strength to believe I could. "Surely you have to try?" he said.
By now, Gordon knew me well and he was convinced that with his skills and patient guidance, plus my fitness, we could bag the rest of the Cuillin Munros over a few days.
I recall very little enjoyment of the trip in August 2020 despite fantastic weather. There were only a few smiles through nerves, which never diminished and, at times, I was paralysed by fear.
But, as we descended the final one, Sgurr Dubh Mor, I felt an incredible whoosh of relief. I now had fewer than 10 Munros left in my round, although there were still some of Britain's most remote mountains to reach.
Then, in August 2021, during a two-day backpacking walk of five Munros in the Fisherfield Forest, I stood on my penultimate Munro, Ruadh Stac Mòr. I cried with happiness knowing there was no doubt I would now become a Munroist.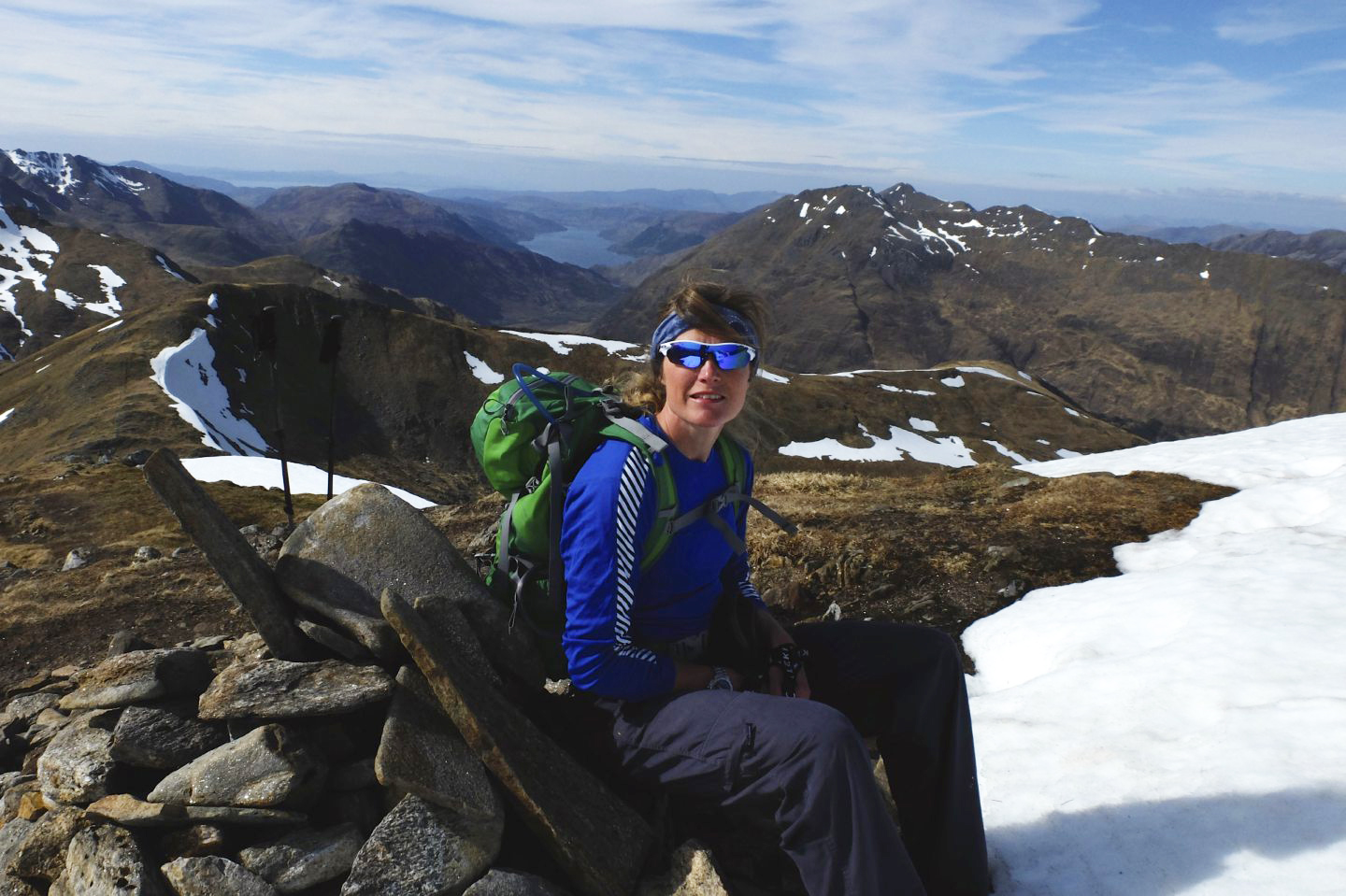 I set a date of April 2, 2022, booked the entire Hostelling Scotland Loch Ossian Youth Hostel on the Corrour Estate and hoped that Covid would not prevent a gathering of great friends.
My final Munro was one of the easiest in terms of distance and ascent but it was also the slowest outing because our group took the time to enjoy the day, chat and soak up the views.
It was the most enjoyable mountain day I've ever experienced – and there was further elation when my friend, David Venables, also made it to the summit. The Munro was his first hill walk after a horrific and potentially life-changing fall on a mountain last October.
Since then, he'd had numerous operations on a badly broken leg and only the week before he was still in a leg cage. His recovery goal had been my last Munro.
Neither of us dared believe it could be possible but amazingly he reached the top of Beinn na Lap and walked through the celebratory tunnel of walking poles held up by the rest of the group, just before I did.
A week on and I'm still as high as the summit, all 282 of them.
My favourite Munro bagging hike is the South Glen Shiel Ridge in Kintail. Although it's a ridge, there is little to fear if you have acrophobia – and in one long day you can tick off seven summits of more than 3,000ft. I walked the route of 17 miles with a total ascent of almost 6,000ft in 2014 with Gordon, while looking across to the Five Sisters mountains where we first met in 2009.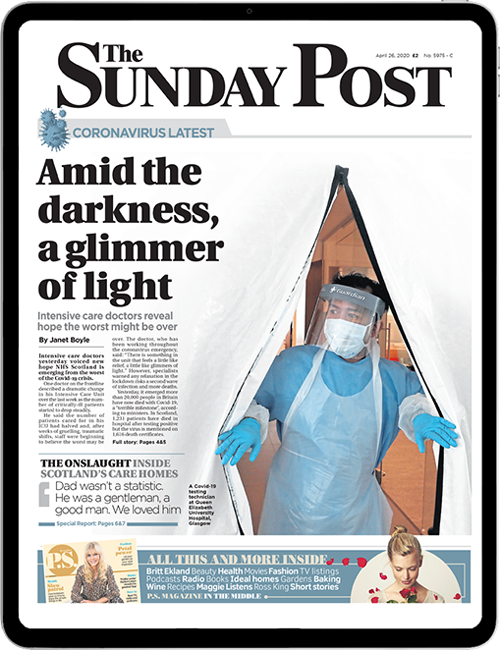 Enjoy the convenience of having The Sunday Post delivered as a digital ePaper straight to your smartphone, tablet or computer.
Subscribe for only £5.49 a month and enjoy all the benefits of the printed paper as a digital replica.
Subscribe