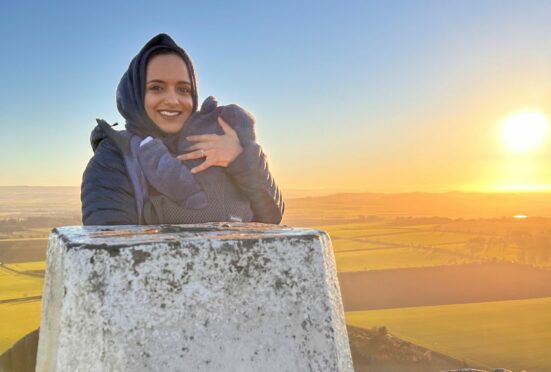 The first time the new president of Ramblers Scotland took to the hills, she found no one who looked like her.
Zahrah Mahmood does not remember the scenery when she joined friends scaling Scotland's most southerly Munro or even how physically tough it was, but how many people seemed to be staring at her.
The 31-year-old Glaswegian is of South Asian heritage and wears a hijab, and it was this she felt people were looking at as she passed them by on her first climb of Ben Lomond with university friends.
It was this experience, as well as a new-found love for exercise and the outdoors, that encouraged Mahmood, an accountant, to embrace rambling and attempt to break down some of the barriers involving the lack of diversity in hillwalking.
Her passion led to her being named the new president of walking charity Ramblers Scotland. "It's such an honour to take on this position and I was just so happy to be asked," said Mahmood, who is known as The Hillwalking Hijabi on Instagram.
"The very first time I climbed a mountain in Scotland, it was on Ben Lomond and I was the only person on that hill that day I saw who looked like me, on what is one of the nearest mountains to a city in Scotland.
"So for me to now be named the president of Ramblers Scotland seems so important to help break down those barriers and lack of diversity in the outdoors."
According to a 2019 report commissioned by countryside charity the CPRE, only 1% of visitors to UK national parks come from BAME (black, Asian and minority ethnic) backgrounds while statistics from the outdoor sector paint a similar picture, with only around 1% of summer mountain leaders and rock-climbing instructors in the UK from ethnic minorities.
Findings from a diversity review commissioned by the Department for Environment, Food and Rural Affairs highlighted that despite people from ethnic minority backgrounds valuing the natural environment and the slow and simple life of rural communities, they felt excluded and conspicuous.
"Some of the factors stopping ethnic minorities enjoying the outdoors are the same for a lot of people regardless of background; finances, access, time and other priorities," explained Mahmood.
"Another barrier is fear of putting yourself in a situation where you know you will stand out in a predominantly white space.
"That unfortunately has a lot to do with the lack of representation from outdoor companies and brands and not seeing someone who looks like you being represented in a meaningful way."
Mahmood takes the baton of the three-year voluntary position with Ramblers Scotland from Arran-based international mountain leader Lucy Wallace and follows in the footsteps of former presidents including the late conservationist Dick Balharry, countryside ranger Ben Dolphin and award-winning broadcaster Cameron McNeish.
Ramblers Scotland director Brendan Paddy was delighted to welcome Mahmood, saying that she was the ideal person to inspire people of all backgrounds to enjoy the benefits of walking.
"We have a lot to learn from Zahrah's success in encouraging more people to feel confident and empowered to enjoy all the health and social benefits of adventures on foot," he said. "Despite booming numbers of people walking in Scotland, and the success of our world-class access rights, participation in the outdoors remains unequal.
"For example, people in affluent areas are considerably more likely to walk than those in deprived parts of Scotland. Too many people still feel that walking is not for them, simply due to their background, ethnicity, gender, sexuality, ability or age. We look forward to working with our president Zahrah and others in the years to come to create an outdoors for all."
For Mahmood it is the perfect time to take on the role, she says, after she and husband Tom welcomed baby son, Harris, in 2021.
"I want to impart this passion for the outdoors and hiking on to my little boy," she said. "I didn't grow up with the knowledge or access to the outdoors due to a lot of different factors and so I want him to feel that this is a space he feels like he can belong in.
"I want him to have the confidence to know that he fits in here too. During my maternity leave, I looked at it as our maternity leave – a time for us to do things together. So I took him out on most hikes with me.
"It's a far cry from the first time I struggled up Ben Lomond at university, as I now have to bring so many things with me on the hikes, but he absolutely loves it, and my fitness levels have gotten far better as a result of carrying him up these mountains.
"Of course there are some challenges, like changing him, or breastfeeding him up on a hillside but I feel so happy when I think of all these amazing views I've seen while breastfeeding him."
Mahmood is determined to pass on her passion for the great outdoors to her son as he gets older. She said: "I just want him to grow up experiencing the incredible benefits of being in the outdoors – fitness, mental health benefits, being in nature – that I wasn't able to discover until later in life."
My favourite walks
Goatfell, Isle of Arran
With most hikes, because they can be physically tiring, you want to have the reward of a beautiful view when you get to the summit and the view from the top of Goatfell on the Isle of Arran is unbeatable. You are treated to the most incredible vistas right across Kintyre to the Inner Hebrides of Islay and Jura and over to Ayrshire and beyond in the opposite direction. The experience of getting the ferry over and being on a lovely island afterwards as well just adds to the entire day too and you can reward yourself with a hearty lunch afterwards at one of the restaurants in Brodick.
Ben Vrackie, Perthshire
If I do a walk more than once then that's a good sign, and I've done Ben Vrackie a few times now. I love this hike because you get a bit of everything on it including, forests, glens, mountains, lochs and these amazing, sweeping views of the Cairngorms. It's like with each step you take, the scenery changes. I love it.
Mayar and Driesh, Corrie Fee
This beautiful walk in Glen Clova in the Grampians takes you up a lovely ascent in Corrie Fee towards the summits of Mayar and Driesh. The first time I went on this hike I remember being almost bowled over by the beauty of it all, it's just absolutely stunning. Again, like Ben Vrackie, I have done this hike more than once and even when the weather isn't that great it just adds to the whole atmosphere of the place and the whole hiking in Scotland experience.
---
Follow Zahrah's hiking adventures via her Instagram page: @the_hillwalking_hijabi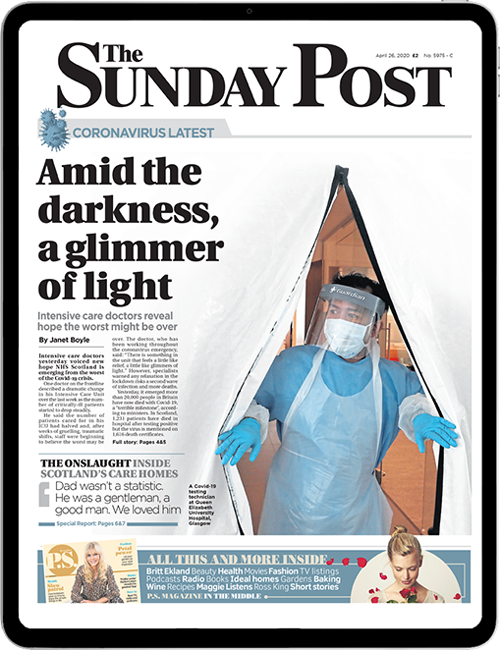 Enjoy the convenience of having The Sunday Post delivered as a digital ePaper straight to your smartphone, tablet or computer.
Subscribe for only £5.49 a month and enjoy all the benefits of the printed paper as a digital replica.
Subscribe