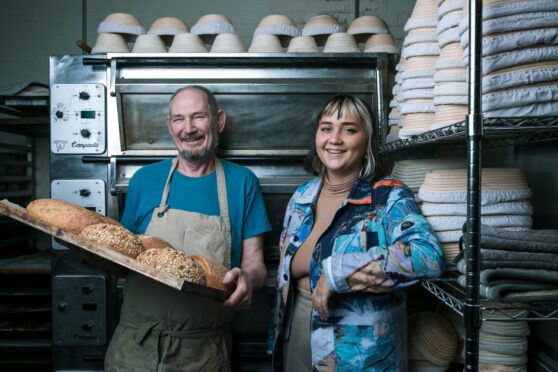 Closing-down signs and boarded-up shop fronts are familiar sights in tired town centres throughout the country.
With shopping habits changing, working from home remaining popular, and the cost-of-living crisis continuing to grip households, the future for town centres looks increasingly bleak as footfall declines.
Innovative ideas are required to breathe new life into local hubs, and that is exactly what Robert and Saskia Singer are doing in Ayr.
The once-vibrant seaside resort hasn't escaped the high street's downturn, yet the ambitious father and daughter are making noticeable strides in revitalising the town, not only by repopulating shuttered stores and providing opportunities for creatives, but also reaching out to the wider community through a blend of baking and art.
Called Narture, the project has so far taken over four premises in Ayr town centre and provided several jobs as well as giving locals access to a range of creative and wellbeing facilities.
Its purpose, Robert and Saskia say, is to bake real bread to earn the 'dough' to fund arts projects. More than that, though, it is also revitalising a sense of community and feeling of pride, demonstrating a decline does not need to be terminal. They are under no illusions about the amount of work still to be done, but they can demonstrate signs of hope.
Saskia said: "My dad and I are both artists – I studied fine art in Dundee, graduating in 2019, and he studied sculpture at Glasgow School of Art as a mature student, graduating in 2000. We've both worked in catering and hospitality throughout our lives.
"We were living together during lockdown and during that time we decided to fuse our experiences with food and art to generate income from food to fund arts projects. We called it Narture – a play on nature, nurture and art, with the tagline being 'nurture and art is second nature'.
A circular economy
"Dad had some space in the town he was renovating, so we decided to start making and selling bread from there."
The sourdough bakery opened in June 2020 and became successful enough that they were soon able to open a cafe in the old tourist information office across the road, where they sell not only bread but a range of items which are all made in-house.
"The objective is to create a circular economy," Robert said. "We're trying to make a space where literally everything is for sale – from the bread and cheese to cutlery to the tables and chairs – in a makers' collective."
The bakery now employs 10 people – made up of creative art students and graduates – and supplies local businesses and hotels with bread, as well as donating to the local foodbank.
Narture's rise has allowed Robert and Saskia to take over a further two formerly empty premises in the town centre, including Ayr's original library, which has been transformed into a range of individual artists' studios – all currently occupied – and a wellbeing studio offering therapies, workshops and retreats.
Robert said: "The whole idea is to create a people's art school where we can provide the facilities for graduate artists to pass on their skills to the public and to be an inclusive arts organisation that makes art accessible to all members of society.
"We're trying to make bread the focus, using that metaphor for earning income. If we can make an income, we can do whatever we want. We have a five-year plan to be a self-sustaining organisation that fundamentally earns basic income from food and beverage.
"Bread is the lowest common denominator of food produce made by hand – you can't hunt it or forage it; you need to make it. Narture is about the making process, the idea of using hands and hearts and minds to create a new economy.
"We are running an enterprise where the co-workers are the collaborators. A people's art school creates the bridge between creative education and the chasm when studies end and there is no continuum. We pay students the living wage while they are studying and, when they graduate, they can be paid up to but no more than double the London living wage, while artists, writers, musicians will be paid their union rates for doing projects."
Activity and reinvention
While the initiative has been a boon for Ayr's creative minds, the wider impact is being felt across the town, not least in the empty shops being given new purpose and enticing people back onto the high street to browse.
"We've been proactive in making places active, and rather than having derelict spaces, we are giving them a visual context," Robert continued. "We have exhibitions at the bottom of the high street in shop fronts.
"We have also been helping people to understand that while reimaging town centres won't be a quick fix, we can repurpose shops and spaces.
"The point of the project is to create a model, because each town will have to reinvent itself as its own unique selling point. We can show how a town centre can be regenerated.
"I think it's gaining traction as we've developed it, and generally it's well received. It's been getting recognition from people who are reluctant to come to town centres now. Businesses have to be proactive in creating things you can't buy online and to give people a reason and purpose to come to town centres." Robert, who says Narture works closely with the local council, believes the model is developing interest from outside of Ayr.
"We do get people coming to us and asking how we negotiate spaces and do different things, so we know others are being influenced by what we're doing. It's a growing project."
The latest premises in the Narture stable is Make, which provides workshop space, a shop and a gallery. There is a community dark room – which was donated by Streetlevel Photoworks in Glasgow, with some of the equipment provided by the late photographer Larry Herman – for analogue photography processing and workshops. There is also a riso printer on the premises – the most eco-friendly way to print.
Saskia said: "It's been great to bring local, national and international artists in to exhibit in the gallery space. Our latest is the first UK showing of Mike Stone's Reminiscences: Portraits Of The Traveller Community. Mike's been really good and helped to build the dark room, as well as lots of analogue film workshopping with us."
Ayr has seen other artists use the town centre to showcase their work in recent times. "I think art, generally, is recognising town centres, and artists need to be proactive in how town centres are going to be used in the future," Robert said. "We need to look at the bigger units – Debenhams, BHS, Boots – and what to do with those places. Urban growing is certainly one thing – encouraging people to live, grow and make locally."
Saskia added: "Narture is more than a bakery, cafe and workshop space; it's a place where ideas are born and nurtured, and a sense of community flourishes."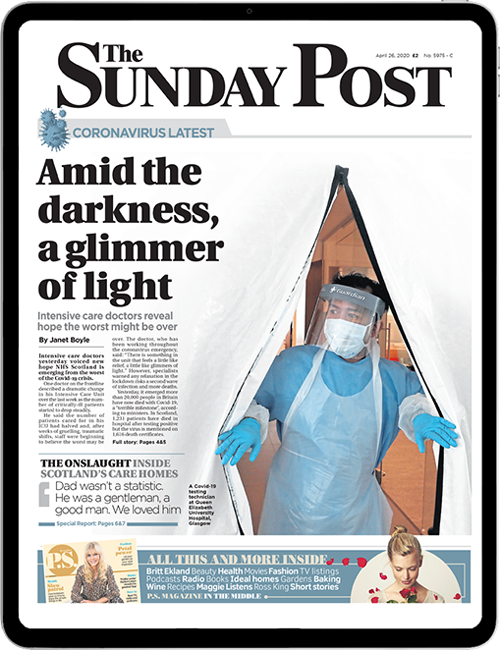 Enjoy the convenience of having The Sunday Post delivered as a digital ePaper straight to your smartphone, tablet or computer.
Subscribe for only £5.49 a month and enjoy all the benefits of the printed paper as a digital replica.
Subscribe