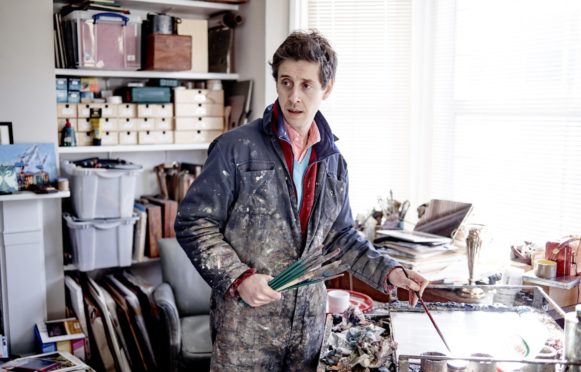 Lachlan Goudie should have spent spring in ­paradise. Instead, he spent it in lockdown.
The acclaimed artist was meant to be spending two months painting on the island of Mauritius but the travel ban scuppered his plans, propelling him into a blue period.
Slipping into an anxious ­sluggishness, it took the innocence of his little girl to spark his creativity and transport him to a fantasy land, ultimately providing him with an unexpected inspiration for his latest ­exhibition, Once Upon A Time.
And Lachlan, a judge on BBC hit The Big Painting Challenge, believes we could all find similar satisfaction by tapping into the creative joy we experienced as children and use it to enhance our spirits as adults. "I'm enormously grateful and thankful to my daughter for providing me with this kick up the backside," said Lachlan.
"Our childhood always remains important to us and is a strong presence for the rest of our lives, and I expect I'm not the only one who's enjoyed travelling back for a bit of comfort."
Lachlan, wife Charlotte and their two young children, Clementine and Yves Louis, had been due to spend two months in Mauritius, where Lachlan would create a series of paintings for exhibiting. Instead they found themselves at a farmhouse in Dorset, where they had been visiting family when the first lockdown started in March.
"I began to paint landscapes around where we were, but I was a bit underwhelmed and despondent," he said.
"Clementine was three at the time and she began to be obsessed with fairytales and Disney cartoons and princess dresses. For her birthday, we bought her one of those shimmering, glittery dresses and she insisted on wearing it every day, even when she was going out for walks in the mud. I would see her coming back from walks across the fields, pretending to be Cinderella, and it was beautiful.
"In the evenings, I was ­reading her fairytales – The Snow Queen, Snow White – and it started to permeate my paintings.
"I put Clem into a painting, and more and more she became the focus, until I did one where she was the central portrait. It's all about her and her journey into her imagination. I was quite awed by the power of a child's imagination. They have this extraordinary ability to remove themselves from the here and now, and there was no time we needed that more than during the first lockdown."
The result, Once Upon A Time, is an exhibition inspired by his daughter's love of fairytales, complemented with paintings completed during a trip to the Lofoten Islands in Arctic Norway, a place that Lachlan, from Glasgow, said has its own magical quality. "I don't imagine I'll do another exhibition about fairytales, but I do have some unfinished ideas and sketches I'd like to develop," he said.
"If the opportunity came along to illustrate a book of fairytales, that's a challenge I'd take on with relish. Usually, with cityscapes, landscapes and portraits, I record what's in front of me. But overlapping the real world with the fantastical is something I've taken from this experience The familiar problem is that, as kids, we're all very creative but as we become older we grow more self-conscious and, if we can't draw as well as Da Vinci, we take that as a failure.
"But what's amazing about art is the process of creating something is almost more important than the finished product. We all want to be stood in front of a masterpiece at the end, but that's only a part of it.
"Whether it's painting or sewing or embroidery or cooking or baking, these activities of making something out of nothing are massively satisfying."
That is one of the ­reasons Lachlan believes television programmes like The Big Painting Challenge and Life Drawing Live are so important in spreading the value of art and underlining that it is something for everyone. "Across society, we need to keep pushing the idea that art isn't an exclusive thing, it's not just for BBC4 with lots of chin-scratching. It can adapt and be other things, it can be the free-for-all creative excitement I remember from watching Tony Hart on telly," he said.
"The Big Painting Challenge was a series aimed at a very broad audience. There's no doubt some people in the art world would look at the show and not have much time for it, they would think it belittles art and is not up to the challenge, but frankly these programmes are about introducing creativity into people's living rooms in the evening."
Lachlan, whose father was celebrated painter Alexander Goudie, believes art should not be seen as elitist and is there for everyone, whatever their background. "You don't need art explained to you. No matter your artistic education, you are a legitimate judge of whether you enjoy a painting. Any piece of art that you need a degree to understand won't be going in my book."
That book is The Story Of Scottish Art, which tracks the country's artistic journey back to Neolithic and Prehistoric times.
"I'm delighted to have had the experience, even though writing it was hard," said Lachlan.
"It was a five or six-year process pulling it together. The book isn't meant to be an academic survey, but rather a popular introduction. I wanted to make it accessible.
"Having written the book, I'm much more aware of artists in Scottish history, some of whom I wasn't familiar with, like James Cowie. Looking at their techniques has definitely fed into how I work in the studio every day.
"Art is about emotion, and the instinctive response to it. A piece of art should be able to satisfy an art fanatic with two degrees as well as someone who has never been to a gallery. It should have the power to stimulate, excite and move you. That's the marker of whether something is any good."
---
Once Upon A Time, The Scottish Art Gallery, Edinburgh, until Wednesday. scottish-gallery.co.uk
The Story Of Scottish Art is out now from Thames & Hudson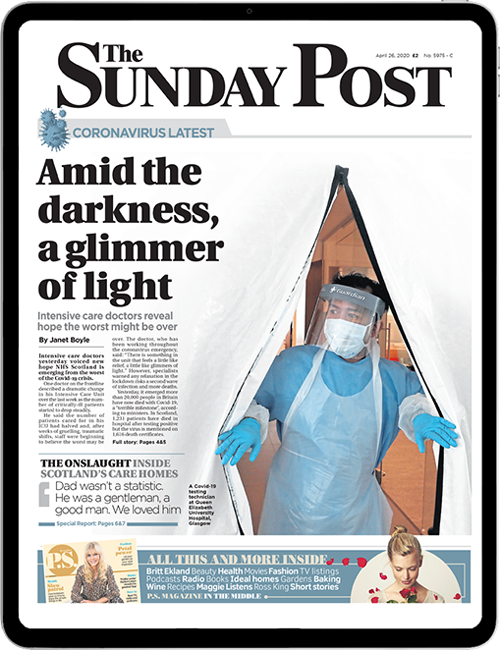 Enjoy the convenience of having The Sunday Post delivered as a digital ePaper straight to your smartphone, tablet or computer.
Subscribe for only £5.49 a month and enjoy all the benefits of the printed paper as a digital replica.
Subscribe