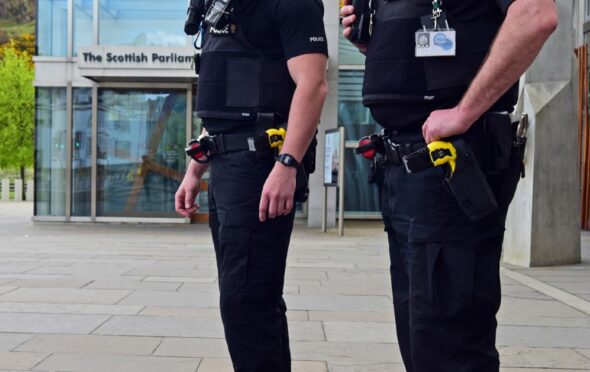 Scots police have Tasered two children in the last nine months as the number of times officers drew the weapons on under-18s doubled.
Officers have fired the 50,000-volt weapons at children on four occasions over the last two years, in defiance of escalating pressure for the use of Tasers to be banned in incidents involving under-18s.
The devices were drawn in incidents involving children as young as 12 50 times between 2018 and 2020. The number of incidents involving children more than doubled in 2021.
Human rights organisations called for every one of the incidents to be scrutinised while leading children's charities voiced serious concerns yesterday.
Action demanded after 4,000 children held in custody by police
Scotland's Children and Young People's Commissioner said it was unacceptable for Tasers to be used against children and called for the practice to be banned.
Bruce Adamson said he will be raising the issue with the national force, and said: "It is unacceptable for a child to be Tasered, or to be threatened with a Taser by police. Tasers are potentially lethal and inflict severe pain which creates significant risk for children.
"Human rights bodies, including the United Nations Committee on the Rights of the Child, have long called on Scotland to ban the use of Tasers on children, highlighting the serious risk of physical and psychological harm.
"We remain concerned about Tasers' use in situations where there may be more effective and safer ways to de-escalate high-pressured situations. In 2021, the UN asked for an update on Scotland's progress on implementing a ban so it is concerning that we are still seeing Tasers used on children."
Children's charities echoed the concern. Joanne Smith, NSPCC Scotland policy and public affairs manager, said: "The continued use of Tasers on under-18s is deeply concerning.
"It is in opposition to international children's rights standards. United Nations bodies have repeatedly called for a ban on their use on children, highlighting the serious risk of the physical and psychological harm they pose.
"Earlier this year, the UNCRC Committee asked for an update from the UK Government on what it was doing to prohibit Taser use against children.
"Yet the practice continues. This is despite the lack of research into the longer-term psychological implications of exposure to an extremely painful discharge, especially against children."
Despite domestic and international pressure for the use of Tasers on children to be banned, Police Scotland has no policy on Tasers and under-18s while accepting children and smaller people are more at risk when Tasered.
Currently, children are involved in one in 20 of all incidents involving Tasers, according to a report to the Scottish Police Authority (SPA). Between April 2020 and March last year officers carrying Tasers were deployed to 853 incidents.
The weapons were drawn 116 times, pointed 180 times, and fired 51 times. In the nine months since, however, officers armed with Tasers were deployed at 1,370 incidents, drew the weapons 95 times, pointed them 100 times and fired 43 times.
Concerning story in tomorrow's @Sunday_Post about Taser use on children by @PoliceScotland. It is unacceptable for a child to be Tasered, or to be threatened with a Taser by police. @CYPCS https://t.co/VetcgiPdIi

— Bruce Adamson (@Bruce_Adamson) January 1, 2022
Twenty of these incidents involved children when Tasers were drawn five times, pointed 13 times and fired twice.
Currently only 530 specially-trained officers – around 3% of frontline officers – are allowed to carry Tasers but chief ­constable Iain Livingstone wants that to rise to 15% under £3m three-year expansion plans to arm another 1,700 officers.
However, the number of incidents involving children has prompted deepening concern among experts and the national force's plan to expand the use of Tasers is likely to come under fresh scrutiny.
The number of times Tasers were used in incidents involving children in 2019 was 11. In 2020, it was 12. Last year, the number of incidents more than doubled to 25. Five of the children involved were girls. The youngest was 12.
The incidents detailed in the report to the SPA included a Taser being discharged at a boy, 15, from East Renfrewshire during an incident in October.
Officers said the boy had a knife. In July, a 17-year-old youth was Tasered in Glasgow but was found not to be carrying any weapon, and, in the same month, a 16-year-old boy in West Lothian had a Taser aimed at him but had no weapon.
A North Lanarkshire boy, 17, Tasered in October 2020 was said to have had a knife while a 17-year-old Inverclyde youth Tasered in July 2020 was also carrying a weapon. Police also said knives were being carried by a 12-year-old boy from Dumfries and a girl, 12, in Glasgow, after officers drew Tasers on them.
The incidents involving the firing of Tasers were referred to the Police Investigations and Review Commissioner who decided their use was appropriate and proportionate. However, human rights organisations yesterday said the detailed circumstances of each incident demanded fresh and transparent scrutiny.
Oliver Sprague, Amnesty International UK's security and police director, said: "These figures are extremely concerning. We need full transparency about Police Scotland's use of Tasers against children, and an explanation as to why such extreme measures have been used in these incidents.
"The UK Government's scientific and medical guidance has found that there's a much greater risk of using a Taser against young people which includes long-term psychological impacts.
"Therefore, in line with Scotland's international obligations to protect the rights of children and young people, we are again calling for a presumption against the use of Taser on children which would limit any deployment to truly exceptional life-threatening situations.
"Unless the police explain the exact circumstances around why children as young as 12 were subjected to Taser, it's impossible to tell if these incidents met the threshold of using the weapon as a last resort to prevent loss of life.
"However, it's absolutely the responsibility of the police to make sure they're using Tasers in the right circumstances and not using excessive force against children.
"The lack of accountability and information will do little to reassure the public that Police Scotland are not using Tasers in breach of their international obligations."
Politicians are also demanding action and assurances from Police Scotland that officers fully understand the issues around using Tasers on children.
Scottish Labour's Justice spokesperson, Pauline McNeill, said: "These eye-opening reports require serious attention. Our justice system is built on the need for fair and proportionate action at all times and that is critical when it comes to children.
"Rules on Taser use must be clearer, more robust and more widely communicated, so we can put a stop to inappropriate use."
Lib-Dem leader Alex Cole-Hamilton, who spent two years as the Convener of the Scottish Alliance for Children's Rights, said: "It is unacceptable that children under-16 are being Tasered despite Unicef calling for this to be banned.
"We need to treat our young people with compassion, ensuring any police response is appropriate and proportionate, and look to offer support to prevent children falling into patterns of criminality.
"This starts with better training for all police staff so that appropriate safety measures are put in place for children, to ensure that rules are not broken to the detriment of our young people."
Despite, the concern voiced in Scotland and internationally, Police Scotland has no specific policy on the use of Tasers involving children.
Yesterday the Scottish Police Authority said Tasers are a valuable tool to de-escalate incidents and protect the public and that incidents involving their use are investigated by the Police Investigations and Review Commissioner.
It said the use of Tasers on children has been discussed in detail, adding: "Members set a clear expectation that devices are only ever used by specially trained officers and have consistently sought assurance from Police Scotland that use is proportionate, justifiable and used only as the last resort, including when use is considered on an individual perceived as being under 18."
No one at Police Scotland was available to comment yesterday.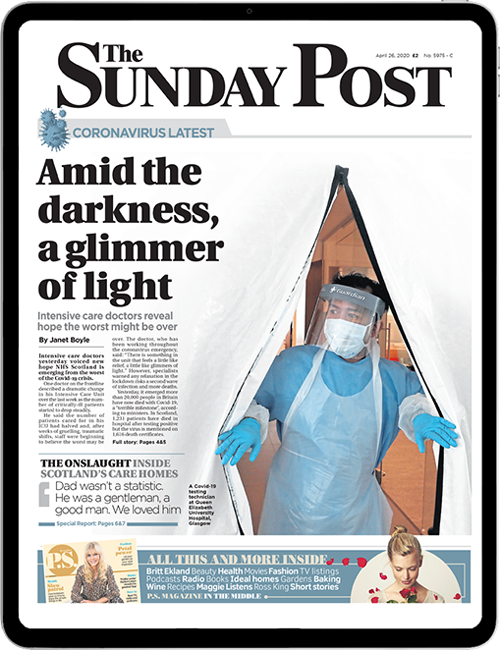 Enjoy the convenience of having The Sunday Post delivered as a digital ePaper straight to your smartphone, tablet or computer.
Subscribe for only £5.49 a month and enjoy all the benefits of the printed paper as a digital replica.
Subscribe