Half a century ago James Naughtie made his first trip to America and found a country cracking down the middle as Vietnam, Watergate and social unrest had sundered a country in the spasms of a crisis of confidence.
Five decades, and hundreds of visits later, he has returned for a new radio series – to find a nation teetering on a fault line once more. Covid cases are spiralling, public spaces have been dominated by Black Lives Matter protests while millions of Americans face unemployment – and all of it overseen by the most divisive president in living memory.
Much like in 1970, America finds itself undergoing another crisis, according to Naughtie – one both new and familiar. "They are in a very troubled state," he said. "The problem is underneath the divide, there is a suspicion by Americans.
"If you were to say to them that the 21st Century wasn't going to belong to them like the 20th Century did, not only would they not like it – but they would also suspect it was true.
"The great promise of America, which people were brought up (believing), was that each generation would be better off than the last – they will have more opportunities. Your kids will do better than you did. That's what the meaning of America in the 20th Century was to ordinary families, and that is what is in doubt."
One of the BBC's most popular and respected broadcasters, he believes there is an "electric symmetry" between 1970 and 2020.
In his new radio series he explores the state of the country as well as its landscape and reflects on his personal and professional relationship with the USA. When Naughtie arrived in New York – where he recalls walking on Broadway at midnight, and breathing in the steam drifting through the grates on the sidewalk from the subway – Richard Nixon occupied the White House.
"I went in the summer of1970 when the Vietnam War was still on," he recalled. "This was the first war Americans saw unfolding on television and where more than 60,000 died.
"Of course it divided the country appallingly – one side were virulently against the war while others thought it unpatriotic to criticise America's efforts abroad. The whole thing was a catastrophic divide which ran through the country. It was a real punch."
"Then, Americans began to question the idea they held a unique position in the world as the land of freedom and opportunity. It parallels the insecurities they are facing today," said the presenter.
Worries about status on the world stage and a troubled economy partially explain why Donald Trump was able to capitalise on a promise to Make America Great Again.
He was elected in 2016 on a tidal wave of fervent support, with a pledge to "drain the swamp" of politics in the USA. It was sold – by the man himself – as the greatest political movement in history.
Despite these promises, his presidency has stalled in the face of running the most powerful democracy in the world. That includes the escalating number of coronavirus cases which has rendered the USA one of the worst affected countries in the world. It's a pandemic about which Donald Trump at first appeared blasé.
"Nobody is suggesting Trump is responsible for the virus but he is responsible for the response to it. And he originally laughed at how Europe was struggling," said Naughtie. "Now we see the figures going through the roof in the Southern States, where they were the most recalcitrant about locking down. Last week his own Vice President, Mike Pence, couldn't visit Florida because it was too dangerous. Presidents are defined by their big moment. Reagan with the end of the Cold War, Clinton with the Lewinsky scandal, Bush with 9/11 and Nixon had Watergate. The problem for Trump is that he can't escape some responsibility for the current crisis."
November's presidential election leaves Americans with a choice, and Donald Trump the underdog, a position the property tycoon once relished. With disastrous poll results rolling in day after day, the prospect of defeat seems palpable to a man accustomed to – and desperate for – victory.
Last week he held a rally in Oklahoma which a campaign manager said one million people tried to attend but, it is claimed, teenage fans of Korean pop music orchestrated an online ambush to give the false impression of colossal demand and around only 6,000 people turned up after.
"I mean that's a crowd Partick Thistle might be happy with," said Naughtie. "There are reports a livid Trump was screaming at his staff.
"He is a sitting president with all the advantages of the podium, a platform to control the airwaves and essentially go on television any time he likes. He should be miles ahead – in fact he's miles behind.
"The only thing he's got is winning. Someone will be telling him he's not going to win now. It could all change. But he'll have to do something to change it. So what does he do?
"He's not just the unlikeliest president for more than a century, he's also the one with the least interest in things like national security, international affairs and dealing with Congress. He is uniquely uninterested in that stuff.
"There's a huge amount of debate in Washington now about what he'll do, because of these disastrous poll numbers. They are appalling for a sitting president.
"Absolutely devastating. If the election was held tomorrow, he would probably be defeated.
"Some Republicans in Washington say he might decide not to run again, which seems completely absurd – for a man who once said he had built the greatest political movement the world has ever seen, this would be a terrible humiliation.
"On the other hand, so would losing in November to a man he called Sleepy Joe. I don't know where Donald Trump goes." Winning is all Trump had. But now it appears to be evaporating, according to the former presenter of Today, the flagship news show on Radio 4.
Meanwhile Joe Biden, Barack Obama's Vice President from 2009 to 2017 and Trump's Democrat opponent, is running an election campaign promising a return to normality which seems to be chiming with a Middle America appalled at the state of the country.
But, with China's increasing geopolitical power, the US may not return to the position it enjoyed as the world's only superpower. "One of the reasons for Trump's election in 2016 was people in America had this sense that everything they'd been told about the perpetual increase in power, progress and prosperity maybe wasn't as true as they thought it was," said the veteran journalist.
"The rise of China, and the tilt of the world towards the East seemed a more fundamental change in global architecture. Trump's answer was to say 'well, I'll just break it up'.
"Americans will make a judgement about how they think he's done in November. But there's a very profound sense in America that this century is not going to be a rerun of the 20th Century.
"One of my favourite lines in the first episode of Letter To America is the last line from The Great Gatsby, 'We beat on, boats against the current, borne back ceaselessly into the past'.
"To understand the future of America you have to go back and start again, and think how do we do this? How did we do it? To go forward, they have to think back.
"I think that's the kind of great paradox about the country. Although I'm fairly sure Trump has never read Gatsby."
James Naughtie's Letter To America, Saturdays, 6.50pm on BBC World Service and available on BBC Sounds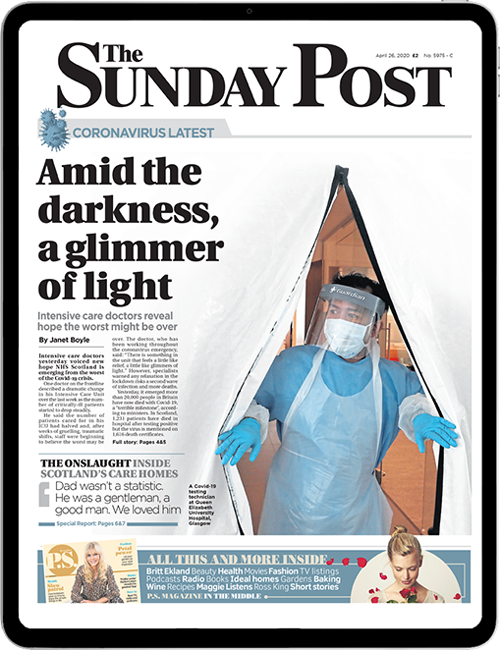 Enjoy the convenience of having The Sunday Post delivered as a digital ePaper straight to your smartphone, tablet or computer.
Subscribe for only £5.49 a month and enjoy all the benefits of the printed paper as a digital replica.
Subscribe