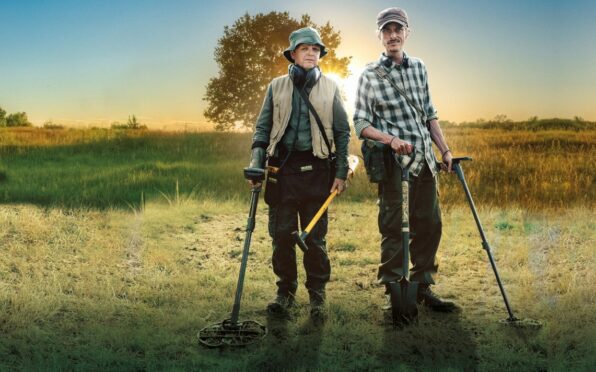 Heritage watchdogs fear a surge in amateur metal detection during lockdown is jeopardising Scotland's buried treasure.
Humans have called Scotland home for more than 12,000 years and the left-behind fragments of those long-ago lives lie everywhere beneath our feet. But rogue metal detectors – branded "night hawkers" – mounting illegal treasure hunts are prompting increasing concern.
It is an offence to dig or use a metal detector at protected sites but figures from Historic Environment Scotland (HES) reveals unauthorised digs have more than doubled, from 73 cases in 2017/2018 to 166 cases in 2020/2021.
Experts fear a rising number of detectorists taking up the hobby during lockdown may see another spike in the figures, although the rise in reports has also been linked to people being more aware of the issues, reporting concerns, and posting on social media.
Evidence of unauthorised digs has been found on Bar Hill Fort in East Dunbartonshire and Rough Castle in Falkirk, both parts of what remains of the precious Antonine Wall, built by the Romans well over 2,000 years ago.
"Within the last two years we've certainly seen a significant rise in the number of cases of illegal metal detecting," said Joss Durnan, senior historical monuments officer at HES. "It is a result of a combination of things. During lockdown people were stuck indoors and, understandably, were looking for ways to get out and about in the countryside, and metal detecting allowed them to do that.
"It became a more popular hobby, but a more solitary one as well. There are lots of metal-detecting groups and communities, and before lockdown it was easier for them to meet up and for it to be a social thing. I think a lot of detectorists who have taken it up in the interim are doing it on their own and aren't getting the good advice and wealth of experience of the people who have being doing it for years.
"There is also greater public awareness. Illegal metal detecting is something HES has really been trying to tackle over the last few years. We have been successful in raising that public awareness, and now people are much more observant and report it when they recognise the signs. It's a two-pronged thing where the hobby is more popular, but there is more awareness about the issue too."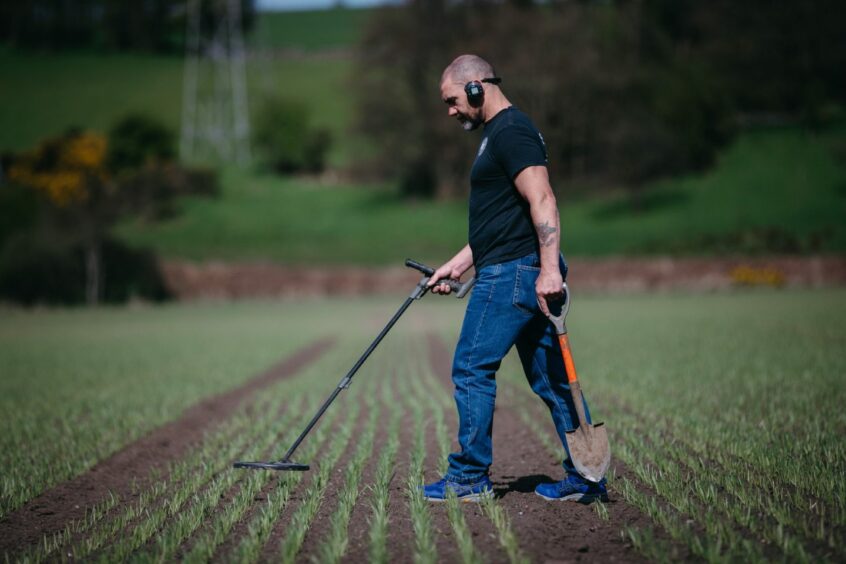 On the surface, taking the odd souvenir from a historical site might seem like a victimless crime. Museums are chalk full of such artefacts and, anyway, it is not as if its original owner will be back to claim it anytime soon. According to Dr Paul Murtagh, senior project officer at Archaeology Scotland, however, such thefts can undermine our understanding of Scotland's past. He said: "Once it is dug up, that's it gone – you can't put it back.
"Places like Roman forts are scheduled monuments and are protected by law, and even trained archaeologists can't dig there without permission, which is very difficult to get. These protected monuments are nationally significant and they are so important, and we do not want them to be damaged because, if they are, we can't get them back.
If something is excavated there without the finder recording it, or if the finder damages some very interesting archaeology, those artefacts are lost forever. Imagine it was something like the Galloway Hoard, some of the most important archaeology found in Scotland, imagine stuff like that wasn't recorded, and was lost? These monuments are precious, and we don't want to lose them."
The Galloway Hoard was discovered in 2014 by experienced metal detectorist Derek McLennan while searching a site in Kirkcudbrightshire. It contained more than 100 gold, silver, glass, crystal, stone, and earthen objects from the Viking Age, and has since been hailed uniquely instrumental in understanding what Scotland was like during the 9th and 10th Centuries. McLennan immediately declared the hoard to the Treasure Trove in Scotland, and showed an experienced archaeologist exactly where it was buried and assisted them on the dig. This allowed experienced and trained archaeologists to further research the area and begin to understand the context of the hoard, why it was buried, and by who.
A world beneath as Borders farmer uncovers treasure trove of ancient artefacts and fascinating, forgotten stories under his doorstep
The discovery has helped encourage a huge boom in metal detecting in Scotland, as others decided to try their hand at discovering ancient treasure, a passion also featured in the popular BBC comedy Detectorists. Alastair Hacket, of the Scottish Detector Club, told The Sunday Post that people thinking only of monetary gain when taking up metal detecting were chasing after fool's gold. "It goes without saying that whenever there is a spectacular find in the press it generates an interest in metal detecting for all the wrong reasons. I go to great lengths to tell people they aren't going to get rich, and they'd have more chance buying a lottery ticket. But there are people who are getting into it for the right reasons, and we've reached a record number of members in our organisation."
Illegal metal detecting is not only a problem for professional archaeologists. Responsible metal detectorists and amateur archaeologists strongly condemn the practice, annoyed by how it damages the reputation of the entire community. Most are careful where they can and cannot search, and declare anything of note they find to Scotland's Treasure Trove, who decide whether to give the finder a reward for the item, or to allow them to keep it for themselves. The law in Scotland states that all such finds are the property of the Crown and must be declared and recorded, or else the finder may find themselves on the wrong end of a hefty fine.
Volunteer archaeology groups are thriving in Scotland, with more and more enthusiasts exploring the past with fresh eyes and expert guidance.
Hacket explained the appeal: "The attraction for me, and for many others, is that every time you go out, you don't know what you might find. It's a lovely and huge surprise when you find something special."
Janie Munro, a long-standing member of Association of Certificated Field Archaeologists (ACFA), does not use metal detectors but instead surveys land to find evidence of historical activity or buildings in the area. She said: "I will walk for miles if there's archaeology at the end of it. It's a sense that the depths of history are endless.
"When I was a child, my mum would take me and my sister to castles and places like that, and I would love to try to imagine what these structures looked like back then, and what the people who lived in them were like.
"It's the exploration, and the piecing of it together. You look at a section of untouched countryside and it looks comparatively untouched but, actually, people have been making their mark on that land for hundreds, if not thousands, of years.
"It's that connection with the past that I find especially fascinating."
From love at first beep to a golden medieval brooch: A detectorist explains his passion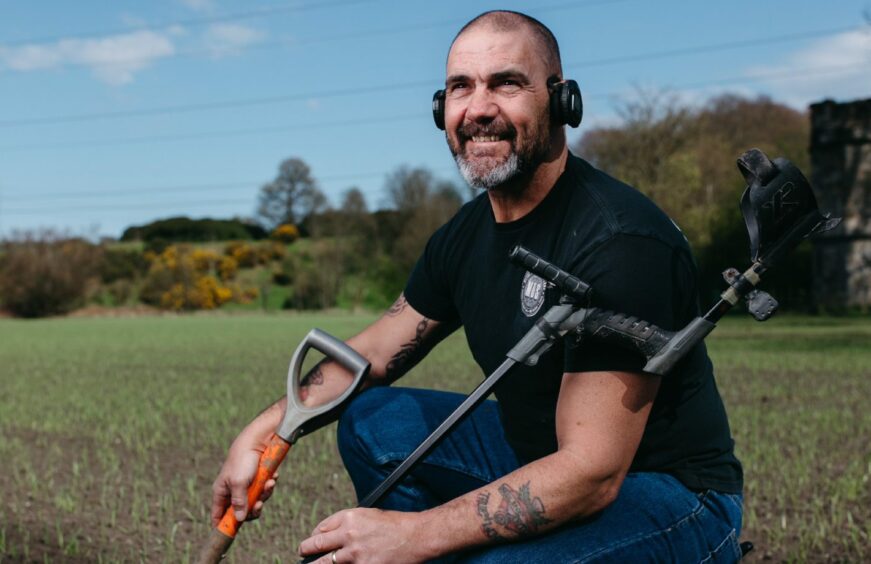 When his father was gifted a metal detector for his birthday in 1987, Colin Todd asked to try it out. It was love at first beep, and 35 years and a booming metal detector business later, Todd is now one of the best-respected metal detectorists in Scotland, using his knowledge and experience to welcome beginners to the hobby and to teach them the lie of the as of yet undiscovered historical artefacts in the land.
"During my first experience using a metal detector, I was absolutely amazed that this thing could find stuff in the ground. At school, I wasn't interested in history or geography, but suddenly I found myself in the Mitchell Library studying old books, trying to find new places to go. I trained myself how to read old maps and history books, and now I teach others how to do it, too."
Todd insists that night hawkers are a small minority within the metal detector community, and abhors their actions, trying to root them out where he can. As Todd sells metal detectors as part of his business, he ensures that all of his customers walk away with a strong sense of the dos and don'ts of metal detecting. He said: "Metal detectorists worked hard and liaised with dealers so that they included a code of conduct pamphlet inside every metal detector box. Along with selling detectors, I also run weekly events, where people don't have to be part of a club to join. We're there with high-vis jackets on and oversee what is happening, teach everyone how to do it properly without leaving big holes or rubbish in the fields, and advise them on if and how to declare things to Treasure Trove if they have to. It is important to teach people how to do it responsibly."
The most valuable item Todd has found was a medieval solid gold brooch that was inscribed with Latin wording, and which now resides in the National Museum of Scotland. The most special item, however, was a valueless Victorian brooch he found in a wooded area on the Isle of Rousay, in Orkney. "My ancestors came from Rousay, and when I found it, every hair from my toes to my head stood up! I've found thousands of items, but that was one of the only ones that sent a shiver up my spine, even though it was worthless. To this day, I'm still not really sure why I responded so strongly!"
Colin Todd's book, Metal Detecting In Scotland, is out now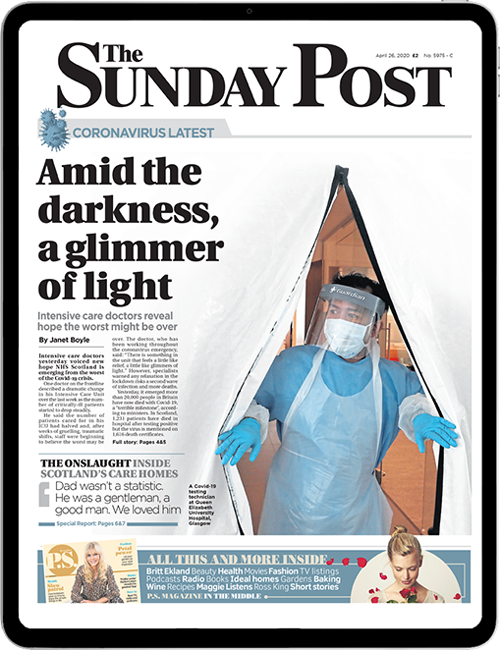 Enjoy the convenience of having The Sunday Post delivered as a digital ePaper straight to your smartphone, tablet or computer.
Subscribe for only £5.49 a month and enjoy all the benefits of the printed paper as a digital replica.
Subscribe