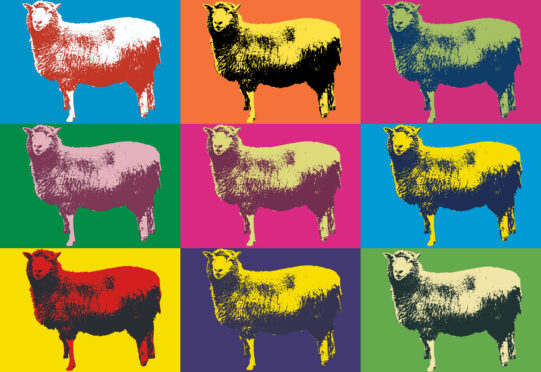 It is 25 years since her arrival but Dolly the Sheep, the first mammal cloned from an adult cell, has left a scientific legacy still shaping our world and our future.
Last week, a quarter of a century after the creation of Dolly and in the latest development in her head-spinning legacy, surgeons revealed a genetically modified pig's heart had saved the life of transplant patient David Bennett, a 57-year-old handyman from Maryland in the United States, in a last-ditch operation.
Bennett's new heart is porcine but it is pumping blood around his body thanks to the legacy of another farmyard animal. In 1997 The Roslin Institute, an animal sciences research laboratory in Midlothian, stunned the world by announcing it had successfully cloned a sheep, sparking hope around the prospect of a quantum leap in understanding and mastering our own genetic make-up.
While there was excitement about using the technology to cure inherited diseases or reverse infertility, the implications of Dolly's existence were also met with a host of religious and ethical concerns.
Yet the techniques pioneered by Dolly's creators continue to shape advances in biotechnology whereby ­scientists examine and, increasingly, adjust the building blocks of life.
Watching the news with keen interest from Maryland last week was Professor Alan Archibald, head of the Division of Genetics and Genomics at The Roslin Institute.
As part of the team that created Dolly, he recalled their excitement and satisfaction when the small lab in the Scottish countryside achieved the incredible. Archibald said: "We were an institute that was, and still is, primarily concerned with agricultural research. There were some leading laboratories in the United States who thought, 'who are these guys?' We weren't on their radar. We took some pleasure from that."
The success of the project, he said, stood scientific dogma "on its head".
Before this, it had been believed that adult cells were set in stone. But, led by Professor Ian Wilmut, Roslin proved that cells taken from an adult mammal, in Dolly's case from the mammary glands of a Finnish Dorset sheep, could be reverse-engineered and effectively reprogrammed to become any part of the body.
The genetic material taken from the "mother" was inserted into the egg of another sheep, using technology called nuclear transfer, and was carried to term in yet another ewe.
According to Archibald, the technique was later adopted by a private company that worked with The Roslin Institute to genetically modify pigs; this company went out of business but its work in furthering nuclear transfer led directly to the techniques that saved Bennett's life last week.
It's hard to overstate the importance of the Roslin cloning project.
In 2006, when Japanese scientist Shinya Yamanaka won the Nobel prize for his work, he referenced Dolly as a motivating force. Yamanaka had succeeded in ­identifying genes within mice which, when activated, could be reprogrammed to become immature stem cells.
---
Rise of the clones: How sheep inspires breakthroughs
The creation of Dolly the Sheep has led to 25 years of far-reaching breakthroughs in genetic science
1996
Scientists Ian Wilmut and Keith Campbell create a lamb called Dolly from a cell taken from the udder of a Finnish Dorset sheep. Although sheep had been cloned from embryonic cells previously, it is the first time a clone has been created from an adult mammal.
1997
First came Dolly, then Polly. In a follow-up breakthrough, Wilmut and Campbell produce Polly, the world's first transgenic animal with "Factor IX" gene inserted into her genetic code. She can produce milk with Factor IX, used to battle haemophilia, opening up the possibility of animals that can produce useful proteins.
2001
Gaur (a type of cattle) and mouflon (a sheep variety) are cloned by scientists showing how the techniques pioneered by The Roslin Institute can potentially save endangered species. A bucardo, a type of mountain goat, becomes the first extinct animal resurrected by the cloning process.
2006
Japanese scientist Shinya Yamanaka discovers he can create stem cells from adult human cells. Stem cells
are invaluable
tools that can be used for disease modelling, drug screening and cell therapy. He wins the Nobel prize for his work, revealing he was inspired by Dolly the Sheep.
2012
Gene editing takes a leap forward when scientists discover
CRISPR-Cas9. They can now use "molecular scissors" to cut DNA in precise locations and paste new information on top; like altering the blueprints to cells. It opens up the possibility of editing genetic traits or eliminating conditions such as Huntington's, muscular dystrophy, and sickle cell disease.
2022
A 57-year-old handyman with a life-threatening condition receives a genetically modified pig heart transplant. It was created by Revivicor, a company spun out from PPL Therapeutics, the UK company that helped create Dolly the Sheep. Human genes were added to the heart while some of the pig's genetic code was removed.
---
These "blank" cells can now be grown into any of the different types within the body, opening up the exciting possibility of using lab-grown organs to replace faulty ones. Instead of a pig's, one day a human heart may well be cultivated in a clinic.
Even more powerful technology that can directly edit DNA, called CRISPR-Cas9, is also being developed which it is hoped could simply switch off the genes that cause cystic fibrosis, haemophilia, sickle cell disease and a host of other conditions.
Although it sounds like a scientific utopia, controversy surrounding the techniques has not abated in the years since Dolly's birth.
Al Dowie is a professor of medical ­ethics and law at Glasgow University. Dolly, and the implications that arose from the birth of the humble Dorset-Finn sheep is a prominent topic when he lectures about medical and research ethics.
Dowie said: "Dolly is a classic ­ example of the ethical nature of all ­scientific research, and is a textbook example of all sorts of ways it can be good, as well as the shadow side.
"Not that Dolly was dodgy in any way, but it was part of the discussion of the bigger story about the ethics of this." A public consultation following the Dolly project, to carry out research using human genes spliced with cattle, gave scientists the chance to hear objections in what Dowie described as an example of a good way to address concerns over scientists supposedly "playing God".
"Some were against interfering with human life because it's just not right, and that's an opinion that has to be taken very, very seriously," said Dowie. "Others take a more religious perspective on these matters.
"They say it's not right because you can't square it with the Bible; again, you have to take it very seriously. And there are those who just have this sense of feeling a bit uneasy about it. I don't like using these terms but people refer to it as The Yuck Factor.
"Some people have a sort of revulsion but they don't necessarily know why they feel that way. It's just that they don't feel right about it."
Safety concerns remain about splicing human and animal DNA. Even Bennett, prior to receiving his heart at Baltimore's University of Maryland Medical Centre earlier this month, asked medics: "Will I oink?"
According to Dowie, those who work in biotechnology are generally keen to listen to these concerns. Following the Dolly project, efforts were made to create human embryos and reap the benefits of being able to use them for scientific purposes; however, rules were introduced meaning there was a limit of 14 days, when the nervous system begins to form.
And, while genetic editing was embraced in Britain and other countries, not all countries were keen to be involved. "In Germany and Austria, the cultural anxiety over anything that could be remotely associated with eugenics, or improving the human race, would be far too close to the Nazi regime's experiments," said Dowie.
"They would not want to be within a mile of anything like that. Those countries, and many others, have a significant population who are part of the Roman Catholic Church, and they would reflect the Church's position."
In 1997, Pope John Paul II denounced the cloning work at The Roslin Institute with his concern being echoed by Muslim leaders. Although cloning and genetic engineering technology open up the possibility of life-saving organ transplants, fertility techniques, and deleting the code which causes diseases from our genes, even those present ethical problems with which we must grapple, according to Dowie.
"In London there were two cases in one hospital where, years apart, two young women were given replacement windpipes made from stem cells. The first one failed and the woman died," he said. "The hospital tried again but, crucially, didn't tell the patient the first procedure was unsuccessful, and that patient died too.
"That's experimental treatment, which people can consent to, but the patient couldn't consent. It's not lawful.
"We're at a moment in time where people who are legitimately raising concerns are saying, 'Look, you're doing this, first it's that, then it's the next thing, and we're in a position to stop it. And we should stop it.' It has to be responded to, convincingly."
In 2018, Chinese scientist Dr He Jiankui claimed he had created the first human genetically-edited babies.
He was condemned by fellow scientists, because the potential for the babies to develop potentially life-threatening conditions was considered a violation of ethical norms; the Chinese authorities agreed and jailed He for three years.
Scientists need to exercise caution as they proceed into the brave new world of genetics and, eventually, human cloning.
"The history of science is chock-ful of horrors where things have gone terribly wrong against all expectations, hopes and promises," added Dowie. "And there's good reason for people not to be too easily persuaded that this is a good thing.
"It's up to the scientists to make their case, and put it to the public who then should decide."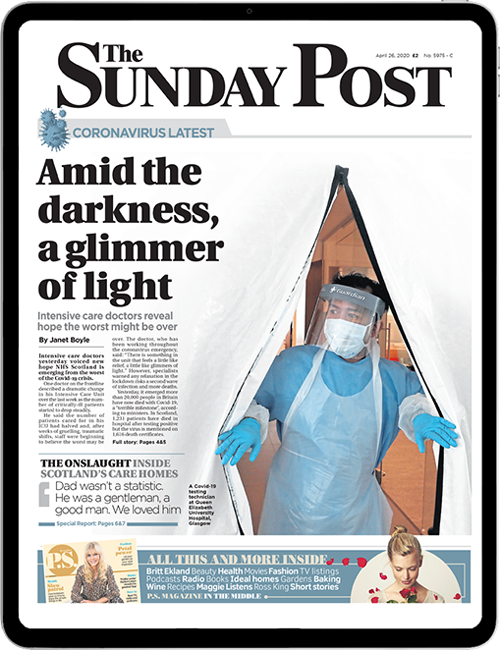 Enjoy the convenience of having The Sunday Post delivered as a digital ePaper straight to your smartphone, tablet or computer.
Subscribe for only £5.49 a month and enjoy all the benefits of the printed paper as a digital replica.
Subscribe