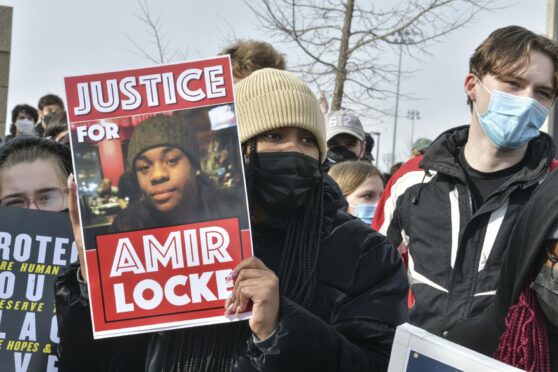 Early one morning in February, a police SWAT team kicked in the door to the apartment in Minneapolis, Minnesota, where Amir Locke was staying.
He was sleeping and body camera footage from one officer on the raid shows him wrapped in a blanket while reaching for his legally-owned gun. The police opened fire and less than 10 seconds after forcing their way into his home, the 22-year-old was dead.
Last week prosecutors announced no officers would be charged after the shooting, which took place just a few miles from where George Floyd was murdered by another Minneapolis police officer in 2020. His death ignited Black Lives Matter protests around the world, igniting widespread demands for US police reform in what many consider the most significant racial demonstrations in the US since the Civil Rights movement of the 1960s.
Yet nearly two years on, the number of police killings in the US has gone up, according to newly released figures which raise profound questions about America's failure to enact change.
Mapping Police Violence, a nonprofit research group, found that in 2021 police killed 1,136 people, one of the deadliest years since their records began. In 2022 the trend has continued, with 249 people killed so far, including Mr Locke.
Since the start of the year there have only been four days when law enforcement officers have not killed anyone, the figures show. Not only that, but black people are proportionately far more likely to be killed by police than whites.
In 2021 black people were 28% of those killed by police despite being only 13% of the population. Samuel Sinyangwe, founder of Mapping Police Violence, told The Sunday Post: "2021 was the second deadliest year in our records, which go back to 2013.
"There has been a backlash to reform and that has meant we haven't seen the momentum from the protest translated into sustained changes to the scope and size of police forces.Certainly, we're not seeing progress made on a national level."
That is a jarring contrast with the months of protests in the wake of Mr Floyd's killing. In dozens of cities like New York, Los Angeles and Portland, Oregon – where protesters took over an entire part of the city and turned it into an "autonomous zone" – demonstrators called for politicians to "defund the police". And for a time it seemed to have worked.
Congress prepared to pass the George Floyd Justice In Policing Act which would have banned chokeholds and made it easier to pursue claims against police in civil court.
The former mayor of New York, Bill de Blasio, cut $1 billion from the NYPD's budget, vowing to redirect it to community services, and many other cities followed suit.
Low-level crimes like prostitution were decriminalised in some cities and prosecutors stopped enforcing minor drug offences. Then, amid a spike in crime fuelled in part by the coronavirus pandemic, the tide began to turn.
The George Floyd bill stalled in Congress, the vast majority of cuts to police budgets were reversed and in some cases even more money was given to law enforcement.
All of those factors led to the increase in the numbers of police killings in 2021, said Howard Henderson, founding director of the Centre for Justice Research at Texas Southern University in Houston.
Say his name: One year on from the watershed murder of George Floyd, experts assess the impact of his death in Scotland and around the world
He said that if you understood the historical relationship between police and ethnic minorities you would have been under "no illusion" that change was coming. Henderson said: "What you have is an institution which is critical to the foundation of this country which is able to withstand any sort of pressure from the outside. "There is a disconnect between public sentiment and institutional social control mechanisms. The criminal justice system doesn't bend to what society wants it to. It bends to the ability it has to control the masses of people."
Minneapolis is a microcosm of the wider failures to reform US policing.
The killing of Mr Locke sparked a fresh round of protest in a city that had only just started to move on from Mr Floyd's killing at the hands of former officer Derek Chauvin.
In Chauvin's case there was accountability when he was convicted of murder and sentenced to more than 22 years in prison.
The other three officers involved in Mr Floyd's arrest were found guilty of federal civil rights violations.
The city of Minneapolis became the first in the nation to ban "warrior style" police training and required officers to use "all reasonable alternatives" before resorting to force.
Then came the killing of Mr Locke, whose name wasn't even on the "no-knock warrant", a controversial policy which allows police to enter a home connected to a homicide investigation without knocking first.
The local branch of the civil rights group the NAACP denounced the killing as a "modern-day lynching" while the family of Mr Locke said he had been "executed".
Amid the anger it became clear that the police department had resisted strengthening disciplinary procedures or allowing more civilian oversight.
Other shocking police killings illustrate deep-rooted change is far off.
Schools given 'impartiality guidance' on teaching of racism and British Empire
They include Adam Toledo, a 13-year-old from Chicago who was shot dead in March last year with his hands up – police claimed he had a gun in his right hand seconds earlier.
In March this year the only officer to go on trial over the killing of Breonna Taylor in another "no-knock"raid in Louisville, Kentucky, in March 2020 was cleared of all charges.
One of the biggest problems for advocates of police reform is the recent rise in crime which has led to a perception there is a choice between reform and public safety.
Even US President Joe Biden is sensitive to such concerns and has repeatedly said that he wants to "fund the police".
In his budget proposal earlier this month he asked for $30bn (£22.8bn) for law enforcement and crime prevention, which drew an angry response from many Black Lives Matter Groups.
According to Sinyangwe, the signs of hope come from cities like Austin, Texas, which cut its police budget by 30% and kept it that way, despite intense criticism. He said that, according to research, Dallas has seen an 80% reduction in police killings since 2015.
He said: "You need the implementation of a variety of strategies like better responses to mental health, alternative responses to low-level offences so arrest is not the first option, decriminalisation of drug possession and better solutions to homelessness."
Henderson said: "Transparency and accountability have to be the name of the game. There absolutely must be accountability measures for police officers who step outside the line of duty and cause unnecessary harm to citizens."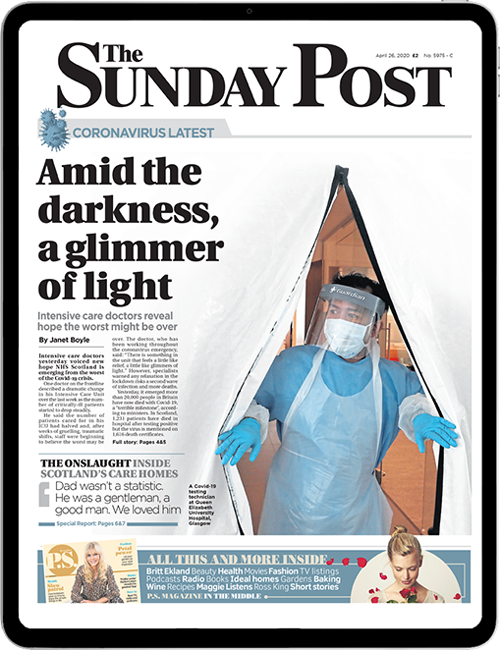 Enjoy the convenience of having The Sunday Post delivered as a digital ePaper straight to your smartphone, tablet or computer.
Subscribe for only £5.49 a month and enjoy all the benefits of the printed paper as a digital replica.
Subscribe