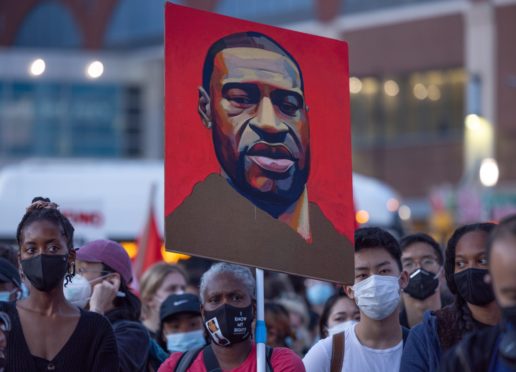 It was nine minutes and 29 seconds that would change the world.
The murder of a black man as a white police officer kneels on his throat, as minutes drag past, as he begs for breath, as other officers look on, as bystanders appeal in vain, would ignite protests around the globe and raise a deafening worldwide demand for justice and change.
At the time, 8.19pm on Monday, May 25, outside a convenience store in Minneapolis, few knew the victim's name. But the next day, when harrowing footage of his death emerged, and in the weeks and months that followed, the world would remember George Floyd, his life and his brutal, damning death.
His murder reignited the Black Lives Matter movement, launched seven years earlier as protesters gathered around the world – chanting BLM slogans Say His Name and No Justice, No Peace – and, a year later, campaigners have highlighted the changes achieved while stressing more is required and that momentum gained following Floyd's death must not be lost.
Sir Geoff Palmer, who was Scotland's first black professor, and is now chancellor of Heriot-Watt University, said: "My personal reflection on the terrible death of George Floyd is straightforward in that I believe he was killed by Derek Chauvin, who had a mindset based on an attitude that a black person is somehow inferior to a white person.
"Chauvin's killing of Floyd said to me that we still have much to do in changing that invention, which dates back hundreds of years, that black people are inferior to white people.
"The main reason people reacted afterwards in the manner they did was because we saw it on a video which lasted nine minutes and 29 seconds.
"When I saw the events of May 25, 2020, I thought that George Floyd had been crucified as he was killed by the law in custody. It actually encapsulated the history of enslavement. I have said before that we cannot change the past but we can change the consequences of the past using education.
"It is the job of all of us to address this. Attitudes are changing, and slowly, but the number of businesses, schools and so on who contact me on the subject from all over the world is significant.
"I am involved with Scottish government, Edinburgh University and Edinburgh City Council groups looking at various aspects of colonialism, slavery and legacy in various elements of society in Scotland. I am pleased to be involved with these groups and have also been honoured to become chancellor at Heriot-Watt University. Tonight I am giving a talk to a Rotary Club. The point is that, without George Floyd's death, I don't think any of it would have happened.
"From arriving in the UK at Liverpool on the Ascania boat in 1955, my life has been about good people who have made a difference. A professor at London University, where I worked as a technician, gave me time off as he said he thought I had some ability. I was able to get my O and A Levels as a result.
"In Scotland, like any other country, if we want to be a world leader, we have to ensure we have diverse representation. In a diverse society, you need diverse management to be fair and efficient.
"I feel positive ­looking forward and one of the things that motivates me now is that I know people do listen and changes can be made. I see the reaction of ordinary people when they learn about the history and the reality. Attitudes can be changed. A lot has been achieved. We must not give up."
Equality campaigner Maggie Chetty and her husband Radha were among crowds who welcomed Nelson Mandela to Scotland in 1993 following his release from prison and said the current BLM movement bears strong parallels with the fight against apartheid.
Former teacher Maggie, from Glasgow, said: "There is absolutely a connection between what is happening now and the anti-apartheid movement of which I was part. A lot has been achieved in the past year and advances have been made, but unfortunately there is still a lot to do. We must not give up. There remains a sort of geographic apartheid in South Africa that you can't escape unless you have lots of money, so we must continue to fight, not only for equality but against poverty and the underlying factors which allow such injustice to continue."
Maggie's husband Radha, an Indian South African, was forced to move here in the 1960s with his siblings to pursue their dream of higher education. The couple's story was the subject of a 2018 documentary, Glasgow, Love and Apartheid, by their filmmaker daughter Dhivya-Kate Chetty. Maggie said: "Anyone fighting injustice must not give up. Racism has been deeply rooted in different contexts for generations and it doesn't vanish overnight just because there is an upsurge of activity and people on the streets.
"Ultimately, for racism to be undermined, it needs governments to take strategic action. If that's not happening, people have to keep demonstrating. It's absolutely right that the BLM movement implements action and it seems that every generation has to start their own struggle. There is progress but people also get complacent. It's important we guard against complacency and it's vitally important young people and everyone who supports anti-racism is active and that we try to build a more equal and inclusive society."
Actor and producer Moyo Akande developed the script, with her sister Morayo, for the Bafta-nominated 2017 short film 1745 about two sisters from Nigeria who are sold into slavery but escape their masters and try to retake their freedom in the Highlands. Moyo, who also starred in 1745, said BLM had made progress but more needed to be done in updating material taught in our schools.
She said: "It's been very ­moving and incredible to see the tragic events of last summer lit a fire amongst many people across the world who came out to support our community. I'm touched to see people who are speaking out in ­solidarity and want to understand why these injustices have been allowed to happen for so long and what they can do to help change and correct the system.
"The BLM movement has had a lot of support and momentum and I think it's continuing to do so. It's amazing to see the positive social media and news coverage propelling and celebrating the movement.
"One year has passed and I think the situation is slowly changing but there is a lot more to be done. There hasn't been much progress made in examining and remodelling Scotland's school curriculum. This would be monumental in helping correct and address the issue. I believe education is absolutely key to addressing racism in Scotland and the UK.
"We haven't even touched the tip of the iceberg but people are finally starting to listen. This is the biggest step for any real change to occur moving forward."
Graham Campbell, who in 2017 became Glasgow's first African Caribbean councillor, said: "One thing which the Floyd movement did for us in Scotland was made it clear we have a problem with racism. We need a conversation about racism and about how we can do things differently."
---
Change will come out of our schools, out of our classrooms
by Nuzhat Uthmani, teacher and campaigner
For every one of us as citizens, and for me as a teacher, there is a need to change society for the better.
The Black Lives Matter movement started in 2013 after an unarmed teenager, Trayvon Martin, was shot dead in Florida, but the issues became politicised.
This was linked to a fear of change and a fear of losing power or control within our institutions. To change these things is to shake many of our foundations.
However, the movement has been reignited as a result of George Floyd's death. Many everyday people have now realised how awful things were and how long it has been going on. There have been further incidents in the past year and one positive is that they seem to be getting more coverage now.
I don't care about the politics of it. It's about the daily interactions I have with my pupils and encouraging them to question, to think, and to show that how people act can affect someone on the other side of the world. I think that, with the movement which restarted after George Floyd's death, a lot more people started to feel that way.
Education needs to address its failings. Processes have been put forward to address our curriculum and the Scottish Government has put together a working group called the Race Equality And Anti-Racism In Education Programme.
It is important to stress that anti-racism education is not to be feared. It doesn't mean it's going to be anti-white or anti-British. Misunderstandings need to be overcome. When slavery was abolished, despite opposition from the privileged, it did not result in reverse slavery with white people becoming enslaved. Instead, the result was a move towards a more just society. Tackling inequality benefits all.
What has been achieved cannot be a passing phase. Young people nowadays are more connected than ever before and more aware of the world around them. They are aware of the BLM movement and the conversation around racism. I think it's exciting there will be positive changes. No doubt there will be criticism, and those who don't want it, but I think it is inevitable now.
Nuzhat Uthmani is a primary school teacher in Glasgow and founder of Global Citizenship Education Scotland.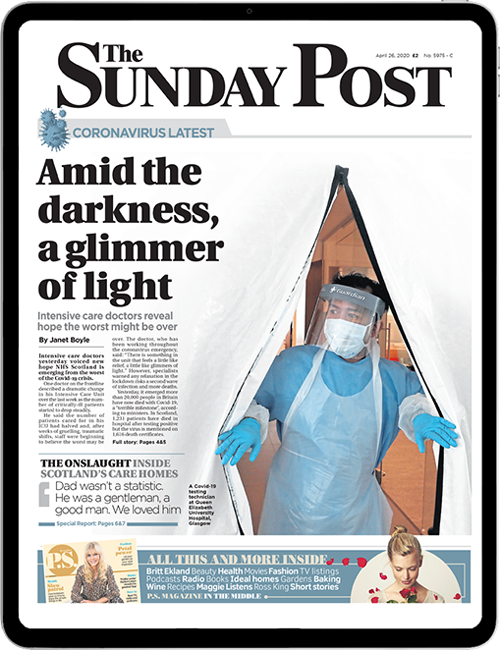 Enjoy the convenience of having The Sunday Post delivered as a digital ePaper straight to your smartphone, tablet or computer.
Subscribe for only £5.49 a month and enjoy all the benefits of the printed paper as a digital replica.
Subscribe