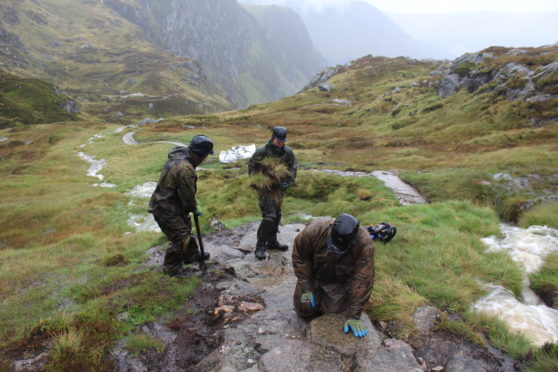 Serious damage to Scotland's mountains caused by the soaring popularity of hillwalking has prompted climbers and path-builders to call for a permanent government fund to repair worn-out hills.
A study by Scottish Natural Heritage (SNH) found £30 million worth of work is needed to fix mountain tracks battered by Munro-baggers and other hill climbers. The report said it could be worth it as outdoor tourism puts £100m a year into the Scottish economy.
Now Mountaineering Scotland (MS) – the sports' representative body – and Scotland's top path-building organisation say the government should ring-fence the money to get the job done.
Heavily-used paths become unsightly scars on hills, harming fragile ecosystems and spreading as people dodge bogs.
Building paths to withstand the impact of thousands of feet costs about £90 a metre.
But there is currently no specific government money set aside for building or repair of hill paths despite marketing of Scotland's uplands as the perfect place for exercise and outdoor tourism.
The UK's biggest-ever mountain path-building project – costing £5.6m – will be completed in June by path-building social enterprise the Outdoor Access Trust for Scotland (OATS). Its five-year programme used mainly Lottery money, plus some of OATS's own cash and one-off grants from government agencies.
The project, dubbed The Mountains and the People (TMTP), carried out path repairs in Scotland's two national parks, The Trossachs and Cairngorms, fixing 145km of paths. Many of those on estates owned by charities such as the National trust for Scotland benefited from repairs in earlier years.
But those on private ground – as much as half the mountain path network – are still to be fixed.
Davie Black, access and conservation officer for MS, said it was time for the Scottish Government to act.
"There's an ideal opportunity here for the Scottish Government to commit resources to repair and maintenance of these paths," he said. "MS would certainly be calling on the Scottish Government to commit resources to doing this."
The SNH report says 434 miles of paths have been restored over the last 30 to 40 years, but there are 254 miles still in need of repair. Almost £30m is needed to fix them.
Spent over 10 years, that would secure more than 40 skilled path-building jobs in rural areas and sustain the £1 billion contributed by upland paths to the economy over the same period.
The report suggests as much as £400,000 a year more would also be needed for routine maintenance of upland paths.
Dougie Baird, OATS chief executive, believes the unrestored path network is much bigger – 434 miles – but agrees around £30m is needed fix it.
TMTP has seen expert teams working on hard-used hills in the Arrochar Alps and the Trossachs, such as Ben Ledi, and fixing the notorious path scar visible from the A9 on 975m Carn Liath near Killiecrankie.
Baird said: "If there was a world cup of mountain path-building then Scotland would be in the final every time."
Hillwalkers could also face a two-tier experience: "If it's in a national park or on land owned by an NGO you'll have a very good experience on your mountain path network, but if it's not you would walk up a trench or you'll be up to your oxters in wet peat," he added.
The Scottish Government said as well as funding TMTP through agencies it had spent £8m on other paths through the Scottish Rural Development Programme. A spokesman added: "There is no certainty of funding beyond 2020."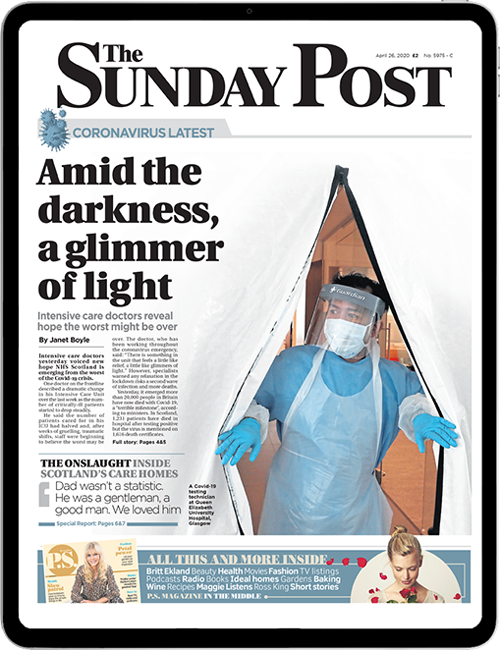 Enjoy the convenience of having The Sunday Post delivered as a digital ePaper straight to your smartphone, tablet or computer.
Subscribe for only £5.49 a month and enjoy all the benefits of the printed paper as a digital replica.
Subscribe