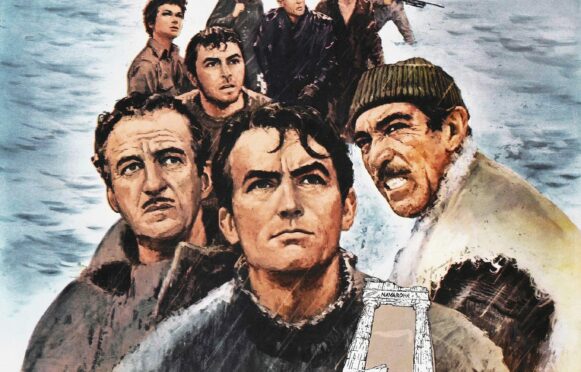 Told at breakneck speed, featuring wild action, high body counts, claustrophobic settings and black-hearted treachery, to his fan, Alistair MacLean invented the modern thriller.
The son of a Presbyterian minister from the Highlands, he would become one of the 20th Century's most read authors and novels like The Guns Of Navarone and Where Eagles Dare were destined to become big screen blockbusters starring Clint Eastwood and Gregory Peck.
But MacLean never rated himself as an author, and believed he would have been a better novelist had he written in his first language, Gaelic, rather than English.
Patronised by literary critics, but adored by the public, he sold 150 million books and 18 of his 28 novels were made into movies, yet he boasted of how much he detested writing, and would churn out books in a matter of weeks because he disliked the process so much that he wanted it over and done with.
As the centenary of his birth approaches in 2022, a new BBC Alba documentary examines the life of a complex man who entertained millions, yet who was a brusque character around family and friends.
"Alistair thought of his novel writing as a formula. I think that's to diminish his ability," said Ian Chapman, whose parents, Ian and Marjory, discovered MacLean. Ian Senior worked with Scottish publisher William Collins and persuaded them to sign him after the couple fell in love with a short story he wrote for a newspaper competition.
"He was a storyteller," Chapman continued. "He was great on character, great on story. He never thought of himself as a good writer. On occasion he said he would prefer to write in Gaelic or even Spanish than in English. He didn't feel his English was good enough, which is clearly nonsense."
MacLean was brought up in Inverness-shire, but when his dad died at 49, his mum took her three youngest sons to Glasgow, where her eldest boy was studying. Alistair hated the city, and volunteered for the Navy during the war, serving on two Arctic convoys. At the end of his service, he went to university and became an English teacher, writing short stories in his spare time.
His first novel, HMS Ulysses, based on his experience of war, was a huge success, as was his second book, The Guns Of Navarone, so he gave up teaching, left Scotland behind, and became a millionaire novelist and screenplay writer, penning scripts for four of his movies.
Author Mairi Kidd said: "The thing about his writing in general is it is very visual. He writes as if he is writing a film anyway, and I think his novels I like the most are very similar to watching a film. There's a lot of fun, a lot of action, and they're moving quickly, and I think that was a strength to work on something and see it in his head as a film."
Shona MacLean is Alistair's niece and a successful author in her own right, having published nine novels. She remembers many of the encounters she had with her uncle as she was growing up.
I remember the first time I met him, being really surprised that this person who was a name on TV and in books was just this very ordinary looking man who dressed like my dad, was a wee bit smaller, and was very quietly spoken," she said.
"One time I was on holiday with my sisters visiting Uncle Alistair in Dubrovnik and we were out on his boat. I was reading a Neil Gunn novel and he looked at me and said, 'How many of my books have you read?', and I said none, so he gave me a copy of HMS Ulysses and said, 'Have the first hundred pages of that read by tomorrow or you're sacked as my niece'.
"He had quite a dry, particularly Highland, sense of humour, which he shared with my dad and their brothers. There's a kind of underlying sarcasm which you can see in the books with the way men speak to each other. He didn't suffer fools gladly and he didn't like a lot of the hyperbole that I suspect was in the publishing and film worlds."
MacLean's first marriage, to a German woman called Gisela Heinrichsen, ended in divorce, but not before he decided to give up writing in 1963, after publishing 10 novels, to become a hotelier.
He would return to fiction three years later, however, and would write a further 18 books. He married his second wife, Mary Marcelle Georgius, a French aspiring movie producer, in 1972, but they divorced five years later.
MacLean, by this point was drinking heavily, and he died in 1987, aged 64, after a series of strokes, shortly before his final book, Santorini, was printed.
Although his sales might not be what they once were, his influence remains strong, with John Wick screenwriter Derek Kolstad citing MacLean and Stephen King as two of his primary influences.
"I think if critics dismissed him they were probably missing the point, offered his niece. "It must have been very frustrating for them, because he had these huge sales but actually, when you read the books, the writing is exceptionally good and he deals with human emotions, he deals with human potential, and human weaknesses."
And she believes more 21st Century readers should be discovering the joy in the nail-biting suspense of an Alistair MacLean novel.
"I think the ones who haven't read him and who enjoy a good adventure story would enjoy them very much," she added.
---
---
They were two of the biggest names in their fields in the '70s, they were both Scottish, and they planned to make a movie together.
Best-selling author Alistair MacLean and his friend and Formula One champion Jackie Stewart announced they were going to team-up for the filming of MacLean's The Way To Dusty Death, which was set in the world of F1.
In an archive interview with the two men, shown in the new documentary, Stewart said: "I'm looking for something to replace motor racing in a way, and I'm sure this is one of the reasons Alistair has written this for me.
"If I found myself being able to do this film, I would then have a reason to stop motor racing, to take up something else I could be excited by, and could replace the pleasure and excitement that motor racing gives me."
The film failed to get off the ground, but it was eventually made as a TV movie in 1995, starring Falcon Crest and Casualty star Simon MacCorkindale in the lead role.
---
The Adventures Of Alistair MacLean, BBC Alba, Tue, 9pm.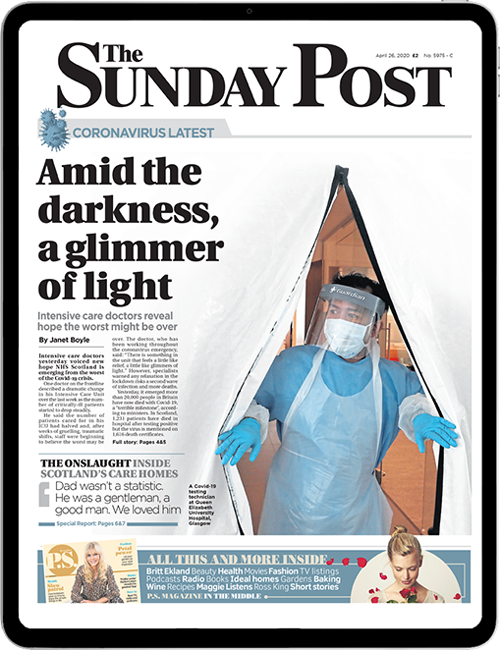 Enjoy the convenience of having The Sunday Post delivered as a digital ePaper straight to your smartphone, tablet or computer.
Subscribe for only £5.49 a month and enjoy all the benefits of the printed paper as a digital replica.
Subscribe