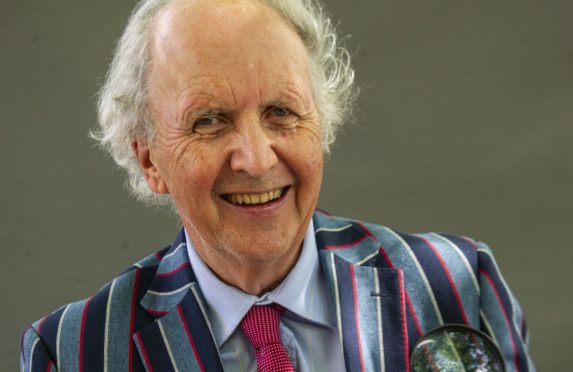 It's coffee time at Alexander McCall Smith's Edinburgh home, an afternoon ritual usually shared with friends and one the acclaimed author has been missing during lockdown.
But cradling a cup on a Zoom call, the prolific novelist is clearly making the best of our new digital social life after many months conducting virtual book tours and taking part in online book festivals around the globe.
The fifth novel in his comic series about the outlandish Professor Moritz-Maria von Igelfeld is about to be published, 24 years after the first and more than a decade after the last, and the latest zany instalment, Your Inner Hedgehog, could not be better timed to lift our lockdown blues.
He cheerfully acknowledges his latest read might offer a little relief: "They really are light-hearted, ridiculous books, but people all over the world love them. There is no real rhyme or reason why a few years seem to elapse between them; it is when the spirit moves me to write another."
But the man behind the No.1 Ladies' Detective Agency and Scotland Street novels does agree that the timing could not be more serendipitous. It's been a year like no other and his family, like so many in the country, has been hit hard by the Covid-19 pandemic. Both his doctor daughters, mums in their 30s, caught the potentially-lethal infection.
Despite the anxiety that has entailed, he hasn't lost his sense of humour or, it seems, his sense of duty. Both he and his wife Elizabeth took part in the Edinburgh-based Oxford/ AstraZeneca vaccine trials.
Laughter, he says is important in the darkest of times. He said: "People are weary, and a bit tired and discouraged by the experience of the last year. I think they are ready for a bit of humour. There is a limit to the amount of tragedy and sadness we can take. When you have a constant diet of dire predictions and sorry tales about the world, you'd be forgiven for wanting to have a bit of a release.
"We have all experienced something we never thought we would experience and our lives have been changed by it. Some people's lives have changed drastically and irretrievably in a very sad way.
"We have been touched by it because my daughters have been dealing with it in their jobs. They have had Covid-19, but I wouldn't make much of that because everybody knows somebody who has been affected by it. Just about every family has been touched in some way.
"My wife and I both volunteered for the Oxford vaccination trials. We had injections. You agree to be tested every week and have your blood looked at. It was very interesting being involved."
The blind trials went ahead in Edinburgh, the couple later learning that they had been in the control group and given meningitis vaccines. They have now had their Covid-19 jags but remain part of the trial.
The emeritus professor of medical law who received The Medal of Honor for Achievement in Literature from the National Arts Club of America in 2017, praised the "magnificent" the vaccine operation at the Edinburgh International Conference Centre.
"Oh boy, oh boy," he said. "The people involved in that, from top to bottom, can be seriously proud of what they have achieved. It was remarkable; they made it a very pleasant experience. Another thing that has come out of this is that we have seen what the people who are looking after us are doing in the hospitals and the health service, and it is heart-warming and impressive."
The grandfather of four has found joy in lockdown though his family, his writing – poetry, prose and libretti for opera – and cycling.
He said: "I have been writing perhaps more than ever." He has just finished a standalone novel set in Sri Lanka in the days when it was Ceylon, and has started writing volume 22 of his Botswana-set No.1 Ladies' Detective Agency saga – The Joy And Light Bus Company – that will publish in the autumn. And he has been working on separate projects with composers Tom Cunningham, Thomas Hyde, and Fergus Hall – one based on the infamous Lord Lucan case, another featuring a bestiary of imagined animals, and a third that sets his St Kilda poems to music.
A screenplay based on an amateur orchestra is also in the offing. Was it sparked by the comically titled Really Terrible Orchestra he founded in 1995 with friends in Edinburgh? He smiles: "Let's put it this way, it's no coincidence."
And when he's not working? "I have an electric bike and my wife has one as well. We go to Ratho, to Balerno or Cramond; we have a good set of cycle tracks in Edinburgh."
But he admits: "There are things I am missing. My daughter Lucy is an obstetrician and works in Oxford. She has a son, six, and a daughter, two. We haven't seen them for a long time. My daughter Emily is a hospice doctor and a GP in Edinburgh. She has two little boys who are five and three and we are allowed to provide interim childcare for them.
"But I'm also missing not being able to have coffee or lunch with friends. I so look forward to the time when we can do that.
"And we can't go over to our house in Argyll. I am a very keen sailor and am looking forward to getting back on the water. I have a motor cruiser and sail it around Mull. The Small Islands are lovely, Muck is a favourite of mine. In those waters you can see whales. The boat has been up on the hard ground. I hope to get it back into water in May, but it all depends on when we are allowed."
He mused: "I suppose we are looking very carefully at our lives and reflecting on how they might be rather different in the future. I think people are much more aware of the need for sustainability. They are realising we were far too frantic and busy prior to this.
"I like to think we have learned certain lessons. One is not to be profligate with the world's resources and not to assume that we can continue with our bad old ways. And we need to appreciate how dependent we are on other people like our neighbours.
"Interestingly I have found that people seem to be more willing to greet and speak to others, to strangers. Walking around the streets near where I live, or when I am out on my bicycle, people are smiling at one another. There is a sense of all of us being in this together, which is really quite striking.
"We have come to appreciate our friends and to value friendships more – even if we don't see them or see them remotely. All of these things are making us rather different and slightly better people. I hope all of us want to come out of this slightly better than when we went into it. You could argue that is pie in the sky and we will go back to our bad ways, but I believe this has made us think."
Your Inner Hedgehog will be published by Little, Brown on March 25
---
---
Sound & Vision
Alexander McCall Smith talks us through words, pictures and music that are helping make lockdown slightly more bearable
The book I read again and again
The Sword of Honour by Evelyn Waugh is his great trilogy of the Second World War. It was written about a time of conflict and peril. I have read it many times, and read it again during lockdown. In the circumstances of this last year, it resonated very strongly. Other books I have enjoyed during this time are Patrick Leigh Fermor's A Time to Keep Silence and Alistair Moffat's In Search of Angels: The Holy Men of the Hebrides. Patrick Leigh Fermor wrote very beautifully. In a silent time – such as this has been – it has been good to reflect on solitude. In this book, he visits a number of monasteries and shares the sense of stillness he encountered.
Alistair Moffat is one of Scotland's finest and most readable writers. His is a magnificent book about Scotland in dark times. It is a hauntingly lovely, with a message of light that we sorely need today.
The poems that speak to me
John Anderson, my Jo, John by Robert Burns is one of the great poems and songs about love and friendship. And friendship has been very important to people in these difficult times. In Praise of Limestone by WH Auden is one of the finest nature poems in the English language and, like many, I have felt myself getting closer to nature in this period. Homer's The Odyssey is another favourite. Homer speaks to us across a gulf of thousands of years. In difficult times, it is always reassuring to go back to the great classics.
My favourite lockdown movie
The Dig with Ralph Fiennes, Carey Mulligan and Lily James and set on the eve of the Second World War when a British widow hires a self-taught archaeologist to dig up mysterious mounds on her land leading to a monumental find. It's wonderful. I had great pleasure watching The Dig. Those lovely broad skies, beautifully acted, a lovely sound track. A low-key film with no violence or aggression.
My ultimate dinner party
I'd invite the poet WH Auden. His conversation would be brilliant, if on form. I'd also have at the table John F Kennedy, right. During the Cuban missile crisis of October 1962 he was instrumental in averting World War Three. He saved the world. I'd like to thank him. Luciano Pavarotti would also be my guest, I'd ask him to sing for his supper. And finally, Barbara Pym, the novelist who published a series of social comedies. She would be so witty in an understated way.
My TV boxset
One of key to getting through lockdown is having points in your daily life which you look forward to. For my wife and I, it has been an episode of a series every evening. We have really savoured the Scandinavian series The Restaurant set in Stockholm and about a family and their fortunes from 1945 onwards. We also enjoyed the marvellous French comedy series Call My Agent!
My feelgood music
I have broad musical taste, but I have been sustained by the music I like to listen to. It has become more important during lockdown. I enjoy early music – 17th-Century church music and anthems, by composers like Byrd and Morely. I like listening to Gregorian Chant and I love The Penguin Café Orchestra. It's gorgeous, uplifting, strange instrumental music with a marvellous spirit to it. Just what we need in a pandemic. You can't be down if you are listening to The Penguin Café Orchestra.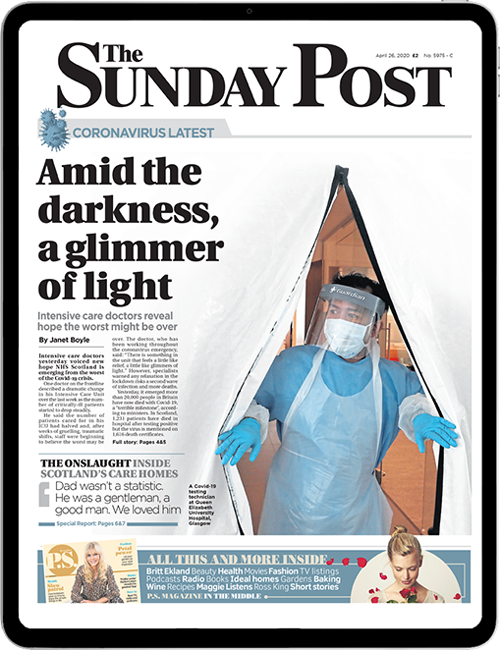 Enjoy the convenience of having The Sunday Post delivered as a digital ePaper straight to your smartphone, tablet or computer.
Subscribe for only £5.49 a month and enjoy all the benefits of the printed paper as a digital replica.
Subscribe