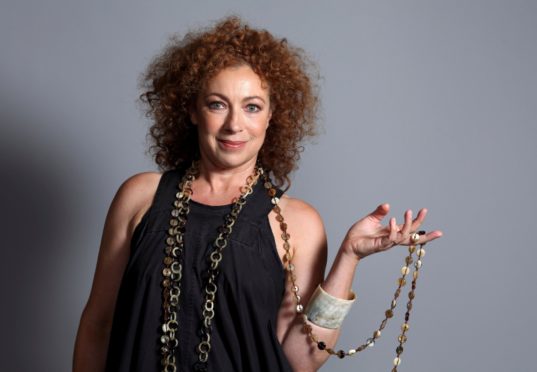 It comes as no surprise to Alex Kingston that her daughter has decided to follow in her footsteps, despite her best efforts to temper her acting ambitions.
The actress fell pregnant with Salome, now 19, when she was playing surgeon Elizabeth Corday on the long-running US medical drama ER in the '90s.
Alex's pregnancy was written into the script and Salome, whose father is German writer Florian Haertel, was just weeks old when she joined the cast as Elizabeth and Dr Mark Greene's baby girl.
Now, two decades on, mother and daughter are working together again, this time in a Doctor Who spin-off audio drama, The Diary Of River Song. Now in its eighth series, it focuses on the Time Lord's brilliant wife, the poetically named River Song, whom Alex has played on the TV show since 2008. Salome, meanwhile, plays the part of her synthetic humanoid companion, Rachel.
Alex said: "My daughter was in my belly on ER then played the role of our baby girl Ella Greene. She's secretly always had the desire to act, but I was always adamant that she finished her education first.
"Salome plays a character who River Song meets up with occasionally and they have adventures together. Working with my daughter has been terrific fun. I am super-impressed with her. She is incredibly professional."
For the past year Alex and Salome have been isolating together at her London home, alongside Alex's third husband, television producer Jonathan Stamp. The pair married in an intimate Italian ceremony in 2015, and Salome was a bridesmaid.
They are joined by Alex's German-born mother, Margarethe, who sadly suffers from dementia. It sounds like a potentially stressful set-up but Alex has cherished the unexpected extra family time lockdown gifted her.
Alex, who celebrated her 57th birthday a few days after the first lockdown was announced last March, said: "My daughter had arrived from New York and decided she wanted to live with us. Then my mother, who has dementia, suffered two strokes early on in lockdown and she moved in as well. So I was her carer.
"It was an amazingly special time. And I cherish it. Particularly with my mother, because I wouldn't have had that opportunity otherwise."
Like the rest of us, Alex has relied heavily on streaming services to keep her entertained during the long days spent at home. She even broke her self-imposed rule of not watching her own stuff on screen.
She said: "We did all the usual things, massive clear-outs, and of course binge-watched TV. I loved Schitt's Creek, Call My Agent, Bridgerton and Luther. I can't bear to watch myself on the television. However, I started watching ER, because it was streaming on Channel 4. I look at myself and it's like I am watching someone else. It's such a good show, and it's really held up!"
She added: "As much as everyone is saying this is the year that they want to forget, I actually feel it's a year one can never forget. It certainly wasn't an easy time. However, I have much stronger memories of the year, and of the patterns of the year than I have ever had pre-pandemic, when there was always so much rushing around."
Alex began her career at the Royal Academy of Dramatic Art, where she met her first husband, Skyfall actor Ralph Fiennes. They were together for 10 years before marrying in 1993. Two years later, Alex was left bereft when Fiennes left her after an alleged affair with a co-star. The London-born actress has barely stopped working since she first appeared on UK screens in 1980, as Jill Harcourt on the iconic children's series Grange Hill. She continued to find success in UK dramas including Upstairs Downstairs, and The Fortunes And Misfortunes of Moll Flanders.
She first appeared in the fourth series of Doctor Who alongside David Tennant in 2008. Alex thought it was a one-off but has reprised the role in 15 episodes between 2008 and 2015.
It's thanks to her Doctor Who appearances and, more recently, Sky's hit supernatural drama, A Discovery Of Witches, that she has become known to a new generation of fans.
During her long and successful career, Alex has never been afraid to call out sexism in the industry. When she was dropped from ER aged 41, after seven seasons, she accused producers of ageism. saying "Apparently, I, according to the producers and the writers, am part of the old fogies who are no longer interesting."
Then, when she auditioned for the role of Lynette Scavo on Desperate Housewives which eventually went to Felicity Huffman, she says she was turned away for being too curvy.
Although vocal about the challenges that face women, she admits she has seen positive changes in attitudes towards female talent in recent years.
She says: "When I was working on ER, I thought that I wasn't allowed to get pregnant, I didn't want to offend the producers as that is not what they had intended. I thought that I would have to ask permission. It was Anthony Edwards, who played my on-screen husband, who said 'Don't be ridiculous, don't wait for them to allow you, you are not that important. If you want to have a child, go and have a child, and they will find a way to work round you.' So I took his advice.
"I grew up with this notion that one had to be polite and always ask for permission. Whereas this generation don't. They just get up and do it. The lovely and talented Teresa Palmer, whom I work with on A Discovery of Witches, is constantly popping out babies. Production just work around her. And it's great, I admire her very much for that."
Alex puts her staying power down to being in the right place at the right time – and being nice to people, though she says theatre will provide her with a safety net should the TV work dry up one day.
She said: "Being as versatile as possible helps. I'm up for anything as long it is written well.
"I had a formal training. My first love is theatre. Having that as a backbone will always support me. In an industry that will favour youth more, theatre is always there. In order to succeed on the stage you have to have had good solid training and know how to handle your voice.
"Also, being a nice person counts for a lot. If you were difficult you would get a reputation. Of course there are actors who are extremely difficult and tiresome to work with, and there will come a point at which you think is it worth it? I don't want to be one of those people."
Despite her time-travelling credentials Alex has no idea what the future holds but still harbours a dream of being a Bond Girl (though obviously not one who falls for the smooth-talking spy).
She laughs: "I would love to be a villain in a James Bond movie, the real villain, the main one. Because they've never had a female villain. And I want to be a villain who does not find James Bond sexy at all. And doesn't succumb to his charms, I want to be his real nemesis."
---
Time for a return to Tardis?
From ER to the Tardis, Alex's career to date has been distinguished by roles opposite fictional doctors, whether medical or time-travelling.
The smash-hit hospital drama which made her a star in the '90s famously launched the Hollywood career of a certain George Clooney. Then in 2008, Alex won a new generation of fans as the wife of Doctor Who.
Because the Doctor transmutates over time Alex, as River Song, gets several leading men for the price of one. Alex said: "Essentially my character is the same, so there's continuity there, and the fun is interacting with someone who is essentially the same man, but in a different skin and with a different energy."
Perhaps the least lucky man in the role was Matt Smith.
Alex explained: "One of the most memorable parts of filming was when I flew through the universe, got caught in the Tardis and kneed Matt Smith, who was playing the Doctor at the time, in a sore place by mistake. There were a few tears of laughter from me and cries of pain from him."
Speculation is rife among fans that Alex will return to the Whoniverse, if the incumbent Time Lord Jodie Whittaker steps down. All Alex will say is: "My Tardis door is always open…"
---
The Diary Of River Song series eight is available now at bigfinish.com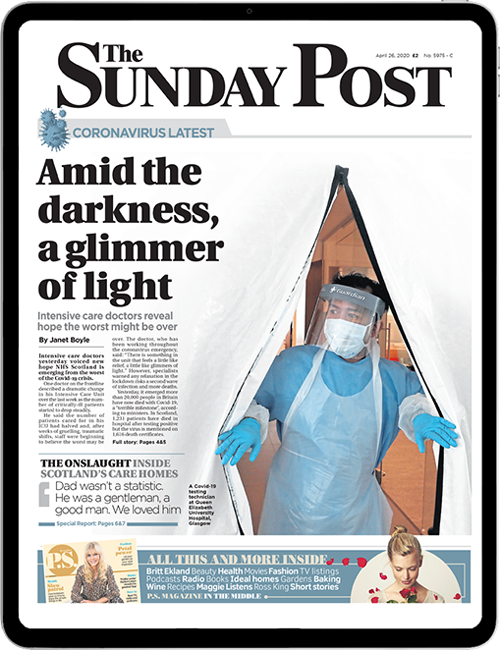 Enjoy the convenience of having The Sunday Post delivered as a digital ePaper straight to your smartphone, tablet or computer.
Subscribe for only £5.49 a month and enjoy all the benefits of the printed paper as a digital replica.
Subscribe