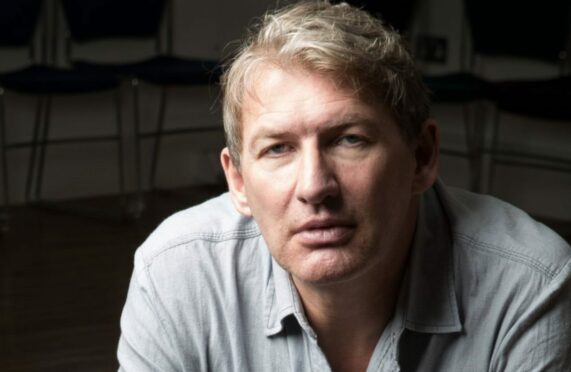 He's a self-confessed technophobe, still writes cheques, and prefers print on paper and music on vinyl over Kindles and Spotify.
In fact, Alan Warner is one of the few authors with his level of popularity not to have dabbled in the world of audiobooks. And he's fine with that.
"When I signed up for my first book in the early '90s, audiobooks hadn't become such a big thing, so in my contract there was no facility for audio books," he recalled. "When they came along I started saying, 'Well, what will you pay me for it?' It's considered normal now but they weren't willing to pay any more. So I said, 'Well, we won't be seeing anything, or rather, we won't be hearing anything!'
"I don't think any of my books, apart from Morvern Callar, sell enough to justify it but I would feel a little uncomfortable about that being made into an audiobook.
"It was my first novel in 1995 and it almost feels as if an audiobook would be something new. It would take up a lot of time getting it right.
"Obviously if my book flew on to the bestsellers' list, which is highly unlikely, I wouldn't be resistant to an audiobook but I think you have to be careful about who the actors are and make sure there's no editing going on that can corrupt it in some way."
Warner, who grew up in Connel, near Oban, releases Nothing Left To Fear From Hell next month, in which he tells the tragic tale of Bonnie Prince Charlie, tracing his last journey through Scotland in the aftermath of Culloden.
It's part of Polygon's Darkland Tales series, which sees Scotland's best modern-day writers reimagining the country's most prolific historical narratives – and takes the 59-year-old back almost 300 years, to a time long before audiobooks.
Warner said: "Normally I'm quite precious about this idea that I can write about what I want to write about and I'm going to write about what I want to write about. That's the raison d'etre of why I write.
"I've always been able to write about the subjects, characters, settings that take my imagination and that my imagination just reacts to, so it was very strange when Polygon books asked me to write about Bonnie Prince Charlie on his run after Culloden.
"But I didn't hesitate to say yes. To be told what to write about seems a contradiction to everything that my imagination had established up until then. But it's a part of history I've always been fascinated with – and you can probably turn your imagination to anything. Especially if you're being paid!"
Spending his early years in the west of Scotland sparked Warner's interest in history. In his teens, he loved reading about the '45, Bonnie Prince Charlie and Culloden, and the Highland Clearances but writing about it was harder than he imagined.
"I found it quite challenging, but I always find writing quite challenging," said Warner. "It is like getting blood out of a stone for me and I think it gets worse as I get older because I'm tired with my typical sense of structure, I'm tired with words that I know I've used before, so you're trying to make it interesting for yourself.
"So it was difficult but it could be a short novel set in Thurso about people working in a supermarket and it would be difficult. It's never easy."
Warner spent months poring over old records and letters and maps – trying to figure out what Charles Edward Stuart was like and what parts of his life and adventures he wanted to include. He said: "Obviously, going back to 1746, everything changes. You have to rethink your way of writing.
"You don't know what it was really like, and that's frustrating for a novelist because you want to know what it was like so that you can describe it but you don't. The records are fascinating but they're not comprehensive.
"Maps were very important to me strangely, maybe more than words. Not so much heavy historical research, just location and knowing the landscapes helps because I do know the west coast and I do know the islands a bit.
"I know a lot of the landscapes but I didn't want him to be on the wrong island at the wrong time. I had to look at the chronology of the weather and think of exactly where he was.
"There were obvious things to focus on, such as him dressing up as a woman to disguise himself when he went over to Skye.
"As a novelist, it's just impossible to throw that out so, in terms of how I would tell the story, I knew I had to have that sequence in it.
"But I had to bring a fresh eye to it, without being deliberately provocative. It's a romantic story for Scottish people and it's romantic for me too. But I didn't want to fool myself about that romance because underneath it is violence and power and physical discomfort and bravery.
"Imagine what it was like crossing in little boats between the islands and sleeping out in the open air?
"We send our mountain rescue within 12 hours when someone is missing on the hills because it's dangerous. These guys, and sometimes girls, were sleeping out constantly under open skies so it was a tough time.
"I wanted to face up to that, the kind of gritty side to it, the nasty side of it, the visceral side of actually having to sleep outdoors and having no toilets and facilities and steady food."
Warner, who described Bonnie Prince Charlie as an "enigmatic rock star", added: "It's an enduring myth of our country and I hope it will be embraced. I have tried to stick to the facts.
"There's a bizarre scene where Bonnie Prince Charlie shoots at a young whale while he's out hunting, swimming near the shore, and then orders his companion to swim out and pull the whale back in. That sounds very much like something Alan Warner would make up, but that actually happened!
"One of the strange things about history is that nobody really knows what it looked like. None of us can travel back in time and hear how he really sounded, see how he moved, how he picked up a glass. All we can do is use our imaginations to intercept what happened.
"I say that in the afterword that, in a way, maybe all fiction writing is historical writing, especially these days when technology moves so quickly. Technology positions you in time now and it's nice in some ways to go back to a slower period where technology moved at an incredibly slow rate."
This summer, along with fellow writers Irvine Welsh and John King, he will release a book of short stories, The View From Poacher's Hill.
Warner is also 100 pages into another novel which he jokes probably won't see the light of day until 2025 and he's toying with a film script, which could be a novel but he's not sure yet.
The creative writing lecturer at Aberdeen University added: "It's not easy fitting in writing, especially with teaching.
"I'm so lazy and ill disciplined that I don't know if having a structured job forces me to be more meticulous with the time I do have. In the days when I was a full-time writer, which I was for 20 years, I was capable of sitting, looking out the window for two weeks for inspiration!"
After the success of his novel, The Sopranos, being turned into a movie, Our Ladies, just a few years ago, Warner is open to another adaptation.
"We sold the film rights for Our Ladies in 1998 and it only came out for 2021 so it took a long time, but that was because the director stuck by his guns to make the film he wanted to make," he explained. "He didn't want to set it in Los Angeles and he didn't want to put film stars in it, and did have offers for those possibilities. But he stuck out to make an authentic film in Scotland. I'm very proud of the film.
"But it took so long that it had become a historical film by the time we made it! We had to explain at the start it was set in a time before mobile phones because otherwise people wouldn't get it."
Warner added: "Irvine Welsh and I have been trying to make a film of The Man Who Walks and we almost got it made with Billy Connolly.
"Irvine even wrote a script for it but then there was the financial crash in 2008. You couldn't get money to make your holiday pictures, let alone a movie. So it didn't happen. But you never know. If it took 20 years to make one film, it might take 30 years to make another.
"But my passion is always in books. I still like the feel of them, the smell of them, going to the bookshop when there's a book out that you want or discovering them in secondhand bookstores. I just love books.
"I haven't gone over to the digital side just yet. Everything is a slow process for me."
---
Sound and vision
Author Alan Warner reveals a few of his favourite books, shows and songs as well as a dream dinner party with Prince and Orson Welles
First gig
It was called Futurama Festival, 1979. I've felt guilty ever since because I fibbed to my parents about being fascinated by the fortifications of York. They booked me a B&B there but I was actually over in Leeds, sleeping on a concrete floor with bikers and punk rockers. Many bands which are now legendary: Joy Division, OMD, Public Image Ltd, The Fall, Hawkwind.
Boxset binge
The last one my wife and I binged on was Gavin & Stacey. I hadn't seen a single episode before. It was great. I have never seen a single episode of The Wire which was all the rage a while ago, so maybe that's next? Though I probably fancy more a complete box set of Trumpton/ Camberwick Green.
Favourite scene from a movie
Quint's first appearance at the council meeting in Steven Spielberg's Jaws. Or the first, doorway sighting of Orson Welles in The Third Man.
First record Oh dear. My sister Hazel came home with all the cool ones: Fire Brigade by The Move, I'm The Urban Spaceman, Son Of A Preacher Man, but my first bought record was The Inbetweenies by The Goodies. Douglas's Records, Oban, 1974. Don't tell anyone.
Favourite author
An American guy called Mark Richard, who never fails. Short stories, a novel, a memoir about building his own church – which he really did. I once flew from San Francisco down to Los Angeles just to meet him. He has recently done a great TV series The Good Lord Bird with Ethan Hawke, who he is pals with. He should be famous.
Ultimate dinner party guests
Orson Welles and Prince. Not much chance of either turning up, alas.
A book worth reading again and again
Wuthering Heights. I take away something new from the book every time; it's a different book on every re-reading. The Great Gatsby is the same.
Favourite theatre show
Our Ladies by the National Theatre of Scotland. It was based on my novel but it really was magnificent and nothing to do with me. Great young actors and written by Lee Hall, who wrote Billy Elliot. Also, any production of Noises Off, is nearly always good. When I lived in Dublin I would go to the Gate Theatre which had some storming productions, especially those plays by Conor McPherson, which were very tough to watch in a good way.
Song lyric that speaks to you
"Dear Lord, life ain't kind, people gettin' born and people dyin.'" From Angelene, PJ Harvey
Favourite singer
This is the hardest question I have ever been asked. The voice is still the best instrument, isn't it? I guess it is the Scot, Jack Bruce, who was an amazing bass player too but Mahalia Jackson also. And Paul Rodgers. He might look like a hairy rocker, but that man is a technician of the singing voice as much as any opera singer is; he could sing the phonebook and it would still be beautiful.
Sandy Denny's voice was gorgeous; she said she couldn't sing a happy song but Come All Ye Rolling Minstrels is so celebratory, she sounds so astonishing on that: "Oh, we will sing so clear…"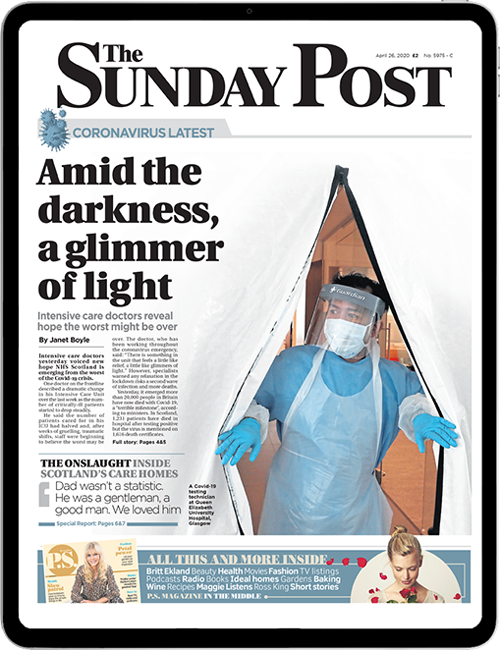 Enjoy the convenience of having The Sunday Post delivered as a digital ePaper straight to your smartphone, tablet or computer.
Subscribe for only £5.49 a month and enjoy all the benefits of the printed paper as a digital replica.
Subscribe