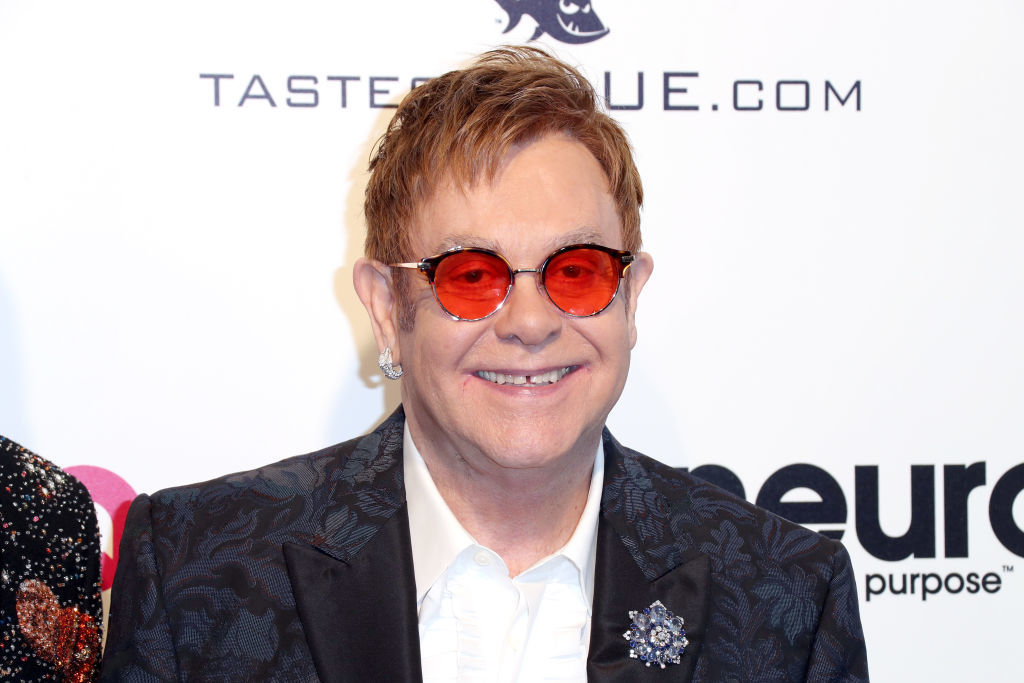 AIRDRIE FC may not be challenging Barcelona or Real Madrid on the park anytime soon, but when it comes to celebrity supporters they're in a league of their own.
The Lanarkshire side can boast an all-star line-up currently doing the business off the pitch for the League One team.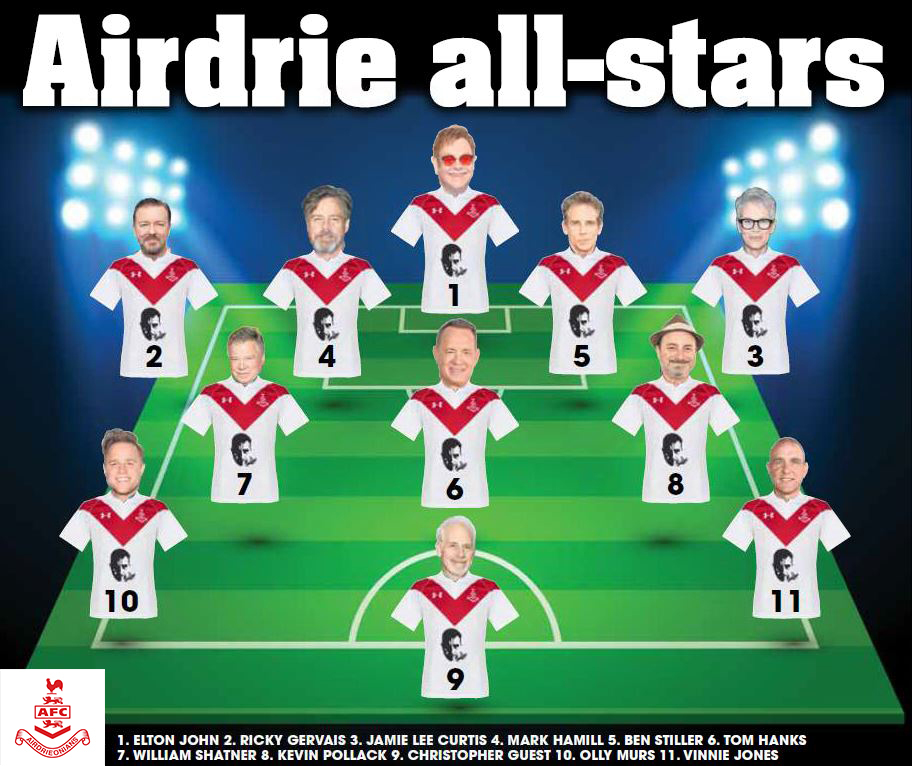 Big names such as Tom Hanks, Elton John, Ricky Gervais and William Shatner are just a few of the stars to have signed Airdrie strips, which have been auctioned off to raise money for supporters' organisation, The Airdrie Trust.
So far £6791 has been raised, but with an auction for a signed Olly Murs shirt ending this evening and a Diamonds top autographed by Ben Stiller about to go live on eBay, that figure will soon increase.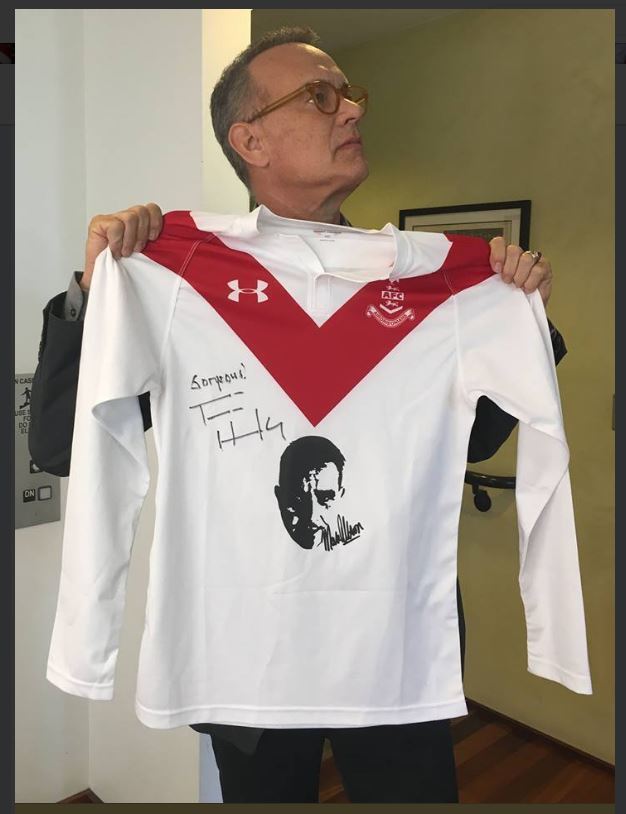 Star Wars' Mark Hamill, Monty Python's Eric Idle, Kevin Pollack from The Usual Suspects, Vinnie Jones, and Jamie Lee Curtis and her husband, Spinal Tap's Christopher Guest, have also given their backing to the club.
All but Elton John's signature have been secured thanks to Ross Owen, a local internet radio DJ.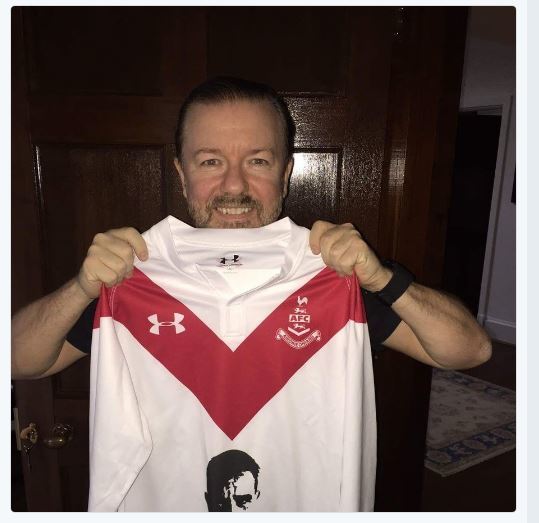 He is friends with comedian Gervais and has interviewed the likes of Shatner and Hamill on his show. Others, like Ben Stiller, he contacted through social media.
"I find they are sympathetic to the cause once I explain, and it makes it easier now that I have pictures of other celebrities signing the shirts," he explained.
"I visited Los Angeles in April and Mark Hamill invited me to his house. I had interviewed him previously for my programme on Black Sky Radio and we kept in touch.
"Eric Idle and Kevin Pollack also invited me to their homes – it surprised me that they gave out their addresses so easily.
"Vinnie told me to come round to his house as well, but he wasn't in. His shirt later sold for £1000."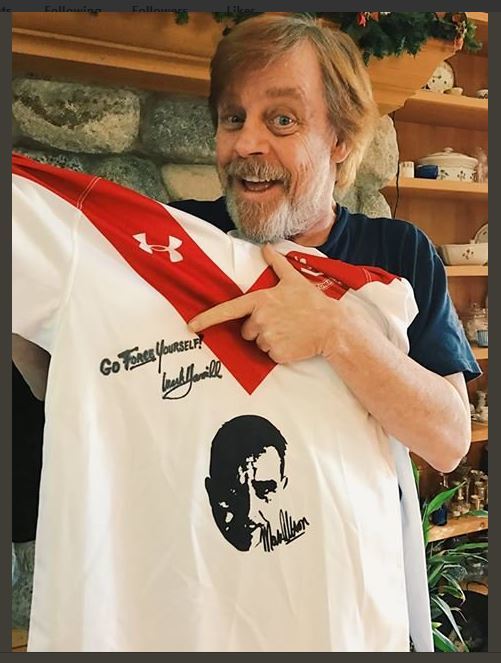 Some of the money raised went towards a cause close to Ross's heart.
"My five-year-old son, Joshua is autistic and Airdrie were the first Scottish club to introduce a sensory room that allows kids with autism to attend games in comfort. It was a no-brainer for me to get involved.
"The money to finish the sensory room has been raised, so now we are helping lots of other good causes."
Elton John signed a shirt after his gig at Airdrie's New Broomfield stadium in June and Olly Murs became involved due to his mum, who knows Ross thanks to their shared passion for Laurel and Hardy.
Ross, who would love to add action icons Sylvester Stallone, Arnold Schwarzenegger and Bruce Willis to the line-up, revealed one of Airdrie FC's celebrity supporters plans to visit the club.
"Mark Hamill has said he will come to Airdrie to meet the kids at the sensory room while he's over promoting the new Star Wars movie," he added.
First Elton John, now Luke Skywalker. Who'll be spotted cheering on the Diamonds next?
The Ben Stiller signed Airdrie shirt is now on ebay at http://www.ebay.co.uk/itm/Signed-Ben-Stiller-Airdrie-Top-funds-to-Airdrie-Supporters-Trust-/372043981875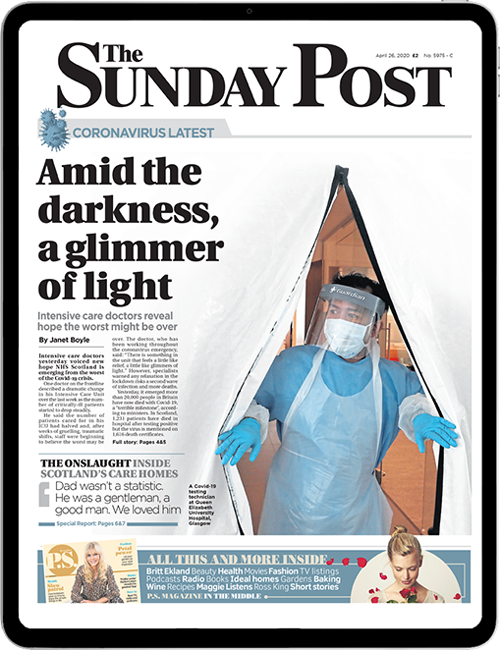 Enjoy the convenience of having The Sunday Post delivered as a digital ePaper straight to your smartphone, tablet or computer.
Subscribe for only £5.49 a month and enjoy all the benefits of the printed paper as a digital replica.
Subscribe