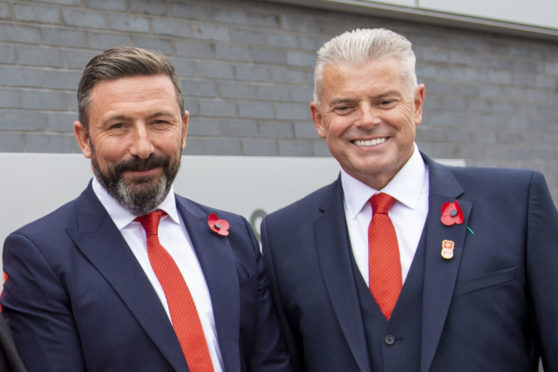 Aberdeen chairman  believes there could be no Scottish football played in front of fans until 2021.
The Dons' chief announced that Derek McInnes and his players have accepted wage deferrals of up to 30% to help the club save £1.1-million during the coronavirus crisis.
That, along with an additional £2m from his investor group, should keep the club going for several months.
But the US-based businessman is not optimistic that supporters will be back in the Pittodrie stands this year.
Changes to the rules mean football can now be televised live at 3pm, and Cormack reckons football might be played behind closed doors.
He said: "Having talked to a number of owners of major sports franchises in the United States, privately they are planning for no sport to be played in front of crowds until the end of this year.
"Let's say we are able to relax the isolation in June or July.
"Can you go and be playing games the next day in front of thousands of people? That's probably not likely
"We must make absolutely sure that in anything we do, we look after players and their health.
"So first and foremost, even behind closed doors, is it safe for the players to play?
"I chatted to Ron Gordon of Hibs yesterday and my view is that we need to pull something together for all the games to be shown live.
"For example, the season tickets the fans are buying right now would allow them to see the games live.
"I'm probably getting ahead of myself here, but I just think it is important for us to plan for what might be."
Cormack's view on the timescale for football returning was echoed by Raith Rovers' chairman, Bill Clark.
He said: "My most optimistic view is that we might get some football going again in October or November. But it could well be January of next year.
"We can survive for two months but I would like to get a decision by the end of April at the latest.
"That would help us to plan. We have to plan our cash flow month-by-month because we're living hand to mouth.
"All the lower-league clubs, with maybe one or two exceptions, are in that position.
"Once a decision is made about whether we're in League One again or the Championship, we can sell season tickets, and that will give us an income that will see us through June and July.
"I can see us getting to the end of May at the moment.
"June and July are getting a wee bit ropey.
"If things go on beyond that – which I have no doubt they will – things really begin to get tricky and we get in a position where we fold.
"I'm hoping to avoid all of that with all the various forms of income we're trying to scrape together.
"I think there's another four – maybe six – clubs in a worse position than us."
Aberdeen manager Derek McInnes said his players and coaches were all quick to agree to the wage deferrals.
He added: "We're working for a great club and great people. Nobody is trying to be tricky here.
"These are challenging times for all of us, and we feel it's incumbent on all of us who work at the club to do our bit.
"We have players who are heroes to supporters. But the real heroes at the moment are the NHS workers, the people who are keeping the country going."
McInnes is one of many people who had hoped the current season could be completed.
He went on: "I think if there's a way it can be finished, then we can't give up on that too soon.
"But we're all realistic enough to know that, as the weeks go by, that's becoming less likely.
"There are some tough decisions to be made if that isn't going to be the case.
"At the top, I think if Rangers and Celtic had been even closer together, it would have been a tougher decision.
"I think the likelihood is that Celtic would go on and win the league.
"So I think that decision – unless you're a Rangers supporter – might be easier to deal with, and I see a lot of common sense in that.
"Hearts still had the ability to get themselves out of trouble, although they've been in and around the bottom for quite a while.
"I don't want to see Hearts relegated. They're a fantastic club that offer so much to the league."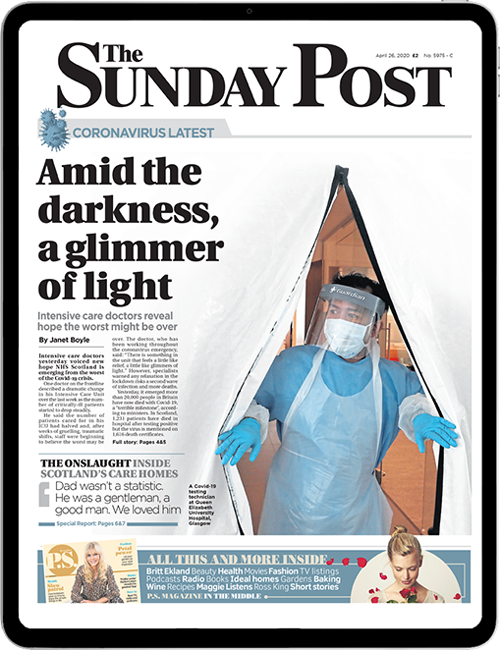 Enjoy the convenience of having The Sunday Post delivered as a digital ePaper straight to your smartphone, tablet or computer.
Subscribe for only £5.49 a month and enjoy all the benefits of the printed paper as a digital replica.
Subscribe