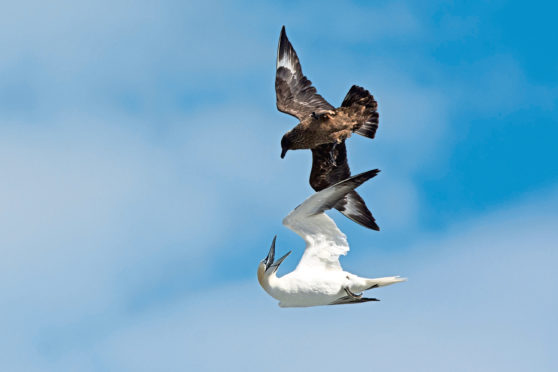 From scavengers pecking at discarded chips on the beach to the tiny faces hiding on coastal clifftops, the UK is home to a range of winged beauties.
Here, Stephen Rutt, author of The Seafarers: A Journey Among Birds, tells Alice Hinds the Honest Truth about seabirds
---
Do you have a favourite seabird?
This is the hardest question as there are no dull seabirds. There are dramatic species and attractive species, but I prefer the elegant ones, like the Arctic tern.
When not nesting on the Scottish coast, they take a 60,000-mile round-trip to Antarctica, all the while looking like perfection. However, Orkney holds my heart…and Orkney holds fulmars above all.
Fulmars have the most sensational way of flying. They manage to move with elegance in the most inclement weather. Their young defend themselves by projectile vomiting, and I have been on the receiving end of it. You can't hate an animal that throws up on you, though I stank of it for days afterwards.
Why is smell so important to seabirds?
It varies from species to species, but generally they use their sense of smell to find food in the open ocean. But for a few species it is more interesting than that.
Scopoli's shearwaters have been found to navigate around the Mediterranean Sea by smell when out of sight of land, suggesting a fascinating scent-map of the seas. Storm petrels nest in dense colonies in drystone structures and only come back to the colony when the night is at its darkest. They smell their relatives and avoid them: a handy way to prevent inbreeding. Their own scent is fabulous, the same musty smell of an old, cold church.
What are the four species of skua that call the UK home?
Skuas are thrilling seabirds, avian pirates that bully and thieve their food. We are lucky to have two skuas that breed here, almost all on the Scottish islands, and two that migrate past.
The first are great skuas, with 60% of the world's population breed here. They're big, muscular and defend their nests by flying at intruders' heads.
They rarely hit, though. Arctic skuas are much rarer, more elegant and absolutely tenacious in defence of their nests. Wear a hat because they will hit you.
The two species that migrate through our waters are the bulky pomarine skua and the elegant long-tailed skua. They breed in the Arctic, and winter out to sea, and stream through our waters on the way inbetween.
To see them requires standing in a gale near a cliff top. Their home is the high sea, and their native element the wind.
You describe gulls as "divisive" – do you think they are misunderstood?
Gulls are absolutely misunderstood. Their move inland is a symptom of the state of our coastlines and a loss of space and food. But gulls aren't good victims. They are adaptable and resourceful and remind us of our worst traits – they clean up our mess and shout over our noise.
In Dumfries, where I live, I meet people who love them and those who hate them. The thing that matters most to me is that almost every species, including all of those that nest in our towns, are declining. The ubiquitous herring gull is on the red-list of conservation concern. They need our understanding.
Are we generally losing populations of seabirds due to environmental issues?
Yes. Global warming, although almost impossible to see, is incrementally making our seabirds' lives harder through changes in fish populations or sea-level rise and stronger storms flooding low-lying nesting grounds.
There is also the extremely visible plastic pollution that many birds are choking on. The only British breeding bird to have become extinct is the great auk – hunted out of existence by 19th-Century bloodlust that didn't stop in time.
It is the potential fate that hangs over everything. But this is pessimistic: many brilliant people are doing vital work to help our birds. Not every species is in decline.
---
The Seafarers: A Journey Among Birds, out now, Elliott & Thompson, £14.99