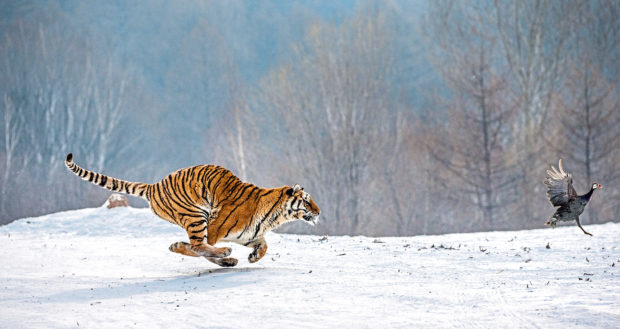 Wildlife experts are facing a tricky vaccination programme of their own as they race the clock to save the world's biggest cat.
New techniques to give Siberian, or Amur, tigers protection against a dangerous disease – including remote control dart guns – are being examined after Scots researchers uncovered vital clues about the threat.
The tigers, which roam the vast forests and mountains in Russia's far east, can reach almost 7ft long and weigh up to 400lb. It is believed there are fewer than 550 of the creatures left in the wild and those surviving face further threat from a serious disease passed on by its prey.
Canine distemper virus (CDV) causes acute symptoms in domestic dogs, and also infects other carnivores. It was assumed that dogs are the primary source of the illness but researchers at Glasgow University found other wildlife – including martens, badgers and raccoon dogs – was the main source of transmission to tigers.
Now experts believe the only way to protect them from the disease is to vaccinate the tigers by injection. Sarah Cleaveland, professor of comparative epidemiology at the university, said: "This is a very elusive species that roams across a huge area. The distemper virus can cause the tigers to suffer neurological problems including loss of co-ordination, disorientation and respiratory issues.
"This is particularly worrying for their future and it can also lead to conflict if the disoriented animals come in to contact with humans. However, this new work shows this disease in the Amur tiger is a solvable problem."
The research, led by the team at Glasgow, Cornell University in the United States, and the Wildlife Conservation Society, used samples from ­domestic dogs, tigers and other wild carnivores to compare viral genetic sequence data and used antibodies to assess patterns of exposure in each population.
However, capturing the rare tigers to vaccinate them will be no easy task. Tigers in Russia are trapped humanely for radio-collaring using safety-lock foot snares, followed by dart-immobilisation, which provides a safe means of capture that would also allow the animals to be vaccinated.
However, this is a ­specialised task and time-consuming, as the traps require close monitoring. Nonetheless, even vaccinating a small number of tigers every year could substantially reduce the risk of extinction of these populations, said Dr Martin Gilbert, a Scots expert from the Cornell Wildlife Health Centre.
"There might be ­possibilities of developing remote-controlled tele injection systems for vaccination," he explained.
"This type of device has been used for capture of lynx in Switzerland and consists of a blowgun remotely controlled by cameras which can fire darts with a high accuracy at up to about 12 metres.
"Understanding how tigers are catching distemper is absolutely crucial to helping us design effective measures to minimise the conservation impact of the virus.
"Vaccinating tigers is hard, but our research shows that immunising just two tigers within a small population each year can reduce the risk that CDV will cause ­extinction by almost 75%."
To determine whether ­current CDV vaccines could protect wild tigers, the researchers showed in the laboratory that serum from tigers vaccinated in captivity was able to neutralise the strain of CDV they had detected in Russia. They then developed a ­computer model to show that even a low rate of vaccination (two tigers per year) could reduce the tigers' risk of extinction significantly.
Dr Gilbert and his colleagues believe vaccination can be a valuable conservation strategy. He added: "As wildlife populations become more fragmented through the effects of habitat destruction, poaching and climate change, they become increasingly vulnerable to local extinctions caused by infectious diseases like distemper."
1
Subscribe for only £5.49 a month and enjoy all the benefits of the printed paper as a digital replica.
Subscribe