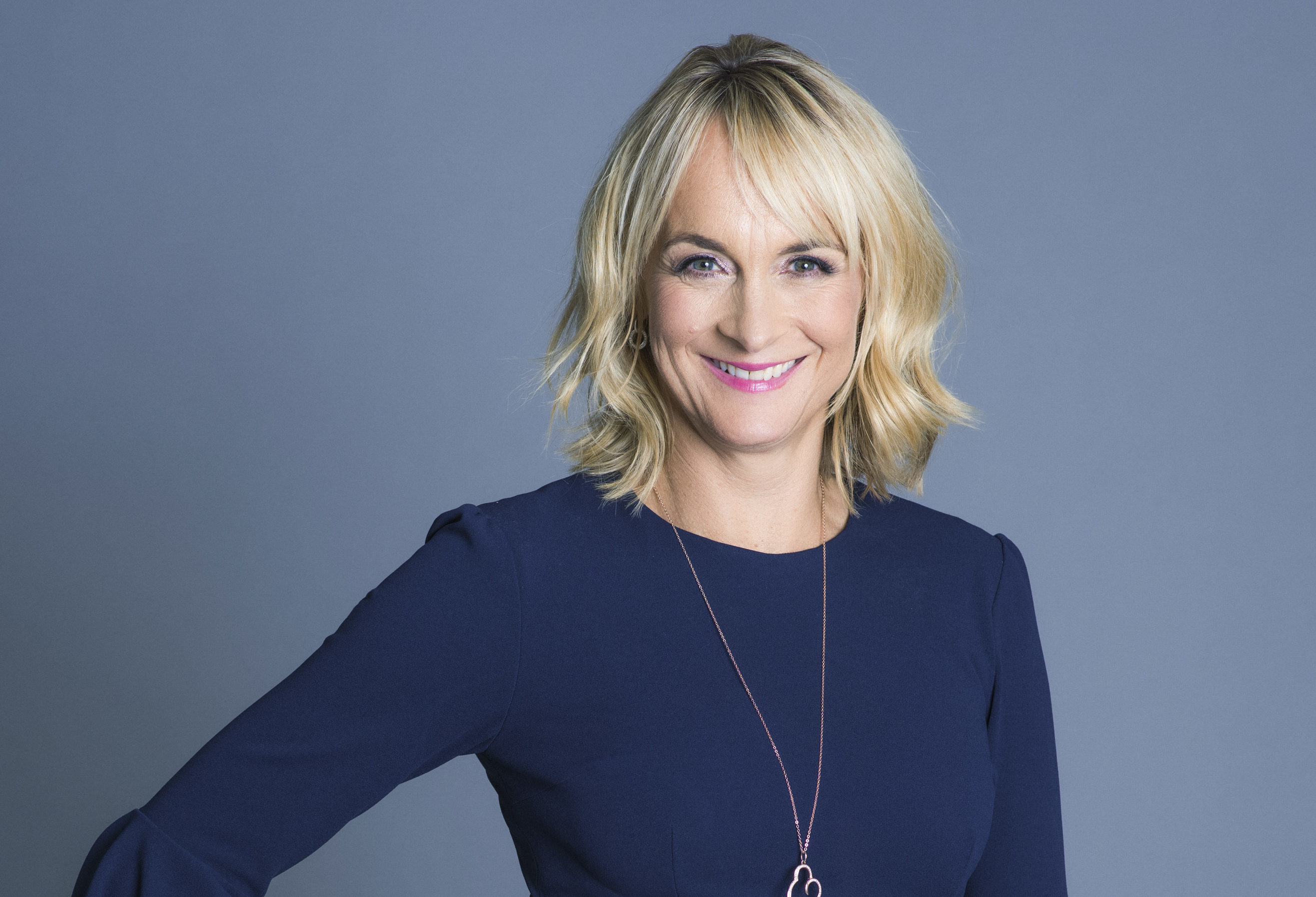 FOR most people, their 50th birthday is a time for celebration, maybe a bit of a knees-up or some well-earned pampering.
Louise Minchin's "treat" is a trip to Patagonia for a gruelling Ironman event.
"That's my birthday present to myself – what a ridiculous present!" laughs Louise as she settles down for a chat with iN10.
"I'll be jumping off a ferry in the middle of the night for a 3.8km swim in the freezing cold sea. Then I'll get on my bike for 180km before running an off-road marathon.
"It's absolutely bananas. I could go for a spa day."
BBC Breakfast favourite Louise actually reaches her milestone half-century next month, but it'll be December before she heads for the South American event.
Her proper birthday celebrations will, she says, be delayed until next year.
Extreme though the Ironman event will be, it's indicative of how Louise's life has changed beyond all recognition in the past six years.
She has gone from an averagely-fit 40-something mum-of-two to a GB Team triathlete.
It all started with a 2012 festive challenge along with her then fellow BBC Breakfast presenters Sian Williams, Bill Turnbull and Susanna Reid. After the velodrome glories of that summer's London Olympics, the idea was to train and then compete in front a 4000-strong crowd.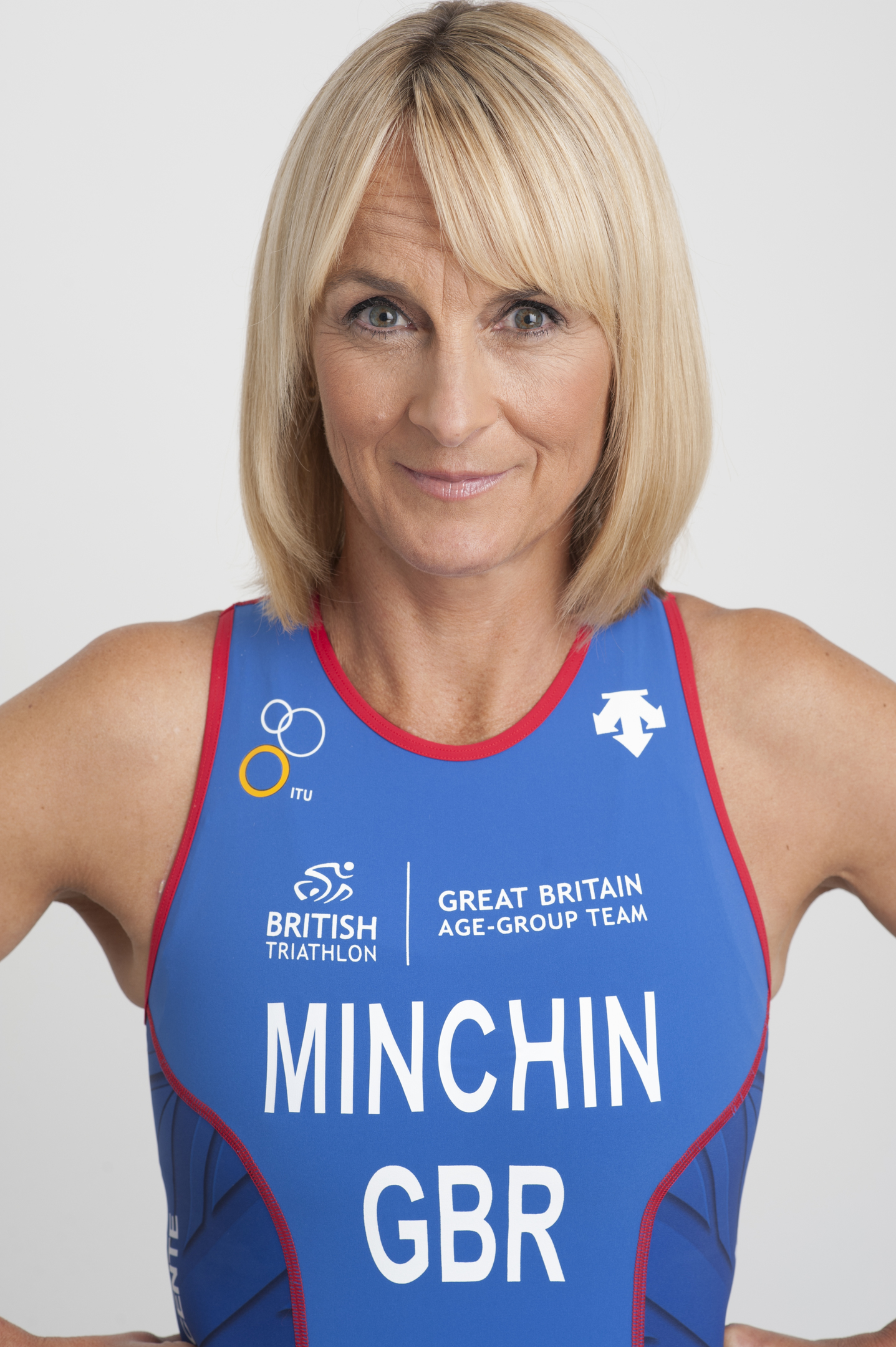 "I gave up competitive sport when I was 15," explained Louise who has two daughters, Mia, 17, and Scarlett, 13, with husband David.
"I was a good swimmer at school but you get to that self-conscious age.
"I looked in the mirror one day, saw I was getting big shoulders from swimming and gave it up on the spot – to my eternal regret.
"I really hadn't done anything other than the gym until that day in the velodrome.
"I had never thought of cycling as being a sport for me, but I got over that finishing line and my life just changed.
"I had forgotten how much I loved competitive sport. I don't need to win, I just need to race really hard and be part of it.
"I bought a racing bike, having never even sat on one before."
Since then Louise has taken part in more than 50 races all over the world, including competing at the very highest level for her age group with the Team GB squad at the World Triathlon Championships in 2015.
There was only one, amidst them all, that she hasn't enjoyed.
"There are definitely dark moments in a triathlon, especially on long distances when you think, 'What on earth am I doing? I need to go home, have a cup of tea and forget about it'.
"That normally doesn't last very long, but on this particular triathlon last year I had a problem with my leg.
"It really hurt and when I finished I felt it just wasn't working and was going to give it up.
"Thankfully, I didn't, and I'm really enjoying it again.
"I get so much out of it and the more you put in, the more you get out."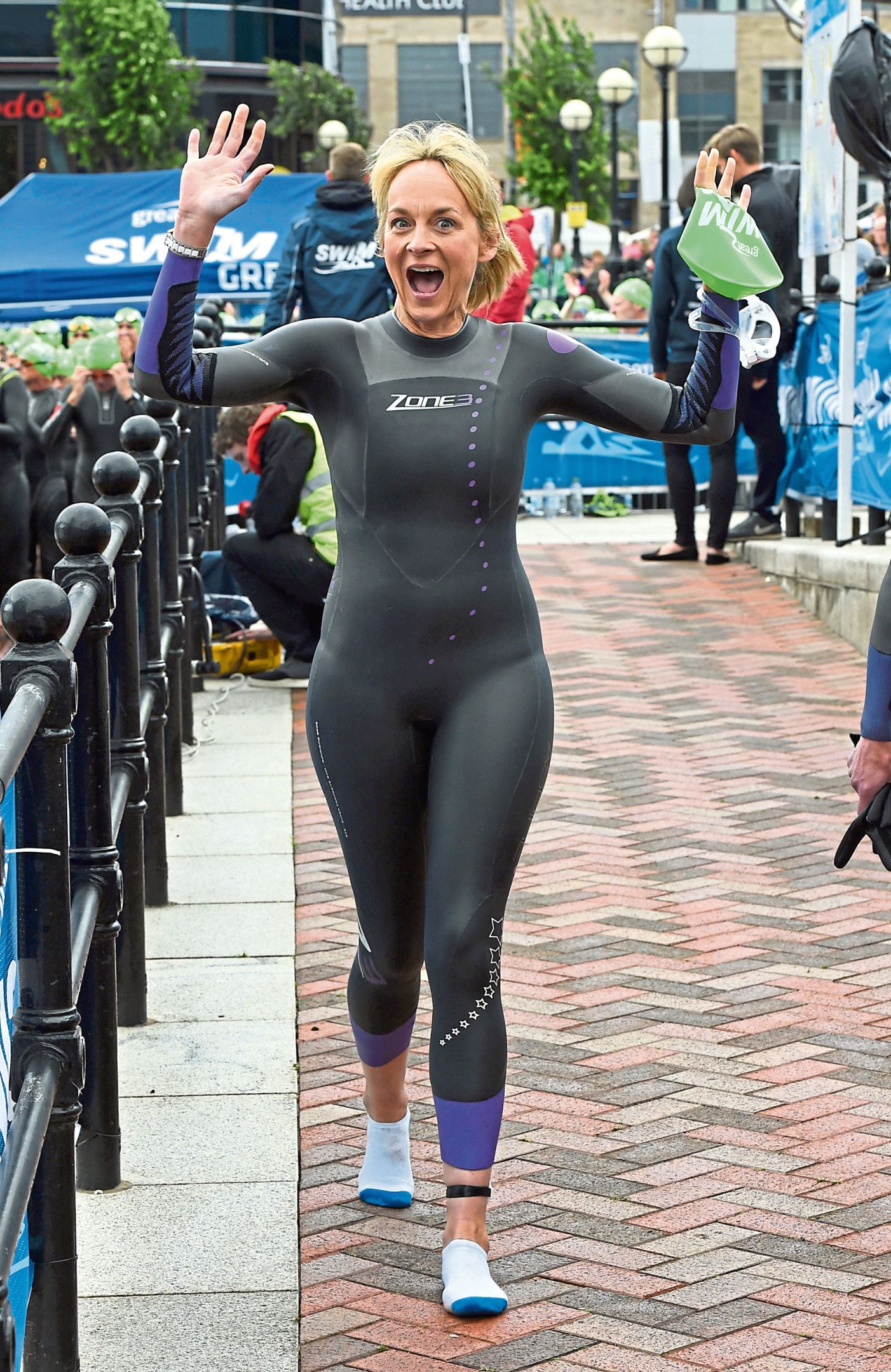 Although she has her family life to fit in around her hectic BBC Breakfast duties, Louise admits finding time for training isn't as difficult as it might be.
Rather, it's an essential part of coping with her busy schedule.
"The triathlons and the training is a way of having my own bit of space.
"I'm not worrying about the headlines, how I look, whether I have enough food to give the girls their supper.
"It's a mental break as well as getting all the physical benefits.
"I don't have a difficult job – people have much tougher jobs than I do – but it's my way of coping with the particular stresses that come with it.
"I'm the fittest and strongest I've ever been. That feels really good going into being 50.
"Just things like running for a bus. If I need to, I know I can simply run a little faster."
Louise recounted her remarkable tale in her book Dare To Tri and she'll be talking about how it all came about at this month's Edinburgh Book Festival.
Although she broadcasts confidently to millions on BBC Breakfast, she admits that, having never even attended as a visitor, she's a little nervous about her Festival appearance.
She is, however, no stranger to Edinburgh as she was in the city regularly during her university days in Scotland.
Louise studied Spanish at St Andrews University and adored her days in Fife.
"I loved that place so much and it had a really big impact on me.
"There was something special about being in such a stunning, beautiful part of the world.
"I remember being in the library, which was next to the castle on a cliff edge, hearing the waves crashing and seeing the spray against the window.
"As well as my love of Spanish, it gave me a lifelong love of the seaside. If I haven't been by the sea for two or three months, I can feel it physically."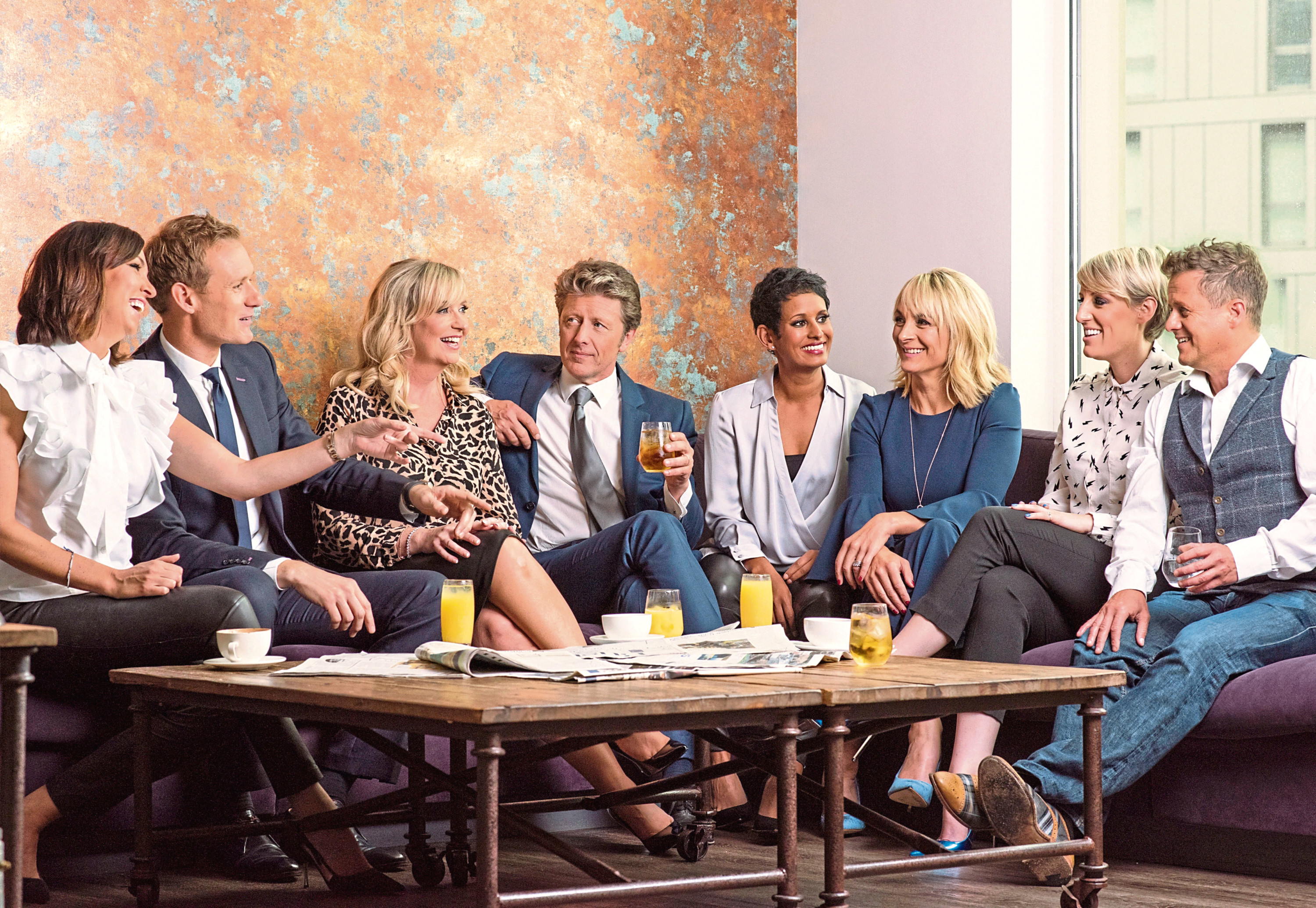 Louise now shares the BBC Breakfast sofa with Dan Walker each Monday to Wednesday. They have formed a strong bond, in what can be a pressured, fast-moving environment with someone always ready to seize on any error.
There's a real family feel and that was most evident when Louise's former sofa partner Bill Turnbull revealed earlier this year that he had been diagnosed with prostate cancer.
"It was a big shock," admits Louise. "I'm still in touch with Bill. We've been in a Lottery syndicate together for about five years now and we still do it even though he's left.
"But we still haven't won. The day I disappear is when you know it's finally happened.
"When Bill announced his news we got hundreds of messages from viewers, which we passed on.
"There were so many well-wishers and I can't go out without people asking how he is. There is a real respect and affection for him."
Louise says she has the unshakeable support of David who says that every time she does a triathlon, she's a little bit happier and a little bit less stressed.
And while she packs a lot into a high profile life, she says she's not sure that she's a role model to Mia and Scarlett.
"I'm their mum," she says simply. "That's the most important thing. The fact that I'm on telly is no biggie. I like the fact they see me as a working mum. I've always worked since they were tiny. It just goes with the territory.
"David and I have always shared childcare and that's important, that the girls see parents who both have jobs, both get on and whoever's not busy does the cooking.
"There's no division of roles. We're a sharing family."
Louise will be at Baillie Gifford Main Theatre on Thursday as part of the Edinburgh International Book Festival. Breakfast, BBC1, daily.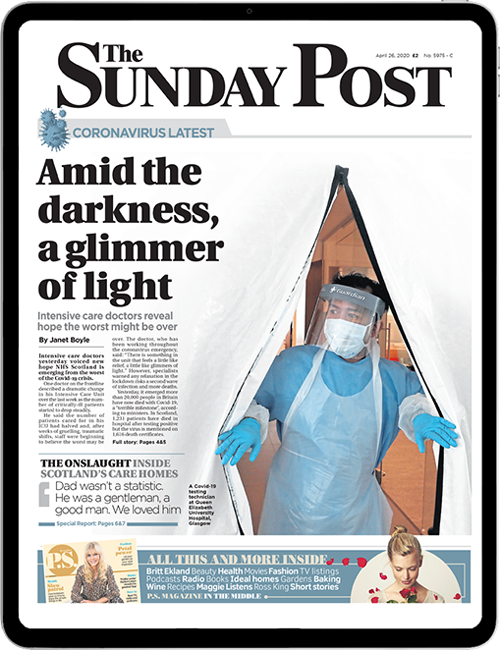 Enjoy the convenience of having The Sunday Post delivered as a digital ePaper straight to your smartphone, tablet or computer.
Subscribe for only £5.49 a month and enjoy all the benefits of the printed paper as a digital replica.
Subscribe