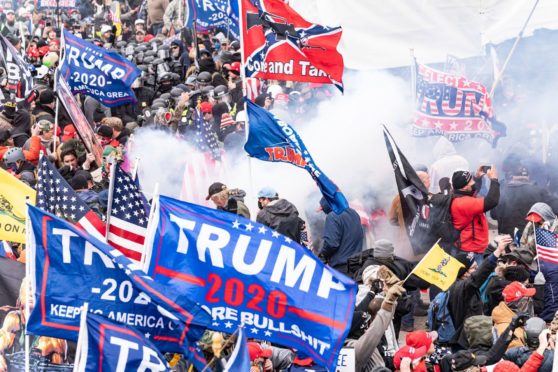 A president at bay with what White House officials describe as a difficult relationship with reality. A country reeling from an unprecedented attack on its democratic institutions. And a president-elect waiting, wondering and worrying what else might happen in the 10 days before he takes office.
Entering the Oval Office as president at such fraught, ­turbulent and divided times will be the biggest challenge of Joe Biden's long and illustrious political career.
But experts believe he will use nearly five decades of experience of bipartisan deal-making in Washington to attempt to heal the deep political split in America after Donald Trump's incendiary years in office.
After inciting his supporters to march on the Capitol ­building on Wednesday, resulting in the deaths of a police officer and four other people, Mr Trump, who stands by his repeated but apparently baseless claims of widespread voter fraud, eventually appealed for "healing and reconciliation" and pledged a smooth transition of power.
His successor will be ­inaugurated on January 20 while the president is said to be asking aides and lawyers about whether he has the authority to issue a self-pardon in order to avoid prosecution.
Mr Biden, meanwhile, faces an uphill struggle to win over Trump supporters, who continue to believe the president's claims that ­victory in November's election was stolen.
James Naughtie, a special correspondent for BBC News, said: "Biden has control of the Senate now and will be able to get some legislation through. He will have to do deals to get things through and it will be awkward.
"There will also be a ­ segment of the population that will remain angry, defiant and will be incited by people on the far-right to some acts of disobedience.
"It will be ugly, it will be a rocky road but I think, if Biden plays his cards right, what he will get in the first period of his presidency will be a fair wind. There will be a public desire to calm the atmosphere and to let a new president get on with his business. There will be huge ­arguments about health care and taxes, and Biden will undoubtedly have difficulties with those on the left of the Democratic coalition who want him to be more radical, which is not his instinct.
"He'll have political ­difficulties but he knows that. He's lived with that all his life. That's nothing new. It's going to be rough and difficult, but he has an opportunity in the early period of his presidency to set a new tone.
"He has a fair chance of ­carrying a majority of Americans with him because, even among a good number of those who voted for Trump, there is a desire to have a calmer life and, let's face it, anything after Donald Trump is going to be calmer."
The broadcaster and author, who has covered every US presidential election since 1988, added: "For the majority of Americans, what happened last week was a profound shock. I do think, irrespective of their party affiliation, in the long term they will look back and conclude that the election went the way that was in their country's interest."
Former US ambassador Anthony Gardner said Mr Trump evoked memories of Italian fascist dictator Benito Mussolini, whom his grandparents fled from in 1938.
Mr Gardner, who served as US ambassador to the EU for three years during Barack Obama's presidency, said of the scenes in the Capitol building on Wednesday: "It was very emotional and very troubling, as an American, as someone who cares about democracy, and as the grandchild of refugees from Italian fascism and Mussolini.
"I generally don't like these comparisons because it's easy to exaggerate. But this is a president who fanned the flames of hatred and division and encouraged violence as a core tactic of his leadership style. Those events were not an aberration. They were a clear continuation of a direction of travel that was started on the very first day of his term.
"I had a foreboding very early in his administration that his presidency would be very dangerous. I wish more people had spoken out earlier, including top politicians and top business people.
"But the institutions have held up and there will be a peaceful transition of power. Joe Biden, whom I supported from day one, is going to be president and the Democrats have taken control of the Senate in a remarkable way. Who would have thought two of the seats in Georgia would flip blue?"
Mr Gardner said that Mr Biden had already shown his determination to avoid Mr Trump overshadowing his future presidency. He said: "The tone has been perfect – lower the temperature, call for law and order, call on his supporters to respect the institutions and democracy and, where possible, find bipartisan compromise.
"He did that in difficult circumstances as well in the Obama years, when he had to negotiate with the other side of the aisle. That was not easy and is perhaps even harder now but Joe Biden is the guy who's had more experience doing that than anyone else.
"It's certainly not going to be easy. We're going to have perhaps millions of Americans who will continue to think, incorrectly, this election was stolen from Trump. I'm not sure there's a solution to that, but at least by reducing the temperature a lot can be achieved.
"Trump may well go off and do his level best to undermine the incoming administration. But I think some of the gloss has come off him and some of his closest supporters have said he has gone too far."
Mr Gardner said that, as president, Mr Biden had to reach out to voters who had supported Mr Trump. He said: "It's important to ­recognise the frustrations are real and they that need to be listened to. We can disagree with the tactics and certainly condemn the violence, but we can't dismiss the deep-seated frustrations that Donald Trump brilliantly identified and exploited.
"Inequality is certainly an element that has fed the sense of frustration, though the bitter irony is this president's policies and tax cuts have actually made inequality worse. We're going to have to listen and try to connect with not all, as that is impossible, but a portion of those frustrated voters and to say: 'You are respected, you have equal place in this country and we're trying to govern for all.'"
But Mr Gardner said the most pressing issue for Mr Biden will be tackling the Covid-19 pandemic, which has already killed more than 300,000 Americans.
He said: "It has been a health disaster, and that is a direct result of criminal negligence on the part of Donald Trump. I use the word criminal because the consequences of his actions – for many, many months ignoring the seriousness of this pandemic – directly led to unnecessary deaths.
"Hopefully we'll have an even swifter roll-out of the vaccines and a president who is using his office to encourage people to follow basic rules that will limit the spread and to follow science, not quack theories."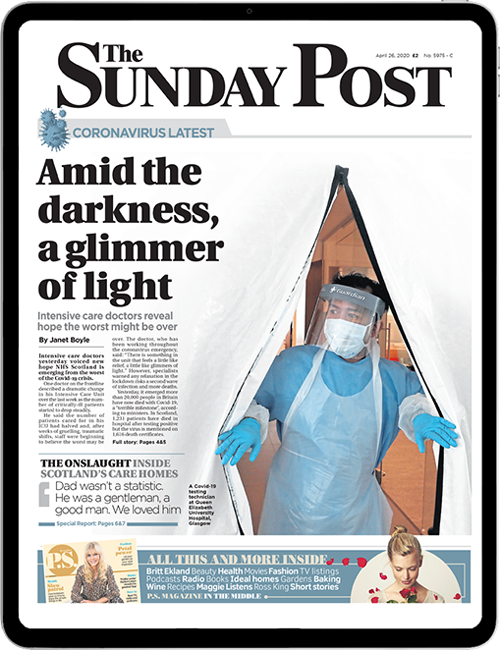 Enjoy the convenience of having The Sunday Post delivered as a digital ePaper straight to your smartphone, tablet or computer.
Subscribe for only £5.49 a month and enjoy all the benefits of the printed paper as a digital replica.
Subscribe