Members of the public will be able to watch an expert team of weavers at work as a huge tapestry comes to life at an Edinburgh studio.
Dovecot Studios will create a translation, for display in Edinburgh Park, of post-war painter Leon Kossoff's 1981 work titled Study from Minerva Protects Pax from Mars.
The project will take one year of work on the studio's looms, and visitors will be able to observe the team from a viewing balcony as they adapt Kossoff's expressive and assertive brushstrokes into textile.
Celia Joicey, director of the Dovecot, said: "This commission is hugely exciting – it represents the importance of tapestry as a public artform in Scotland and it is a statement of intent for Edinburgh.
"We have world-leading studios and galleries in which to make and display art in the city – this tapestry will connect the best of both while promoting the significance of Leon Kossoff's mark-making on an unprecedented scale.
"It's great in this current climate that there are people commissioning public artworks and as a studio we've always had an ethos of allowing people to come in to see what we do for free. Hopefully those are positives in what has been a little bit of an enclosed environment for many people recently."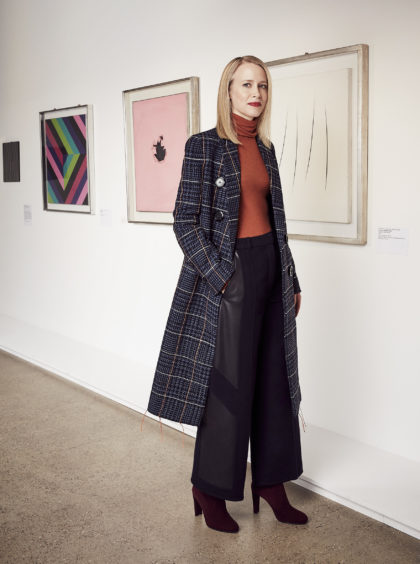 As with many art outlets across the country, lockdown was a very frustrating and uncertain time for the Dovecot Studios.
With restrictions in place, weaving couldn't be done until lockdown was eased over the summer.
Celia said: "It's been difficult for everyone not being able to open. You can't make what we do outside of Dovecot, we've got a huge studio in which we have seven weavers working on these huge collaborative tapestries.
"We've had to adjust our working practices. We'll have fewer weavers, working further apart.
"The Kossoff is being woven on our largest room, originally built for the tapestry that hangs in the British Library. It's going to be a big tapestry."
Visitors will be able to view weavers working on it from this month from a balcony.
"It's a very gradual unveil in the sense that it gets woven in sections, you build it up like a picture and anyone can come into the studio's viewing balcony and see it being created," Celia explained.
"It's certainly socially distanced and quite a peaceful environment. People can come in and see people at work but also feel safe. "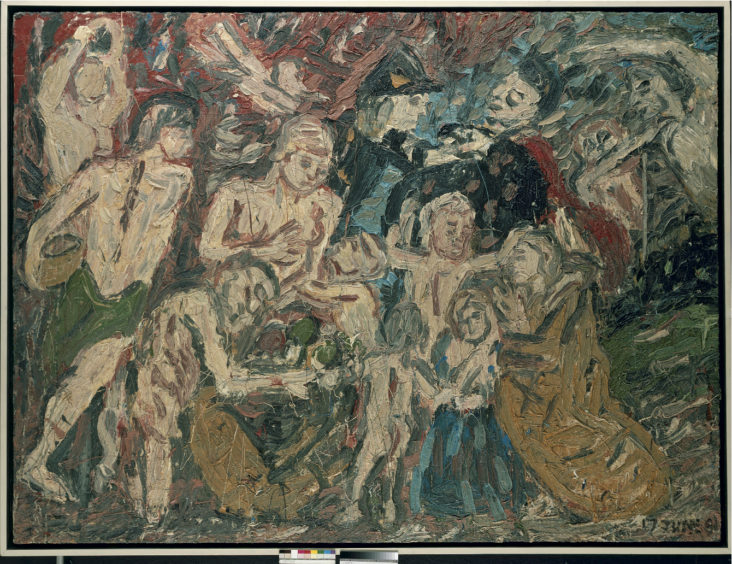 It's the first time a work by Kossoff, who died in 2019 aged 92, has been translated from a painting to a tapestry.
The subject of Study from Minerva Protects Pax from Mars is a highly charged anti-war composition in which Minerva, the Roman goddess of wisdom, helps to drive away Mars, the god of war.
Originally conceived by Peter Paul Rubens (1577-1640), Kossoff was captivated by the subject and design of Rubens' 1630 painting and made multiple studies in charcoal as well as oil painting.
Celia says it's a challenging piece to adapt – but therein lies the joy of it.
"He's a painter that is extremely expressive," she said. "What is exciting but also challenging is that the tapestry has to capture that energy in a different medium.
"Over a period of years, Kossoff studied and painted, repainted, but then the final work is the culmination in one day of all of that research.
"There's a nice parallel in that this is a painting that, although it took years of study, it was made in a day and the tapestry will be made over the course of the year.
"The emotion that goes into the work from the weavers is no less than the engagement the artist had with his subject. But the intensity is stretched over that period of a year.
"A lot of people find that very emotional to look at and know that the weavers have spent a year of their lives working on something. I think that's rare in this day and age that you get that much focus and attention."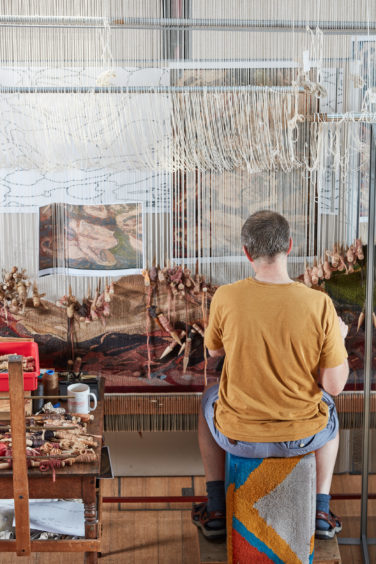 The finished tapestry will be at the heart of the Edinburgh Park development, a new urban quarter to the west of the city.
Other Dovecot tapestries hang in public buildings including the British Library and the foyer of theNational Museum of Scotland.
"We'd love to be making more," Celia said. "It'd be great to be making tapestries to go on show in Scottish buildings all around the world if we could.
"We feel that there's a great future for tapestry. It's a very contemporary artform.
"As the art world becomes very international, textile as a medium is something that's even more accessible than oil paint in parts of the world. It has had more visibility as an artform and more international artists have been using textile in their work recently.
"For me, tapestry feels like a highly creative, contemporary medium that we can promote the very best of Scottish art and design through and working with artists that have a reputation such as Kossoff is important."
---
The tapestry can be viewed Monday to Saturday (and on Sundays until 12th September 2020) The Viewing Balcony is open Monday to Friday, 12pm – 3pm and from 10am – 5pm on weekends. Visit dovecotstudios.com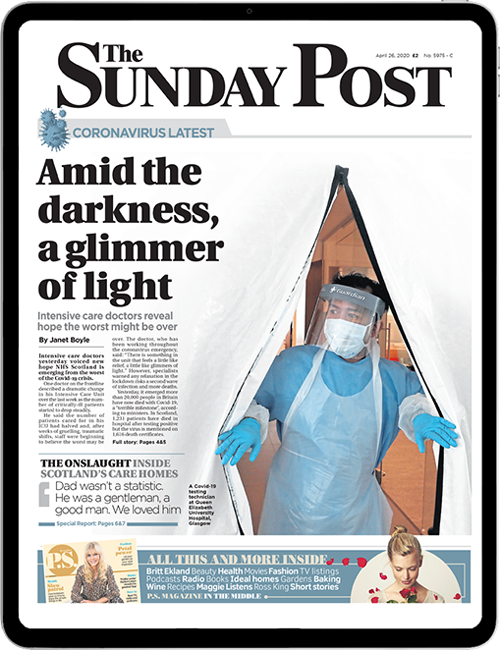 Enjoy the convenience of having The Sunday Post delivered as a digital ePaper straight to your smartphone, tablet or computer.
Subscribe for only £5.49 a month and enjoy all the benefits of the printed paper as a digital replica.
Subscribe